LIFE ON A TIME LIMIT
In France, some people can work for years without ever being offered an open-ended contract.
Or have no other choice than to take several jobs in order to earn the minimum wage.
In France, at the end of a day's temporary work, the next day's task can be cancelled without warning.
In France, workers with no official documentation often still have to pay tax.
We come across them, we live next to them, but we hardly know anything about their living conditions.
They are rarely members of unions, rarely defended, hardly represented in the media, more concerned about their survival than about their rights.
Nevertheless, they all suffer precarious work, educational and domestic situations, they endure debt, and they have trouble visualising the future.
These 10 portraits witness what France is like for these precariously employed people.
June-September 2012
VICTORIA, 28 years old. Carpentras.
As a cashier in a hard discount outlet in Carpentras and a single mother, Victoria doesn't have enough time or money to appropriately raise her 4-year-old son.
Last summer, against her will, she had to leave her job in order to look after him herself.
This absurd situation has led her to tell her story.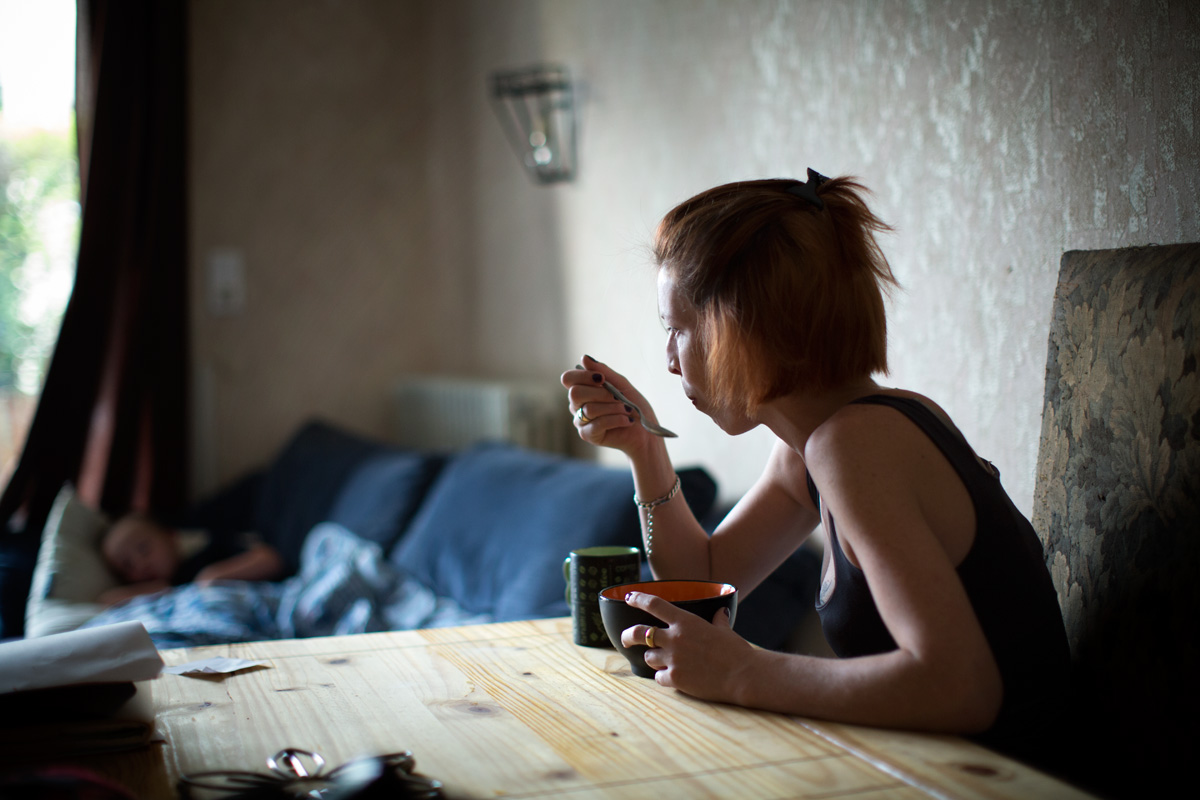 "The main problems with working for mass retailers are the hours and shifts. Things can change from one day to the next, and sometimes even several times a day."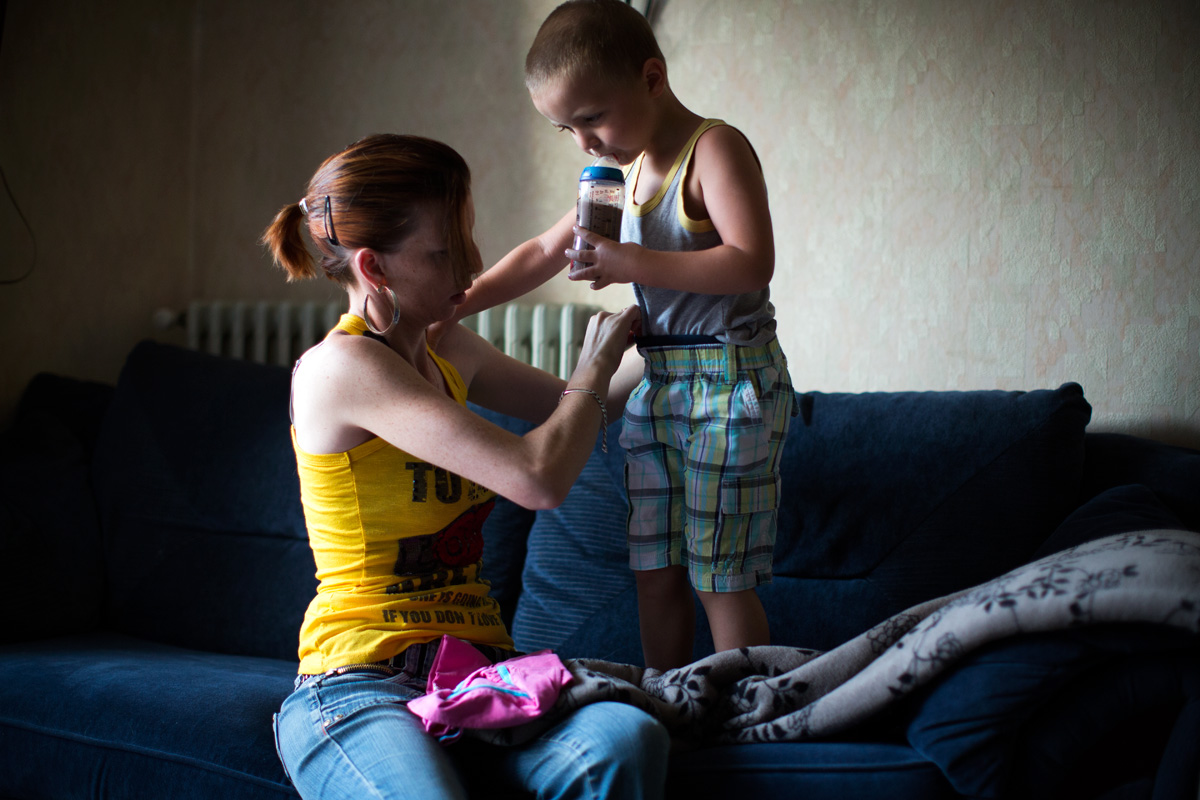 "Every morning I leave home with my son at ten to eight. Then I spend nearly ten hours in my workplace."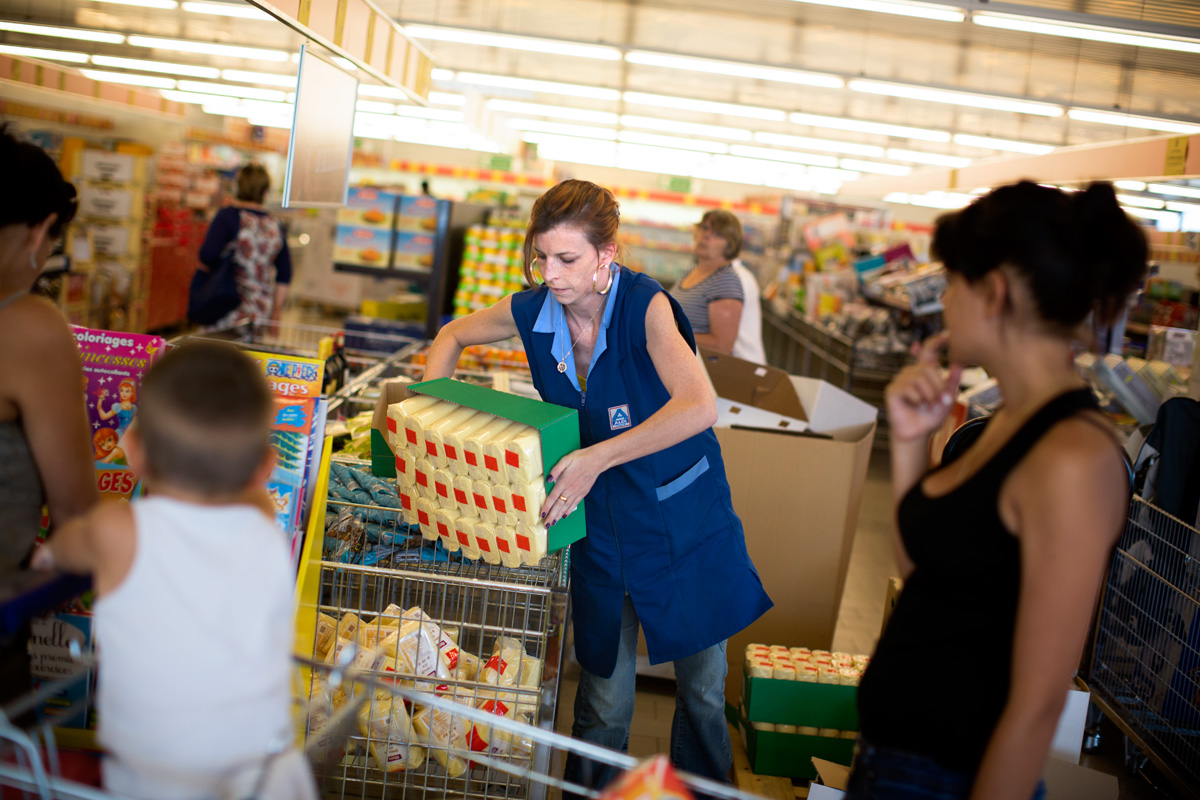 "I stay at the store all day long: we only have 45 minutes for lunch ... so I just have a quick bite to eat."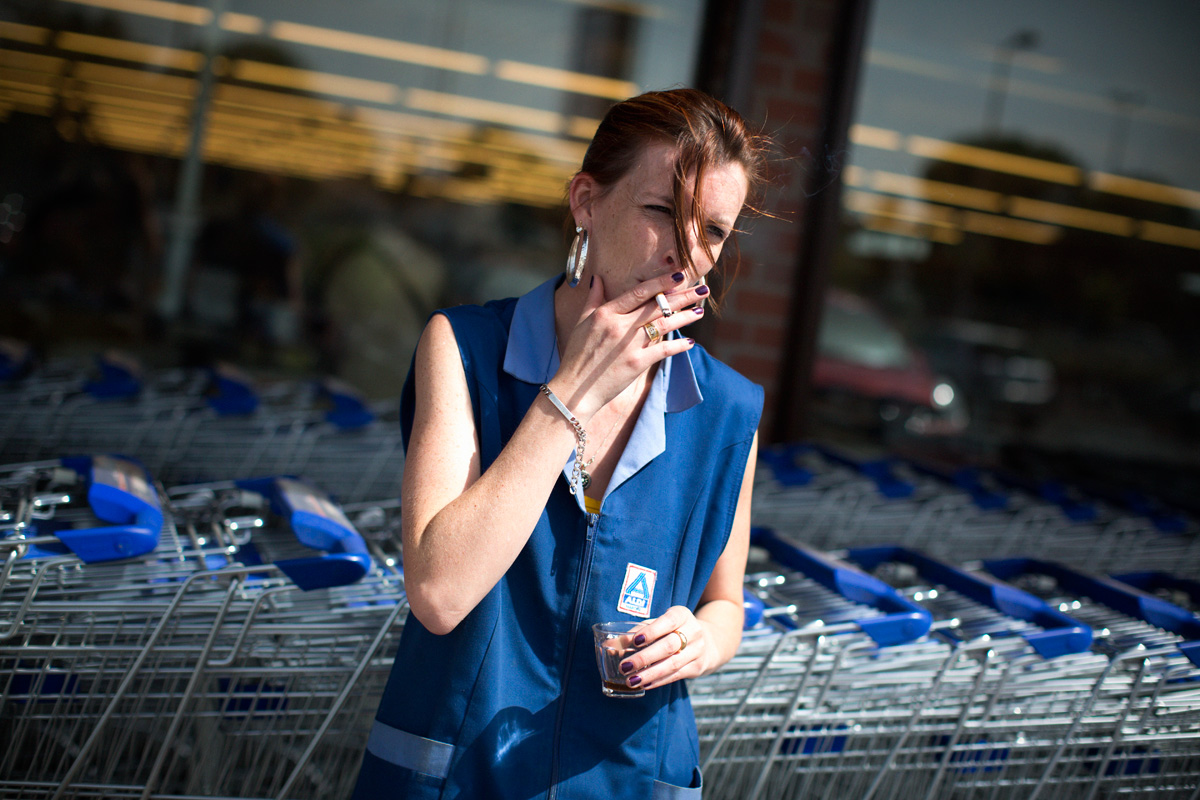 "In the evenings, I finish work at 7.45 p.m.. But I usually leave half an hour later. Then I go to pick up my son. I always sort something out with my friends or my family so that they can take care of him after school. "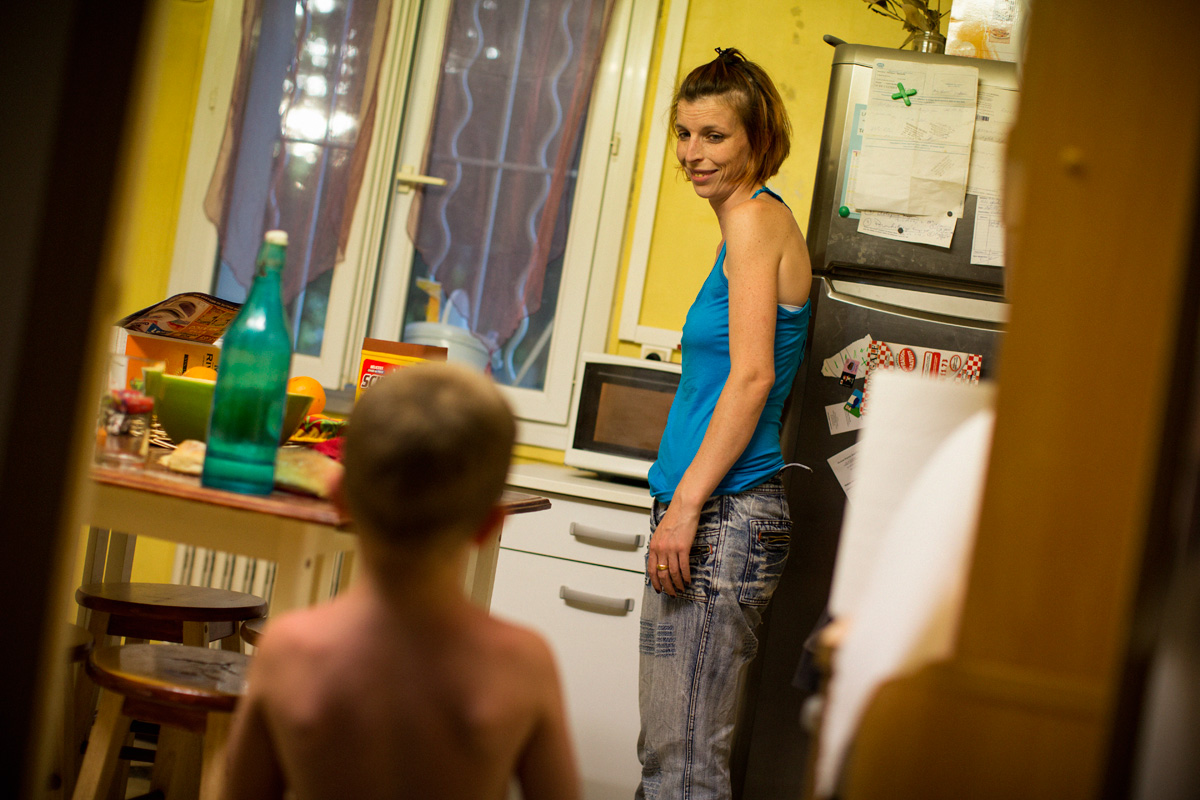 "To have peace of mind at work, I should hire a babysitter or child minder. But that would eat up my whole salary."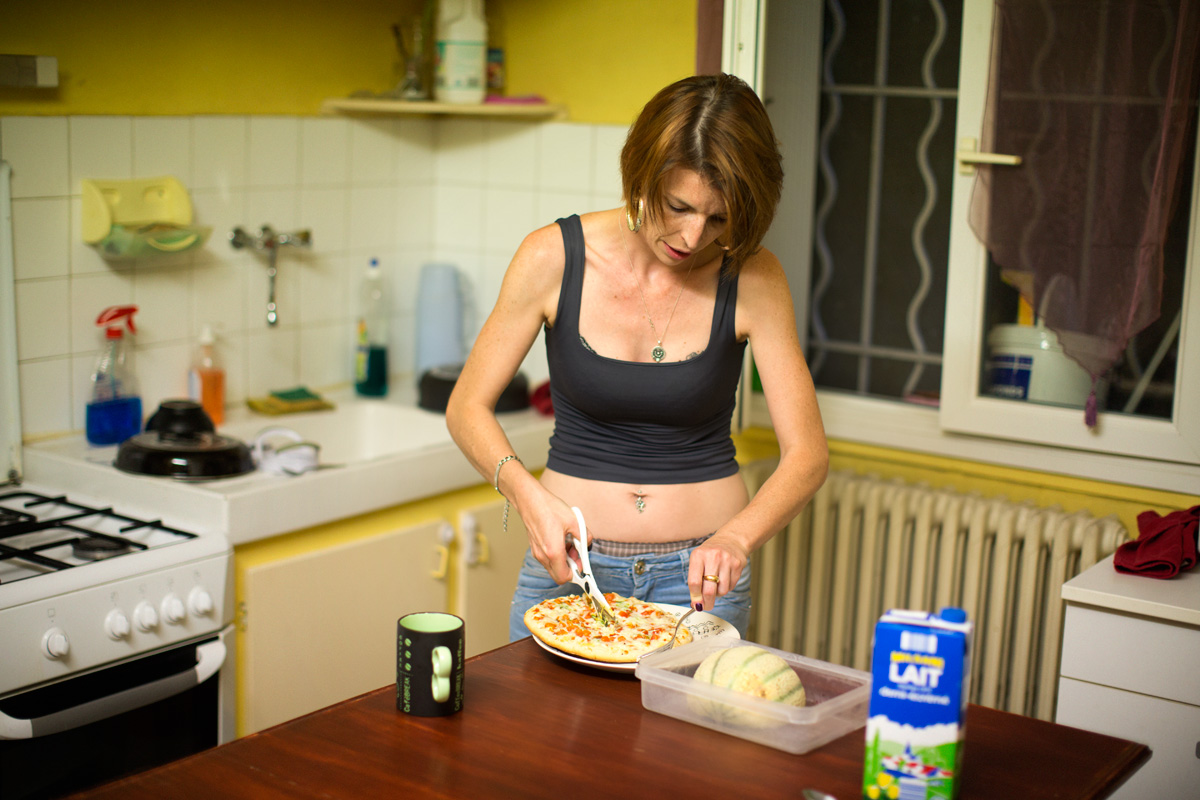 "At work, your private life needs to fit your working schedule. Personal life comes second. In the long term, this is exhausting, and I am missing out on too many things."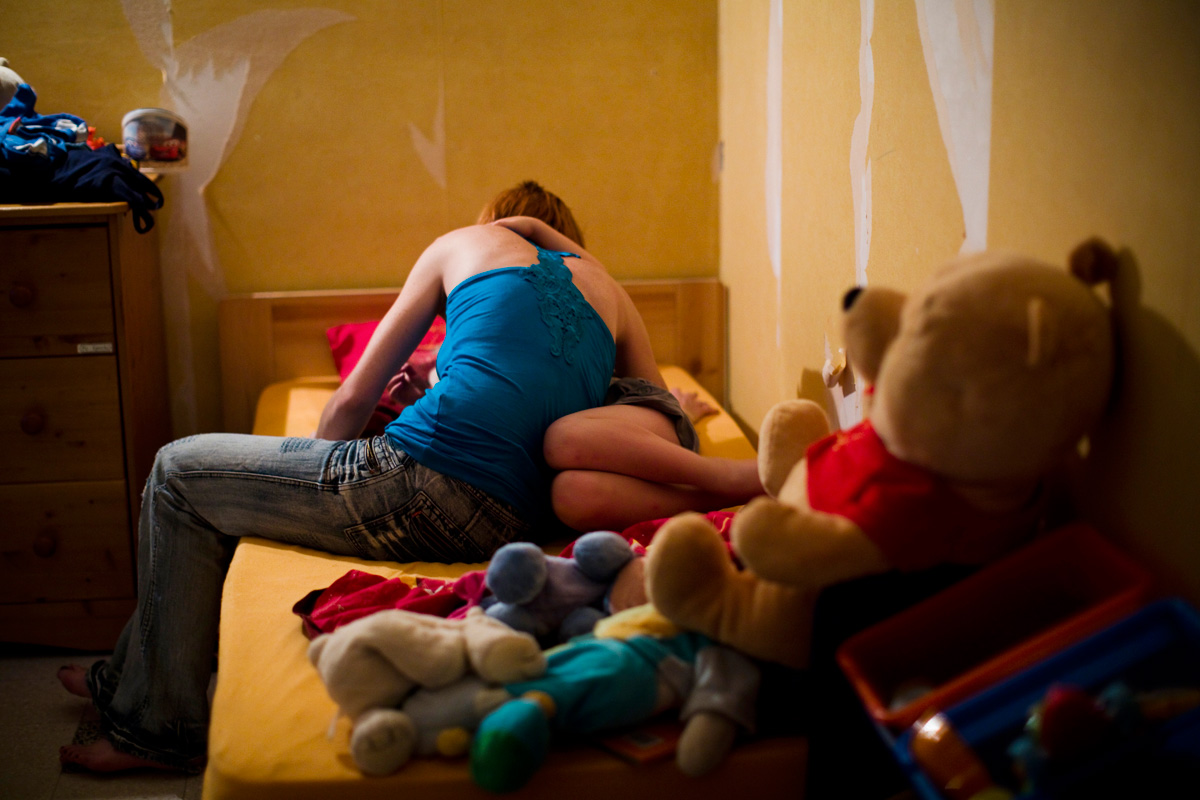 "Over the course of a day, I spend two hours with my son: in the morning, the time it takes to wake him up, get him ready and take him school. And then in the evening, when I put him to bed and tell him a story. That's the only moment that I really have with him."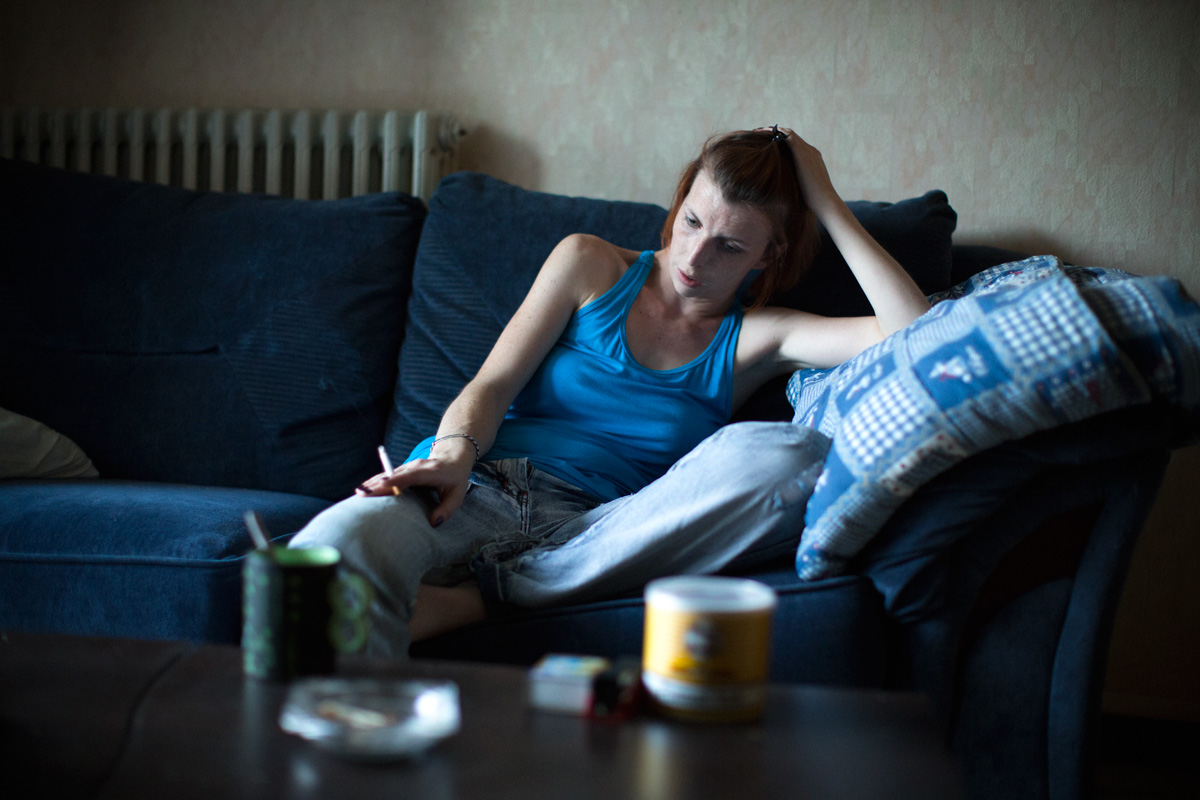 "One night, my little boy told me: 'Mum, I like it when you're ill.' I was surprised and asked him: 'Why? Do you like it when I don't feel well?' 'No, I like when you're ill because then we can be together.' "
HACHIM, 42 years old. Ivry sur Seine.
Now a construction worker, Hachim came to France as an agricultural engineer after 5 years of study.
17 years later, he is the father of a teenage daughter and he still has not obtained his residence permit.
While working full time, and sometimes even more hours, he is put up by friends here and there ... and still has no home of his own.
This precarious situation stops him from living his life in the way he wants.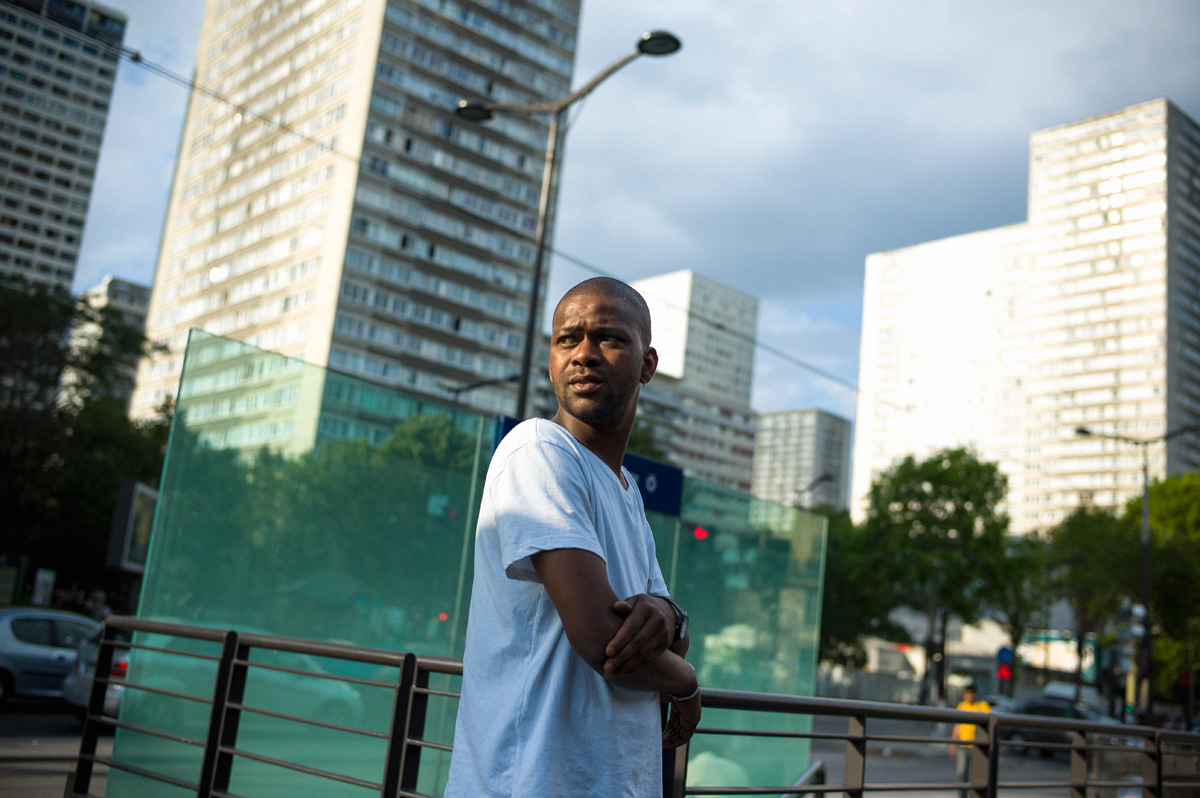 "I haven't been to my country, Mali, for 17 years. At the moment, I feel as though I'm more from Paris than from Bamako. And yet I have no official status in France, no long-term residence permit."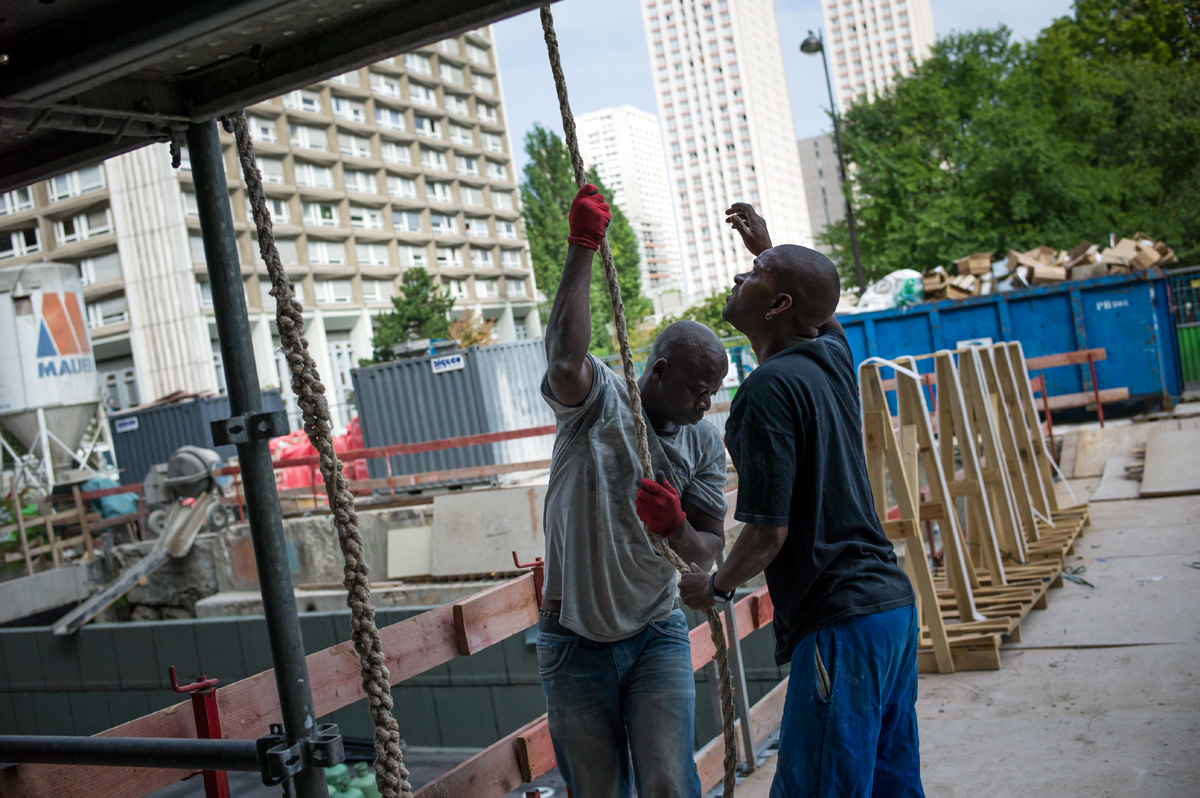 "To get a job, you have to lie, to borrow documents from somebody and pretend to be them. There always comes a time when the boss realises that the documents aren't the right ones... then you drop from having an open-ended contract to being an undeclared worker."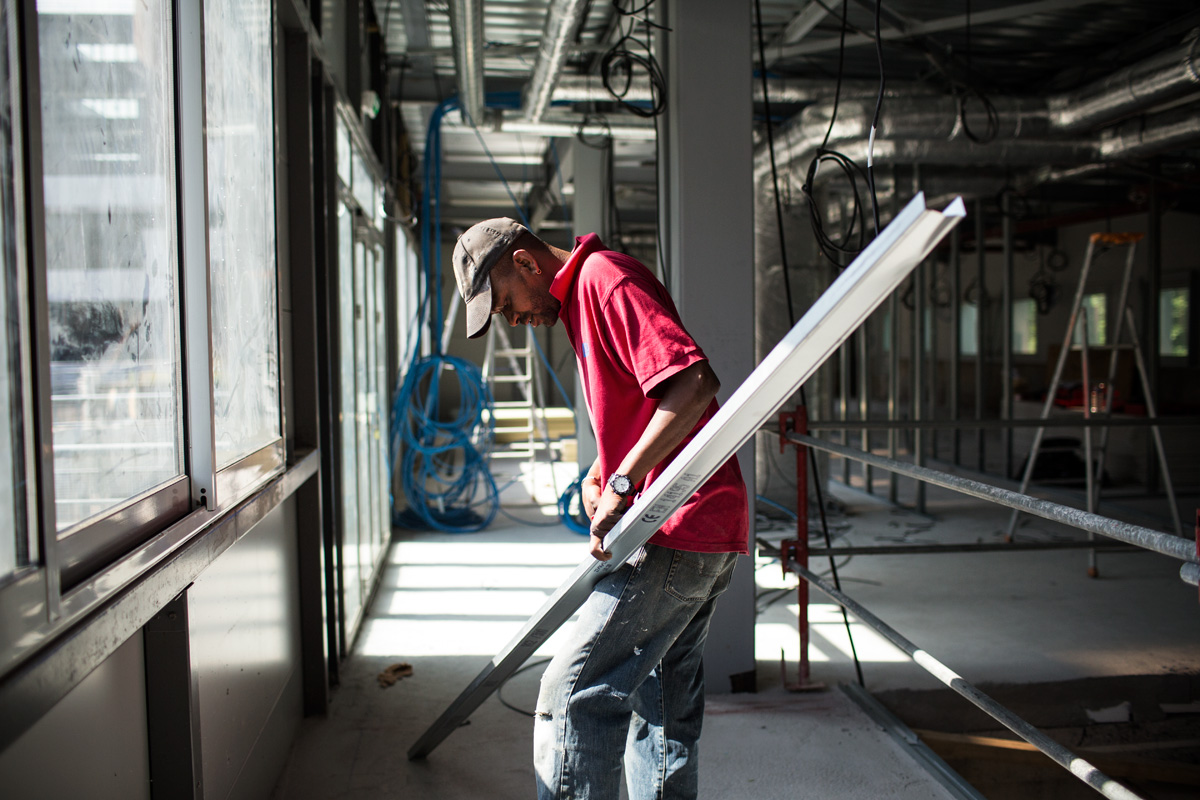 "Since my boss discovered that I'm not the owner of the documents, it's been as though my working contract was void. It doesn't apply any more. I have no holiday entitlement any more. I'm not working 35 hours per week now but 40 or 42."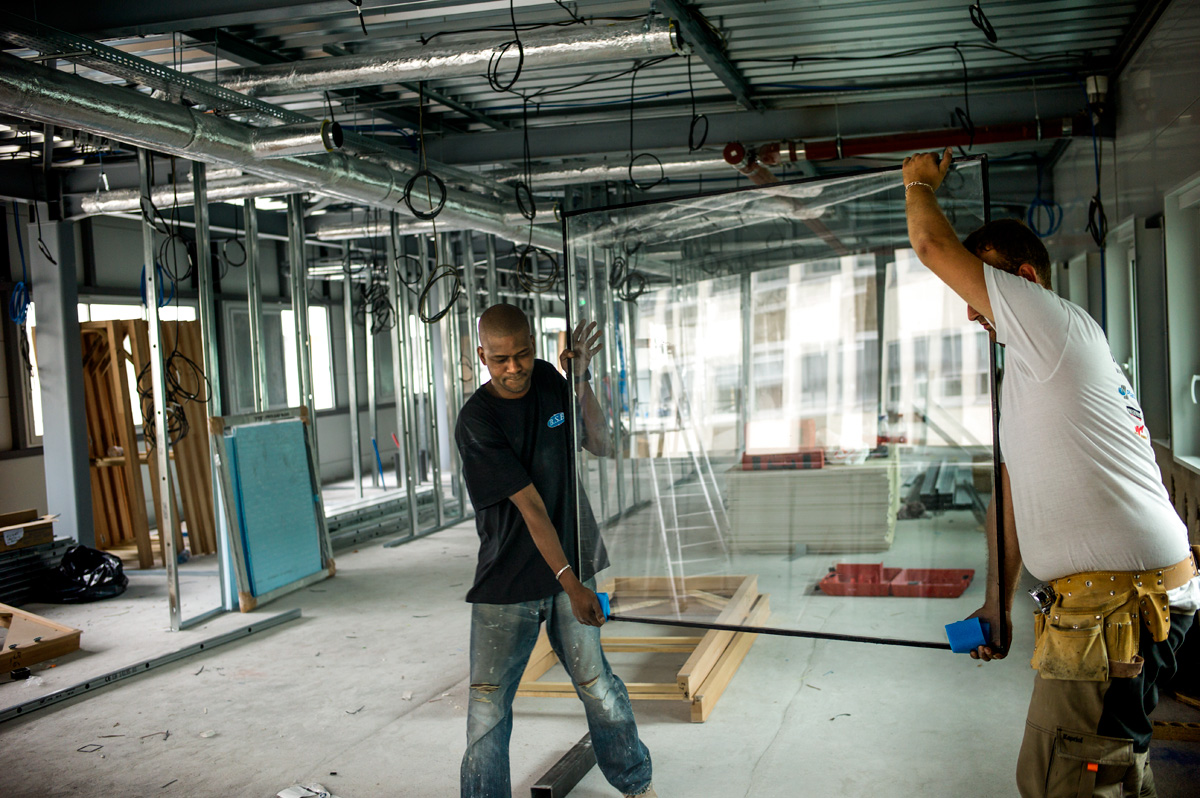 "Sometimes I work the entire weekend, and I very often work on a Saturday for the same pay, as if it were a regular day. Being undocumented means you're not living, you're surviving."
"It's a huge struggle for me to get medical treatment or housing. A person who has no documents has no accommodation. The only solution is to be put up by friends."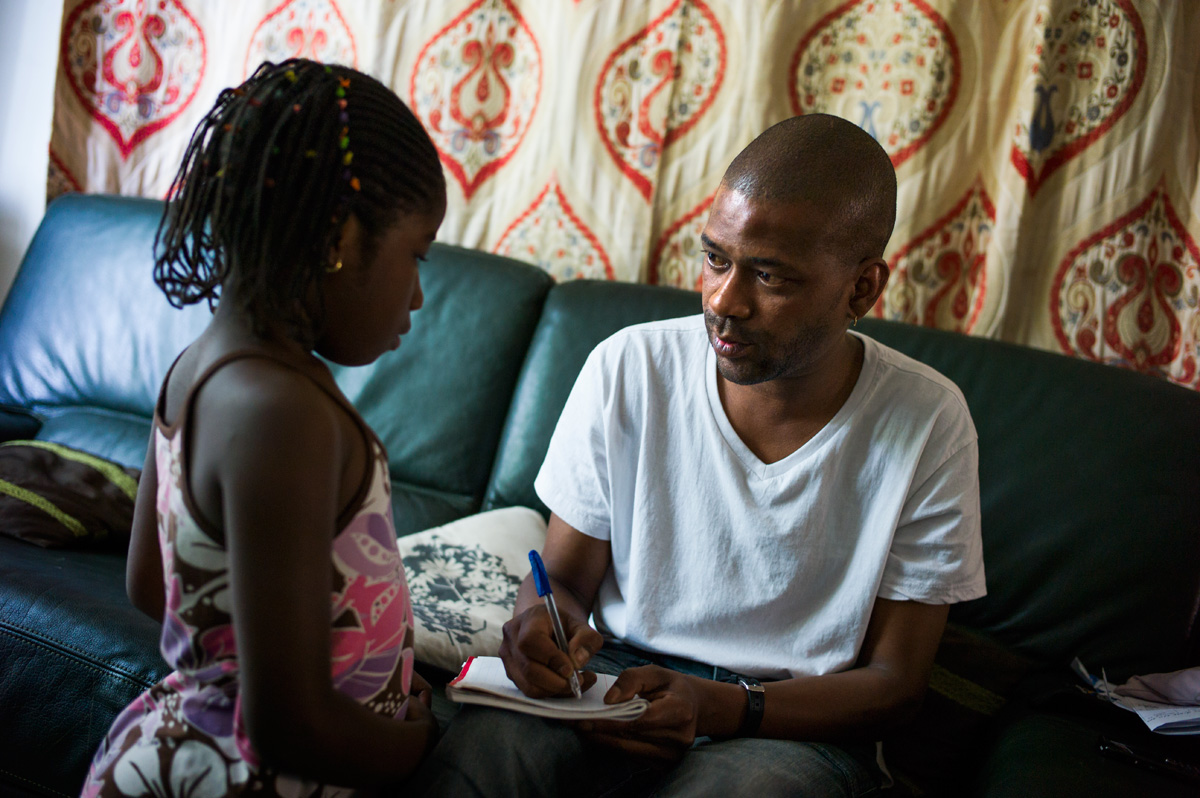 "I avoid walking in the street with my daughter, even though she has French nationality. She would never handle seeing her undocumented father being inspected by the police. It would be a total shock for her."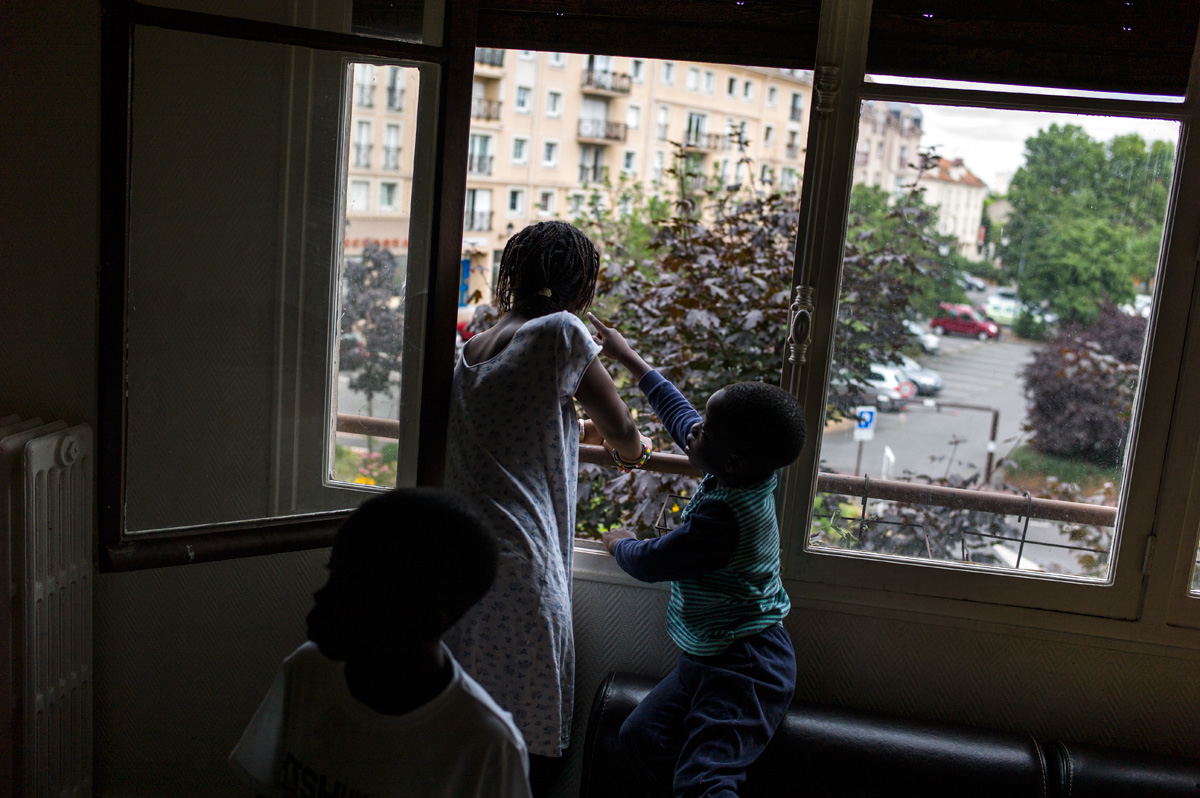 "My daughter went to Mali last year for the first time. Since then, all she wants is to go back there with me. She can already imagine us together in the streets of Bamako. I've never made any secret of my situation... but can she really understand that her father can't go with her? It hurts me every single day."
ALAIN, 52 years old. Toulouse.
Alain is a builder and he accepts all kind of assignments offered by Toulouse's temping agencies.
Yet some managers consider he is just a bit too old to be hired, so jobs have become scarce.
When he separated from his partner, he lived for six months in his car.
Since then, he has been living in a caravan with no running water, with his two dogs.
At the campsite, renting a pitch is expensive, and he eats only one meal a day.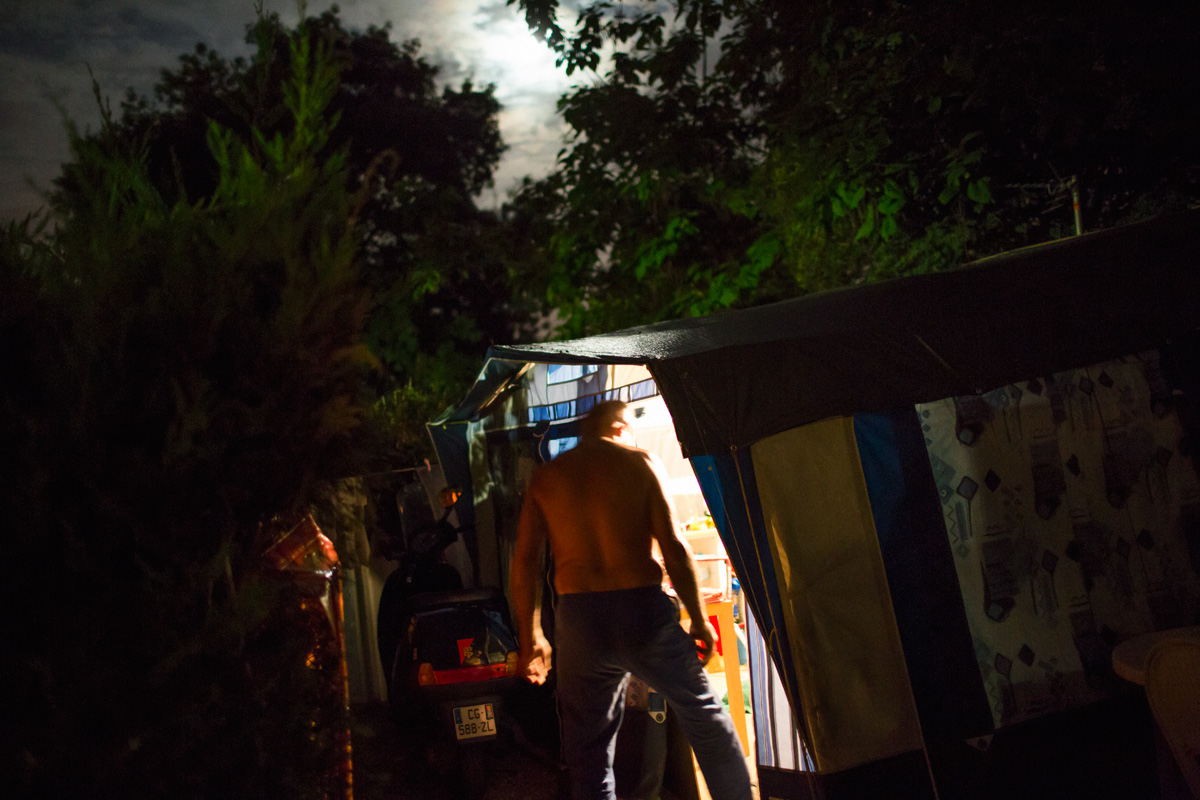 "People use to say that when the building trade is thriving, everything is thriving. As a builder, there's one thing I notice: there's no work. I accept every job I'm offered, but even so, I only work on and off."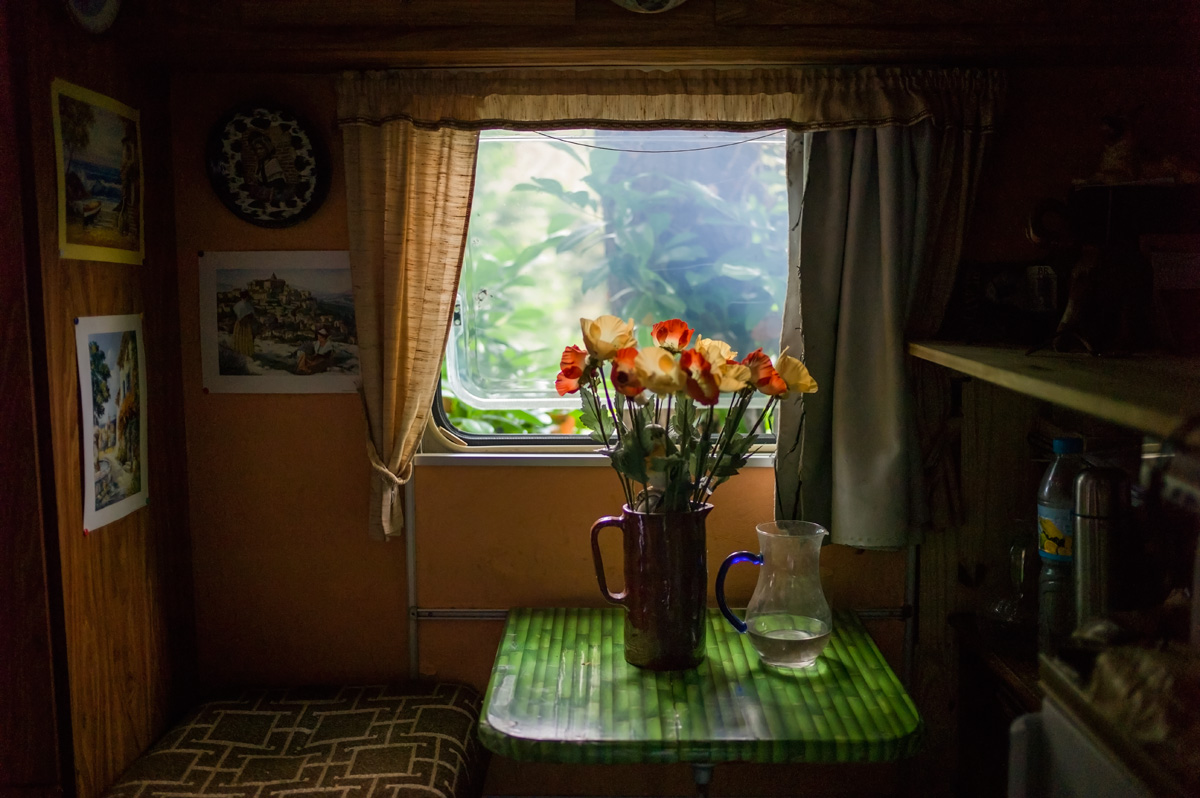 "It often affects my morale. The small salary that comes in when I'm working allows me to live... or, rather, to survive."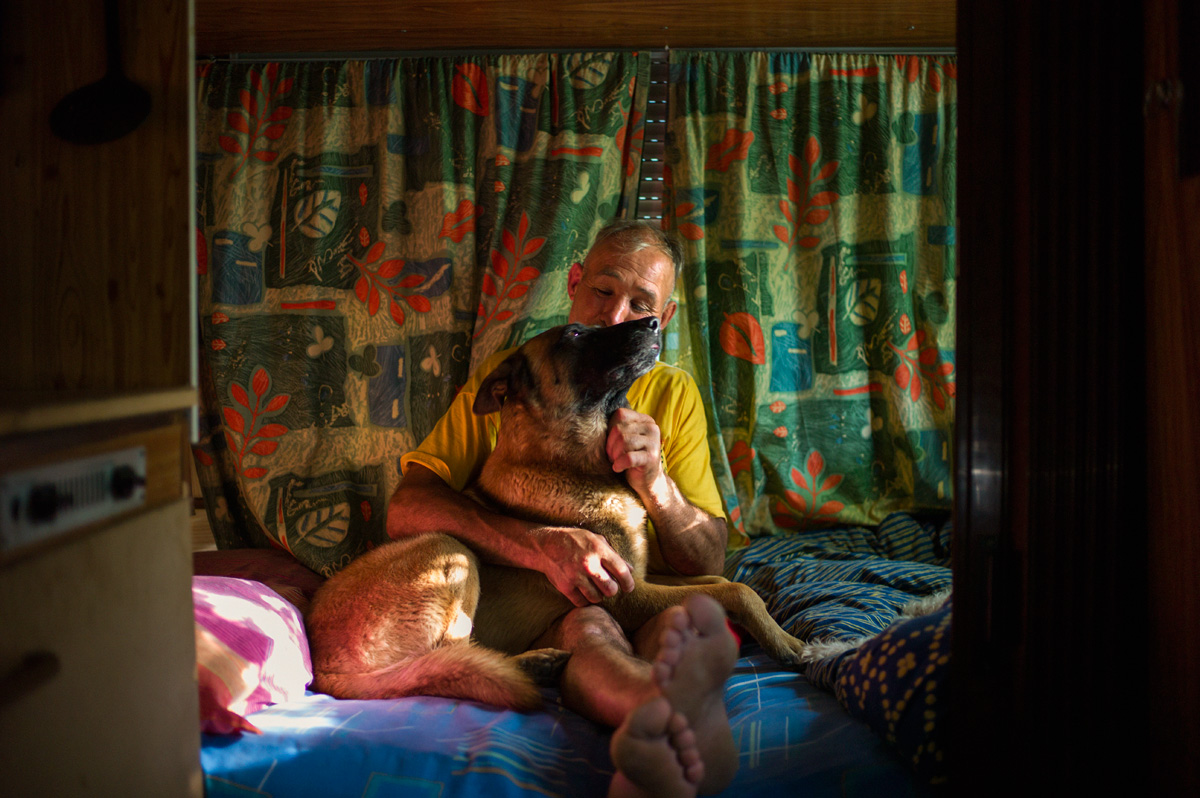 "I don't know what the future holds for me. In temping agencies they often say: 'Sorry Sir, but you're a bit too old.' So I'm very often left disappointed."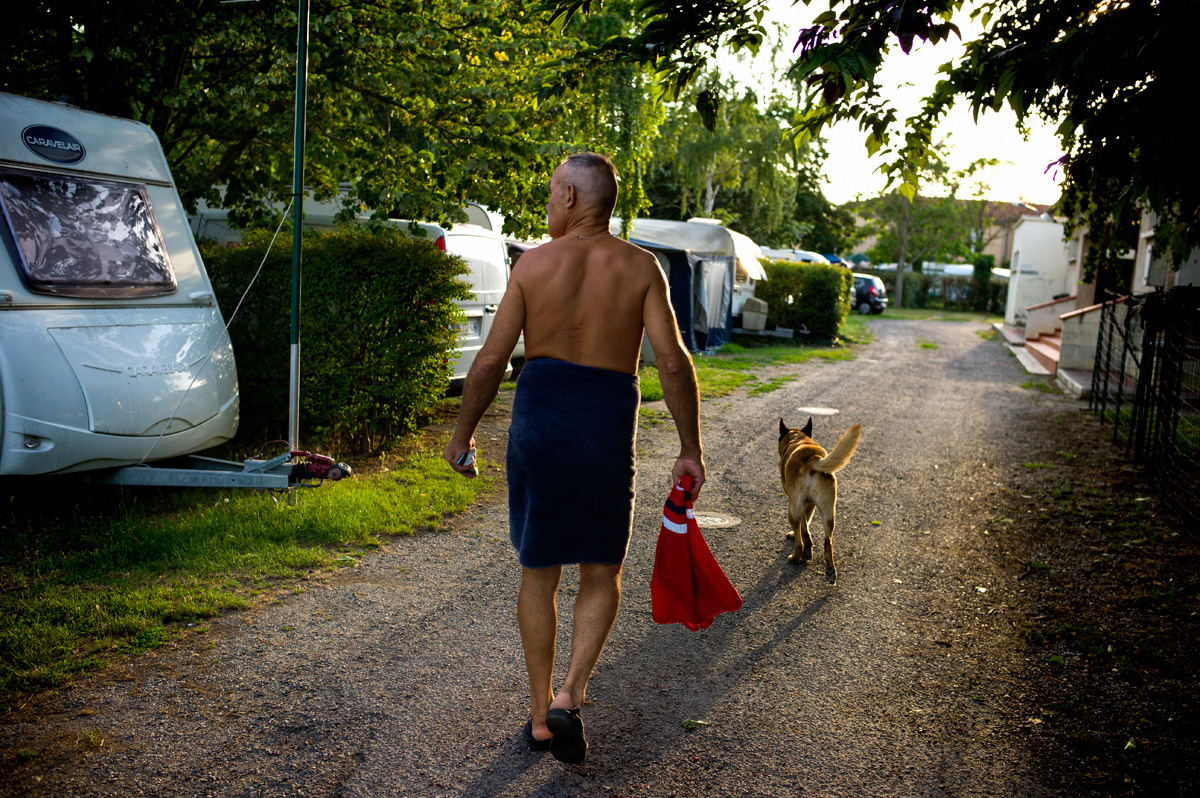 "At the place I'm living now, I have to go out to take a shower. I have water in a jerrycan, which reminds me a bit of the good old days of my youth... but it really isn't convenient."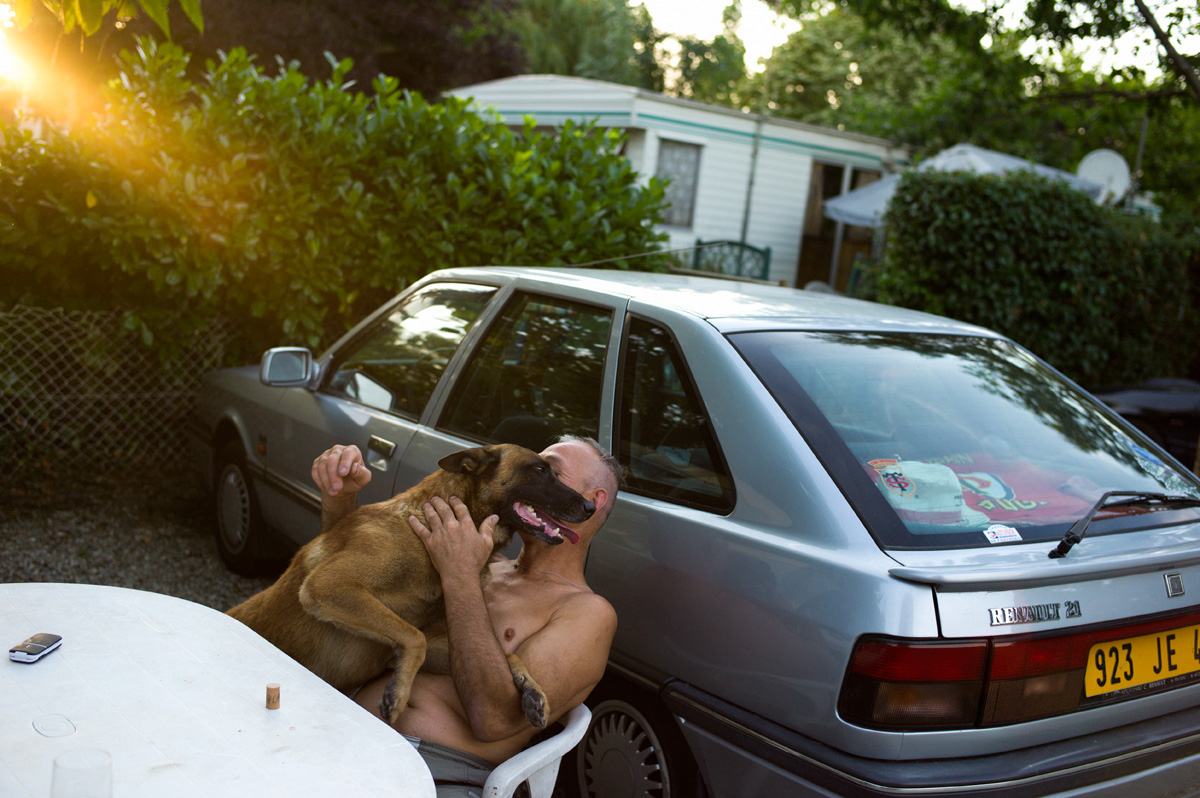 "Foremen see that I'm very motivated and that I work relentlessly hard. They're often very happy with me! And they tell me that they are... but still, they've had to stop giving me work. I think that's because they would have had to give me a fixed-term contract or open-ended contract."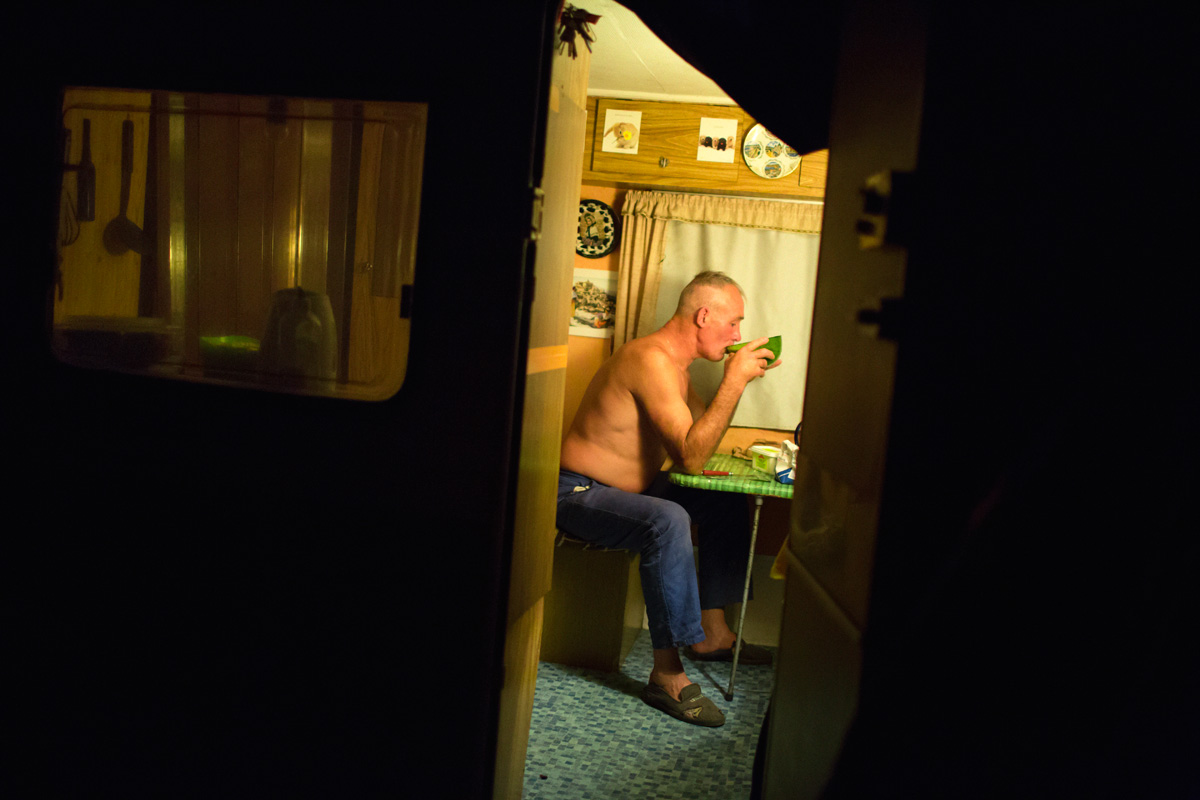 "For the last two days I've had a job as an operating agent – proof that I'm not turning work down! I wake up between 3.30 a.m. and 4 a.m.. We start in the cool of the morning, because sweltering heat would make the job impossible."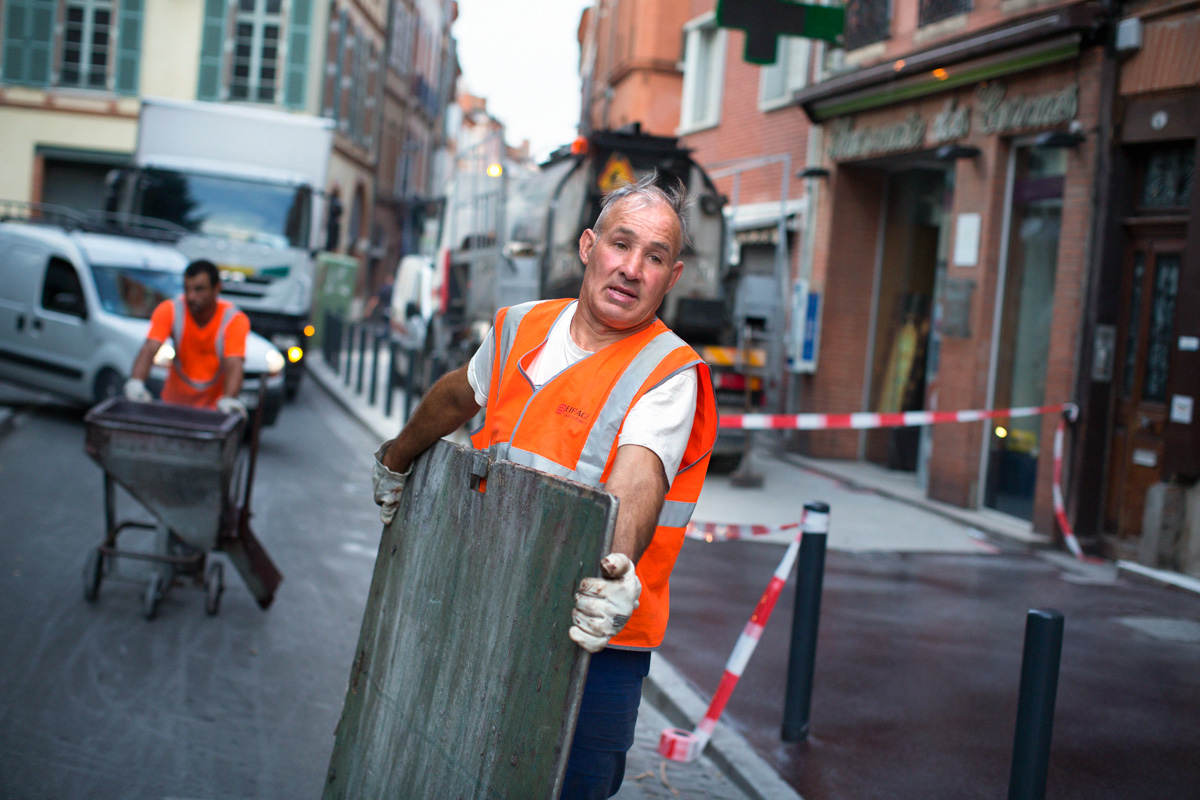 "One day, two days, three days, and then: 'Sir, we don't need you anymore, goodbye, the job is over.' This is the life I'm living, with no future. What do I have left?"
XAVIER. 39 years old. La Chapelle sur Oreuse.
Xavier is a farm worker in Burgundy.
He lives with his wife and their two children in an outbuilding on the farm.
In the warmer months, he spends countless hours at work. It's tough work. Sometimes, the harvest or the animals can hold him up in the fields until the middle of the night.
When his schedule is not too busy, he takes advantage of his time to do some DIY.
Recycling, scrap and second-hand shops... a few little resources that help to make ends meet.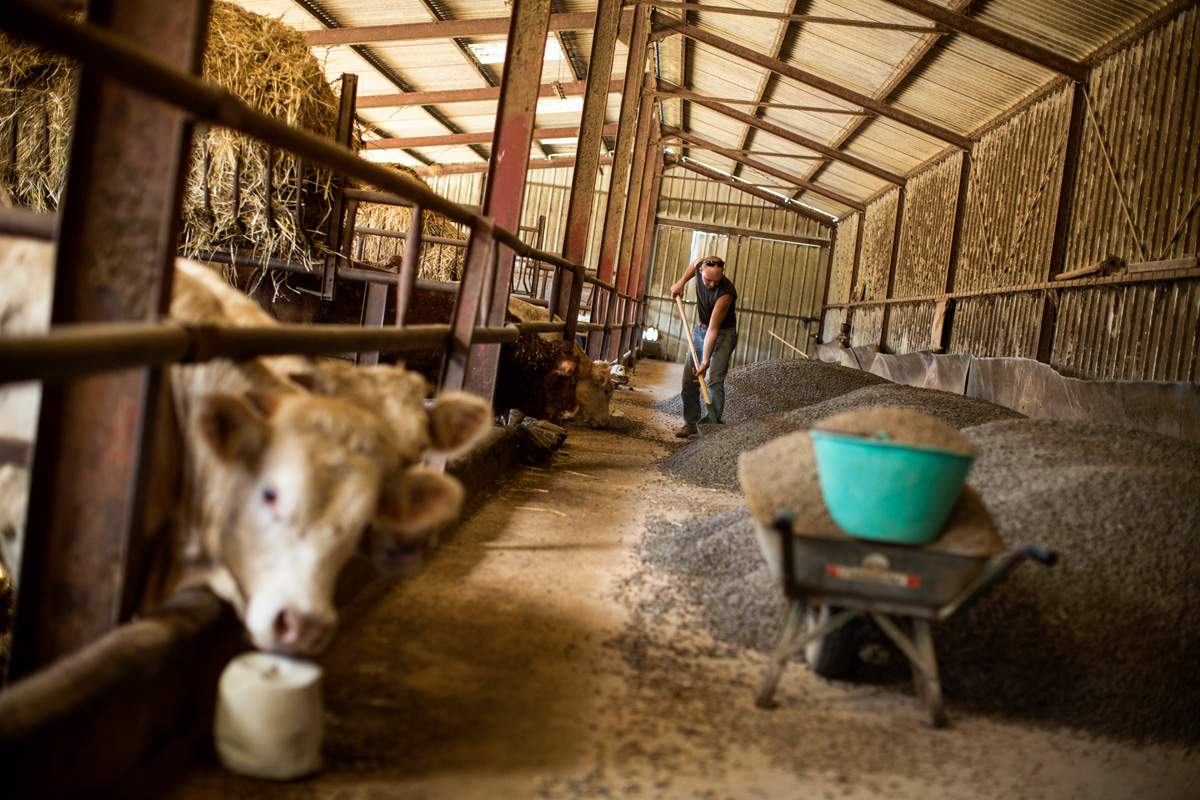 "I work on a farm, taking care of land and cattle. I work on a 35-hour-per-week basis, but this is a basis over the year. Of course our working hours depend a lot on the climate."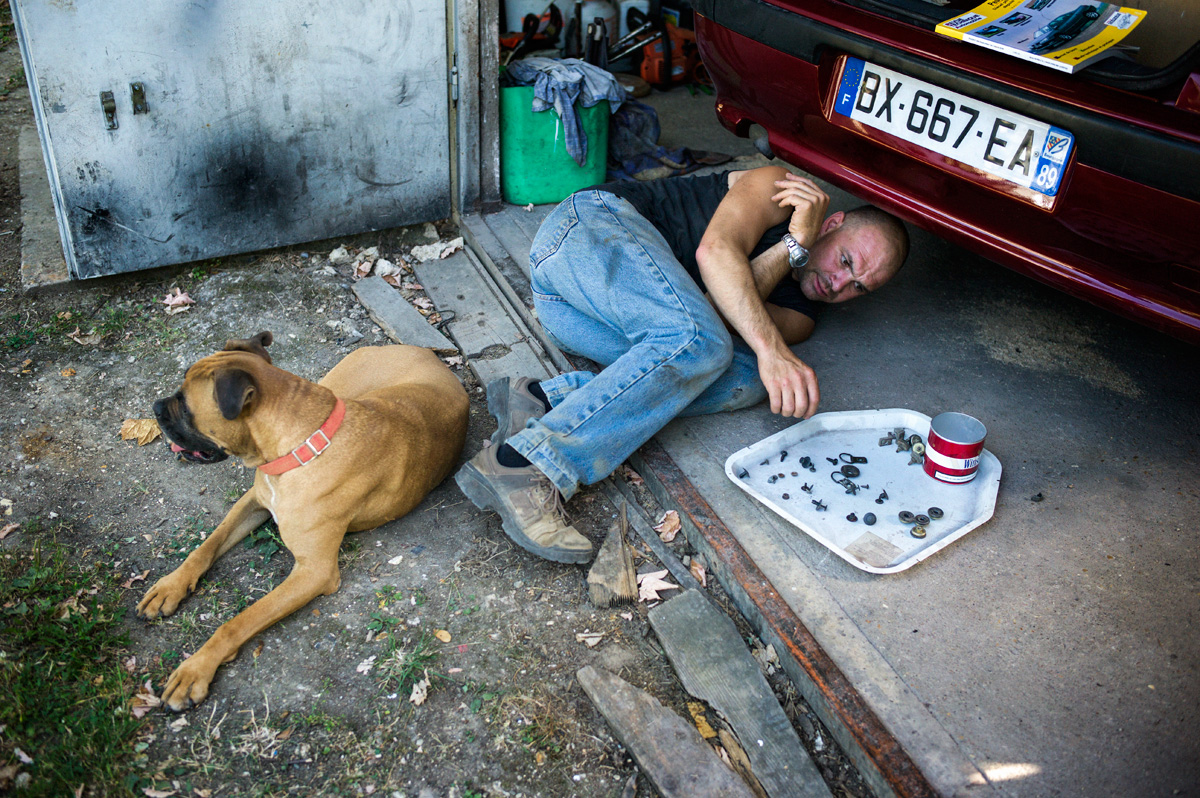 "I manage to get by, fixing some second-hand cars. My friends know I salvage stuff... not a lot, but enough to get a bit of extra money at the end of the year."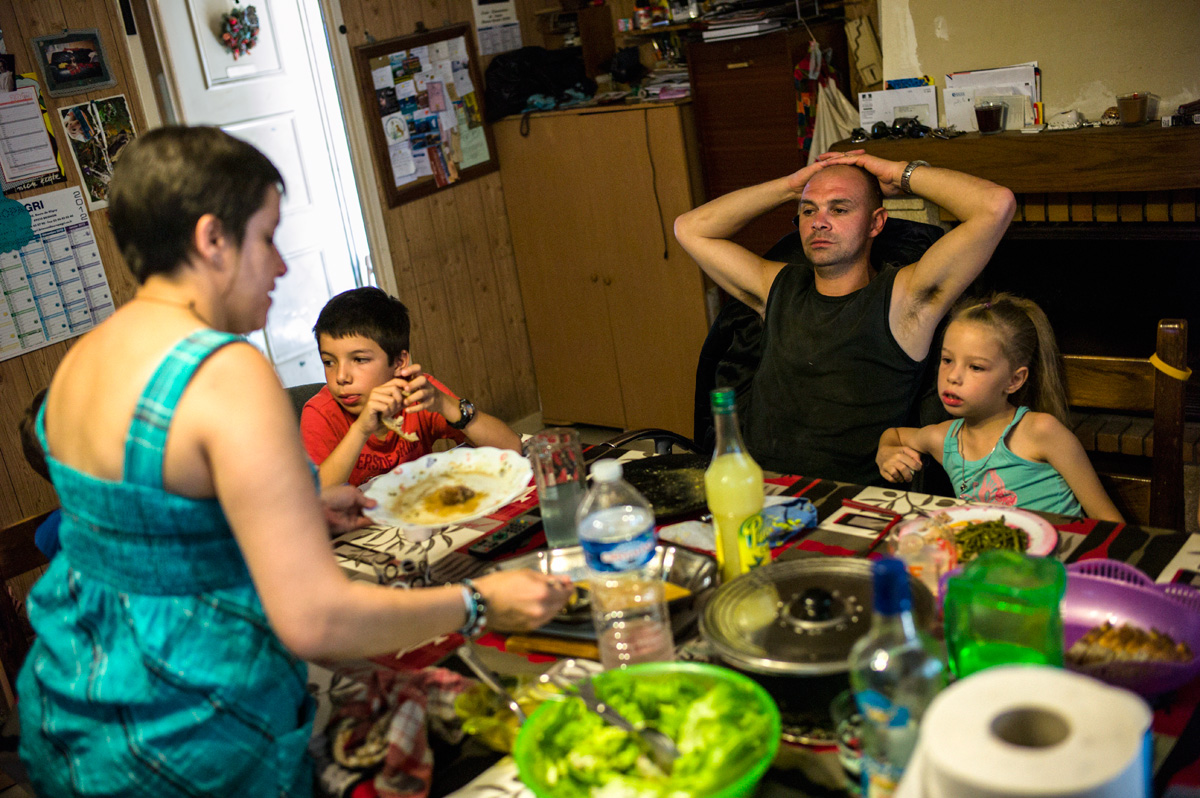 "My wife and I sometimes deny ourselves particular things, because we can't afford them or we have no time. My odd jobs have often helped out, letting us eat a bit better or improving daily life."
"I hardly ever get free time, maybe one week of real holiday per year. The rest of the time, I'm busy with odd jobs here and there. Sometimes people help me out, and sometimes I help a friend out... well, we support one another. In the end, it's less expensive for everybody and we all break even."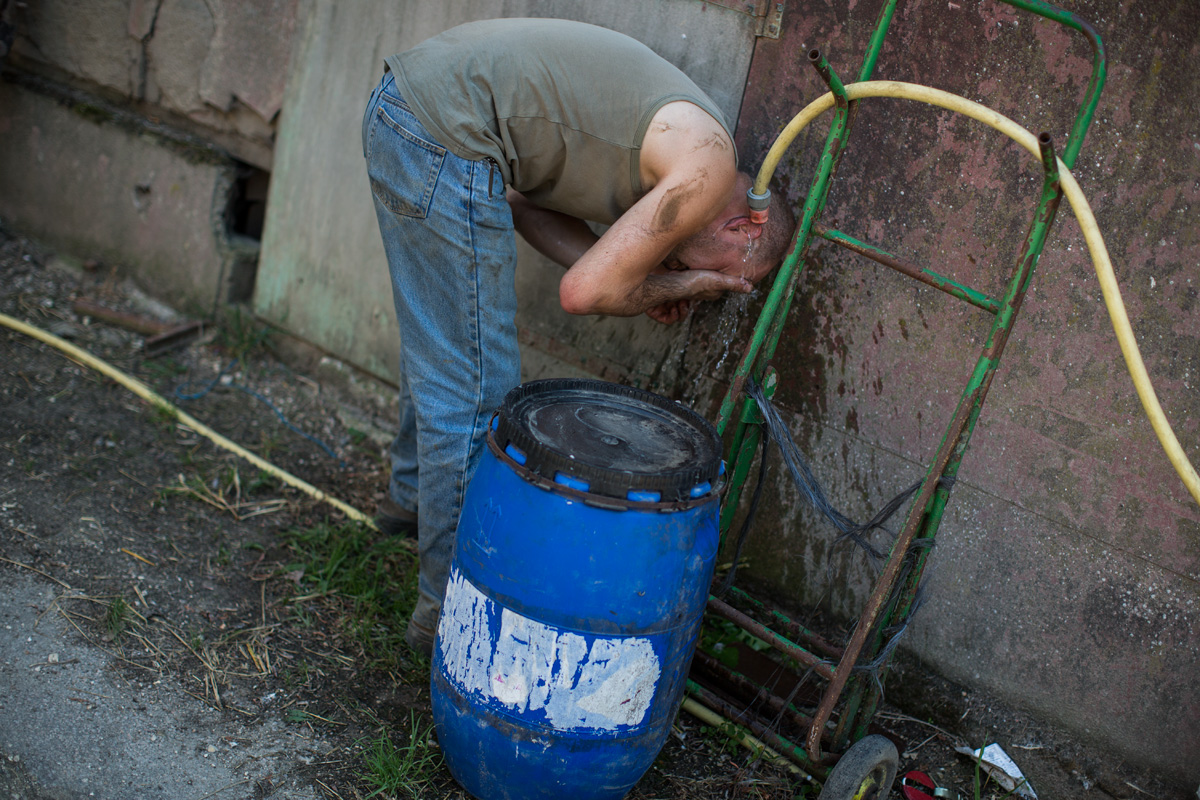 "For now, we can't afford to dig a well to get running water. So I collect and store rainwater from the gutters in a water tank... but we can't drink it. Of course, that way we avoid paying too much for water bills, but it makes things difficult when there isn't enough rain..."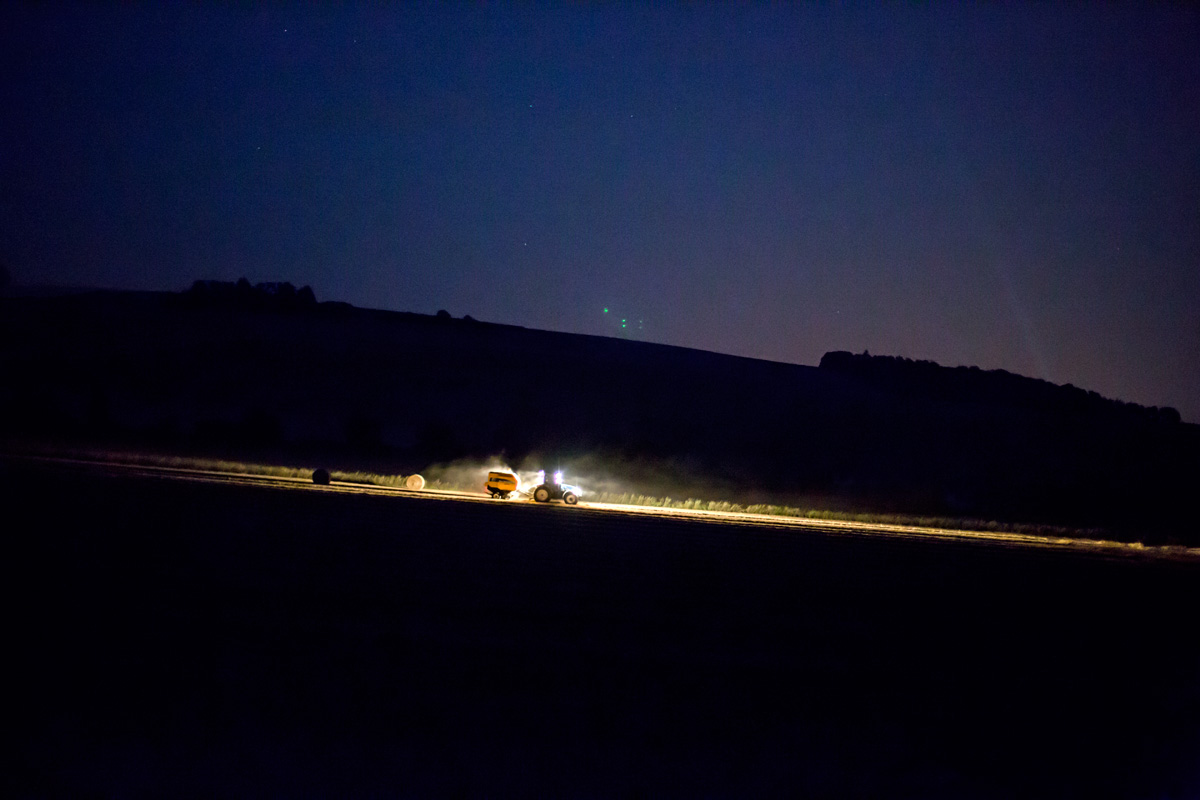 "At harvest time, we work flat out. If we counted the extra hours, it would be too much for our boss in summer."
MARTIN AND MARIAM, 49 and 44 years old. Orly la Ville.
After 18 years living illegally in France, Martin got his immigration status regularised in 2011.
This year he has been offered his first open-ended contract. Of course, he has signed it. Every day he sorts pallets.
This job causes him musculoskeletal problems, but it is his only guarantee that his residence permit will be renewed.
His wife Mariam works as a cleaner. Her schedule is tiresome and random.
In order not to loose her residence permit she accepts the situation, even if this means she can hardly spend time with her husband and even less time with their two children.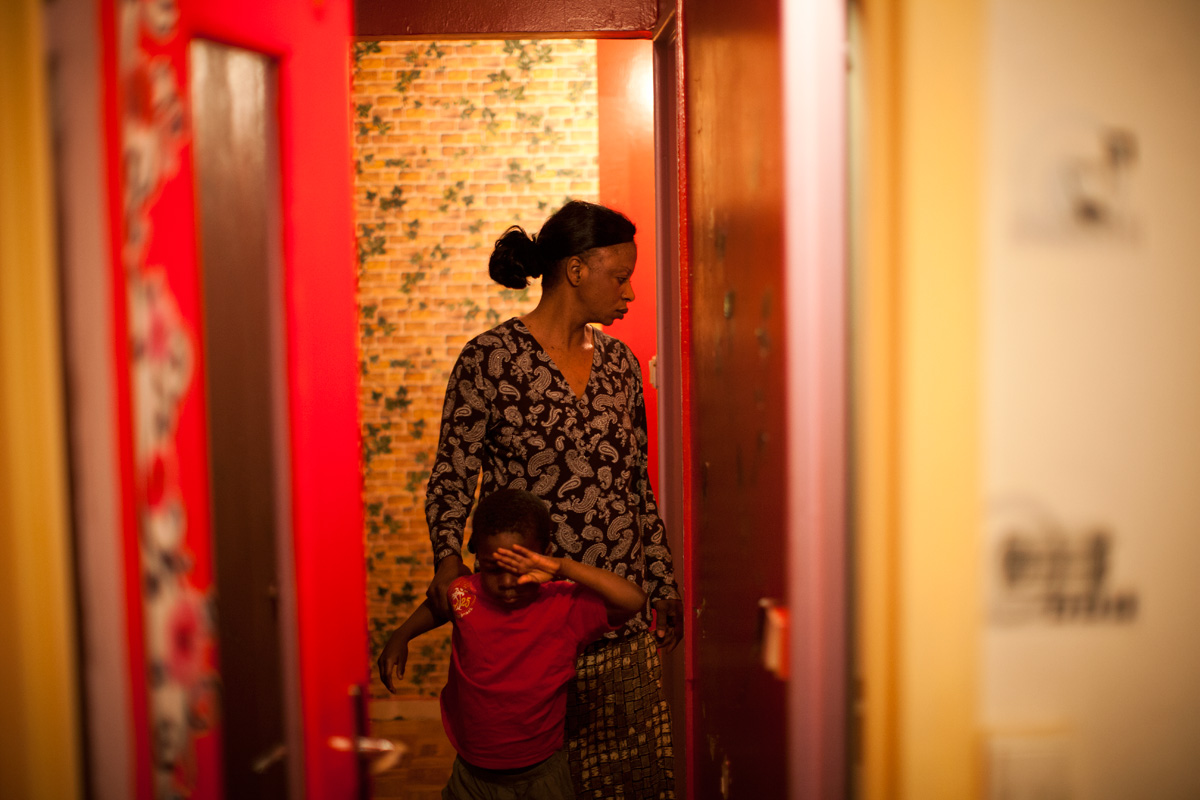 "I wake up every day at 4 a.m. ... and I get the children up too."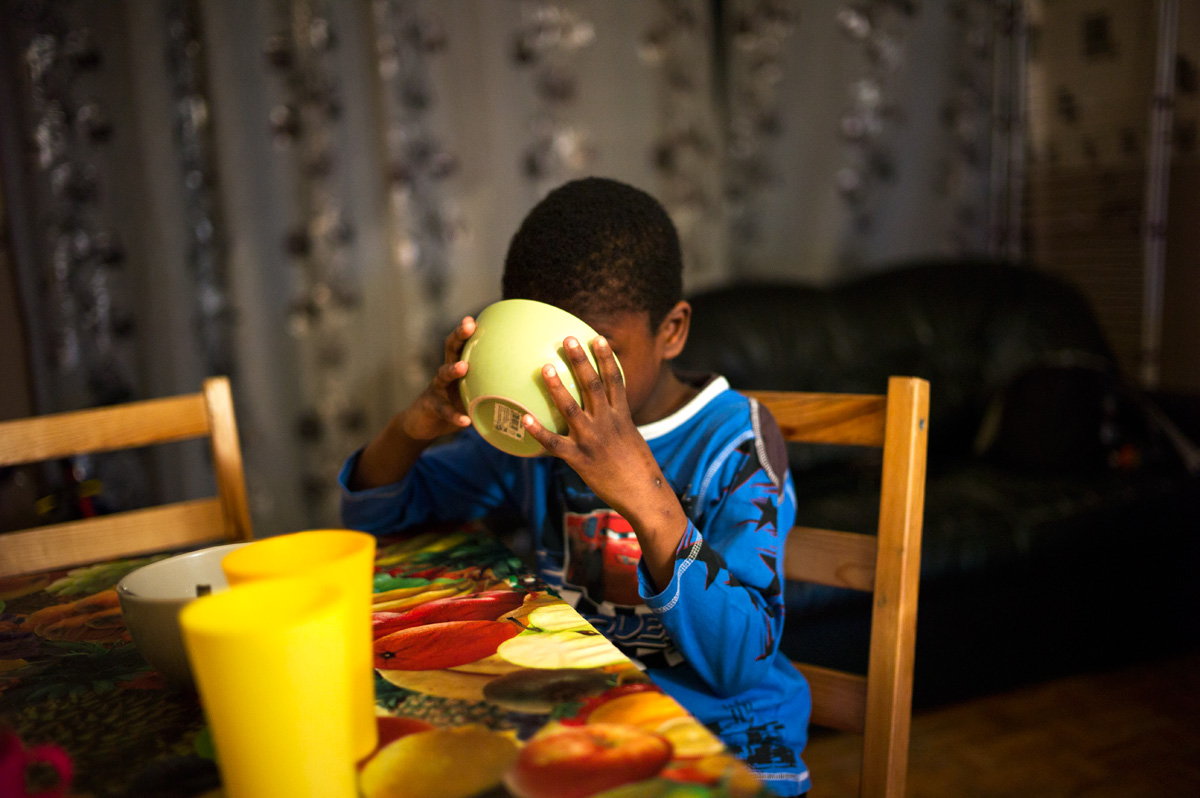 "I've been doing the same job for ten years. If I want my residence permit to be renewed, I have to stay in the same job."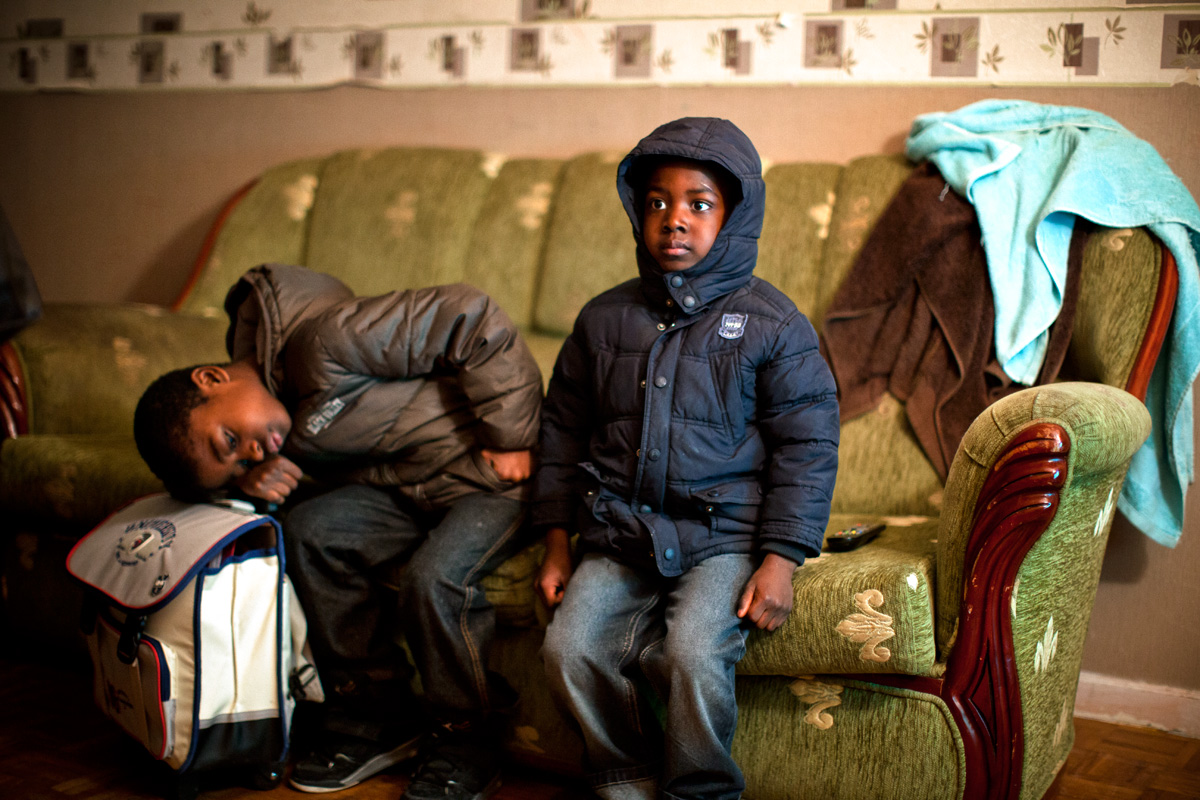 "Shift work is exhausting. What's more, I don't sleep very well. The children are tired too."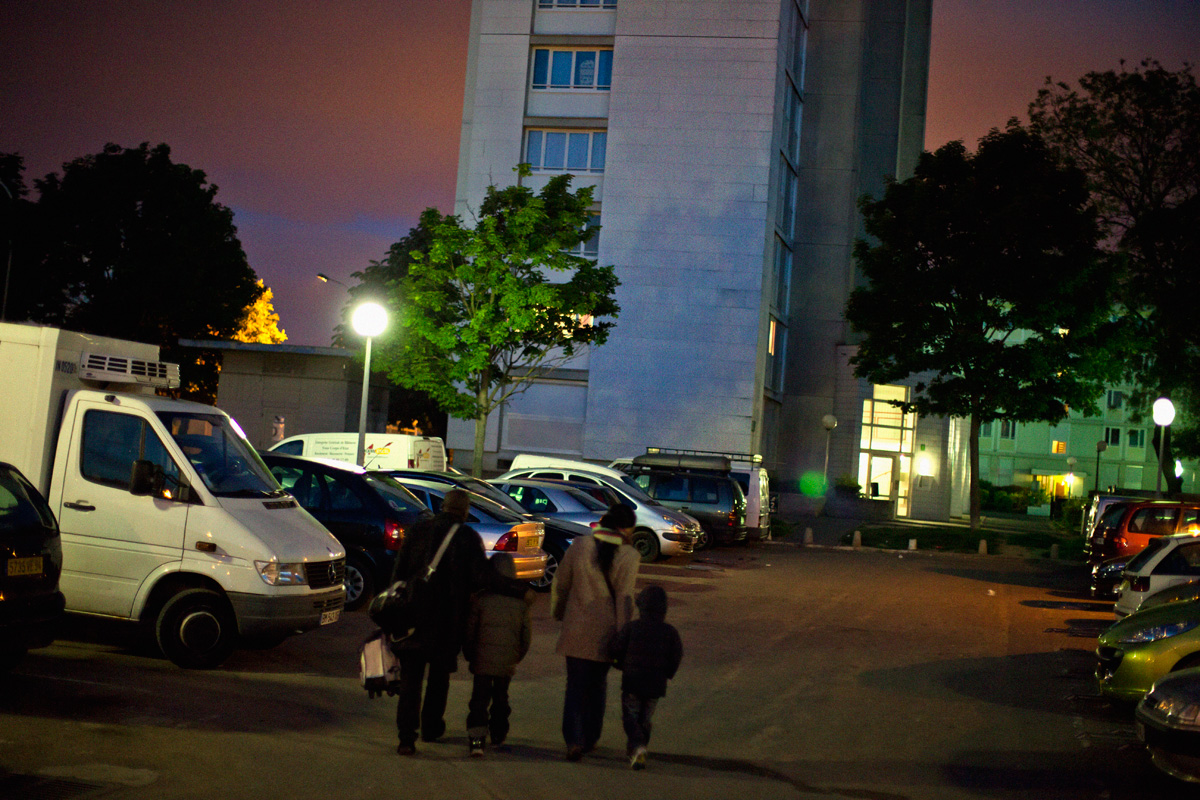 "Every morning I wake them up in the middle of the night, get them ready to take them to their nanny at 5 a.m.. Fortunately, she lives just down the street from us."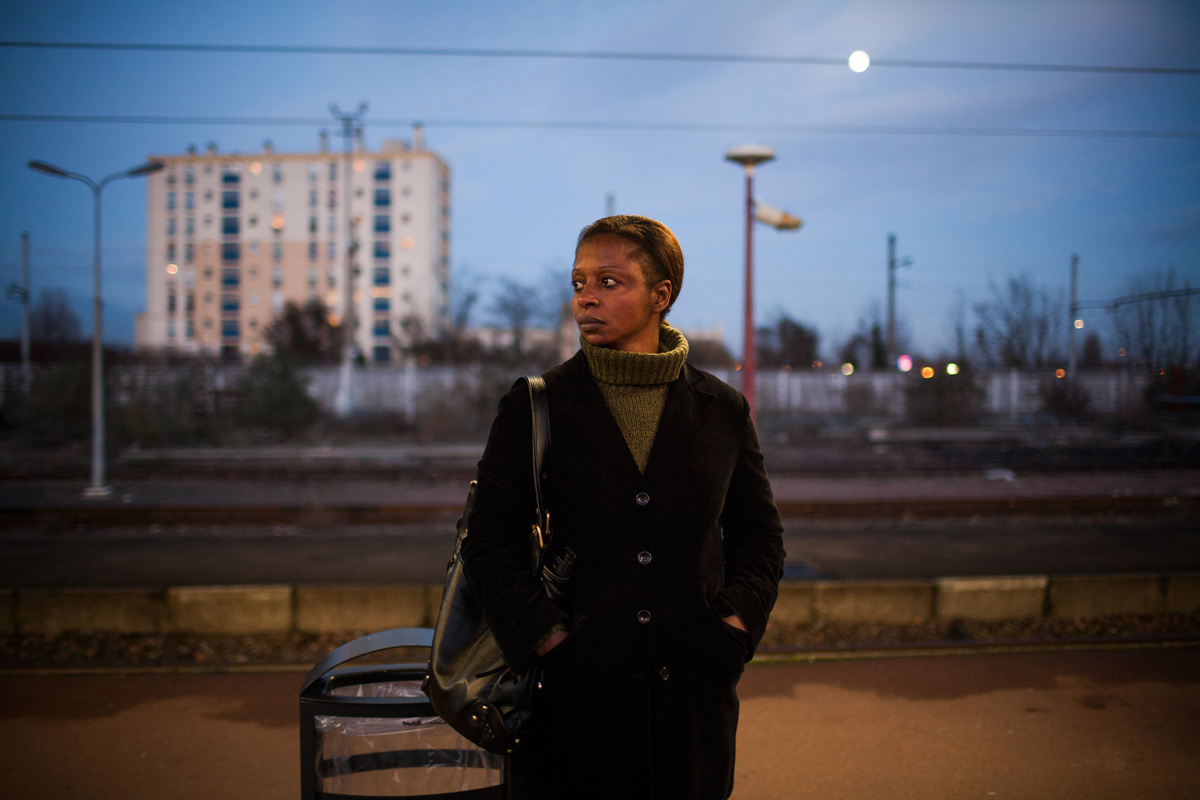 "I go to the train station at 5.29 a.m. to reach Liberté metro station, in Charenton: I have to start there at exactly 6 a.m."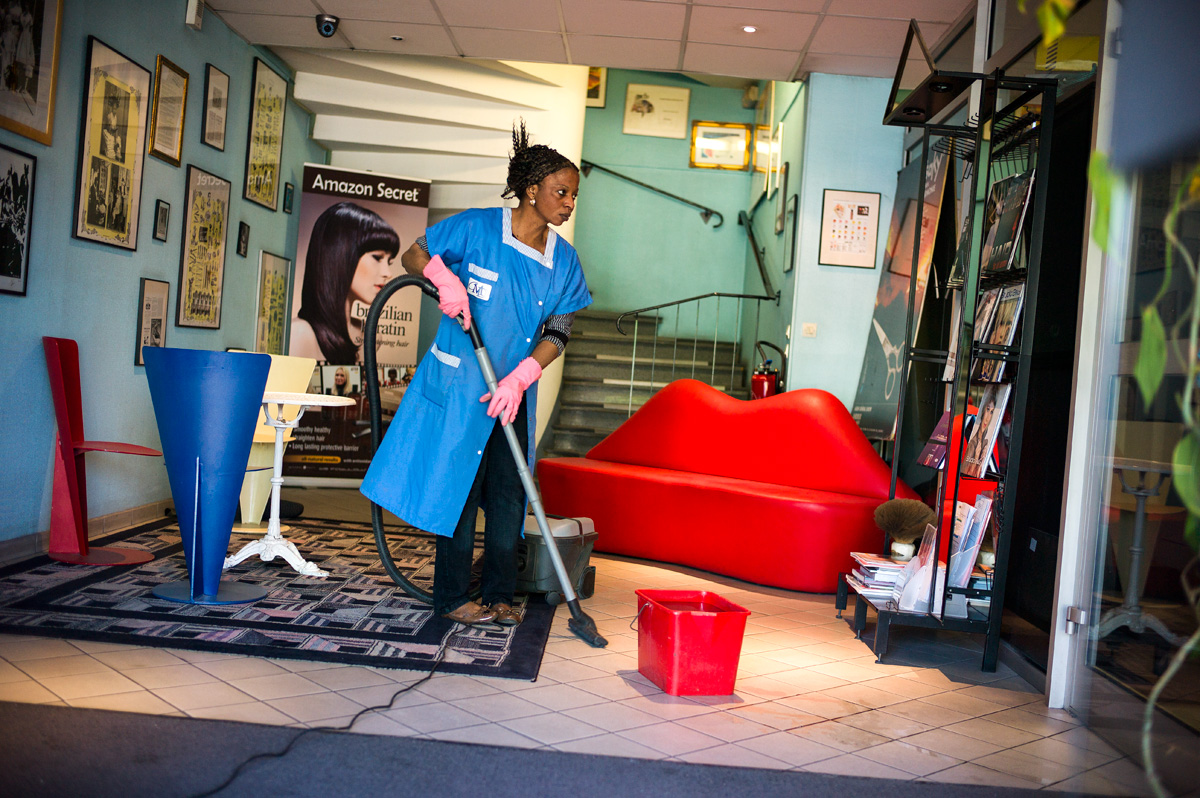 "I work from 6 to 8.30 a.m. and then I go to Choisy-le-Roi, where I work from 9 a.m. till midday."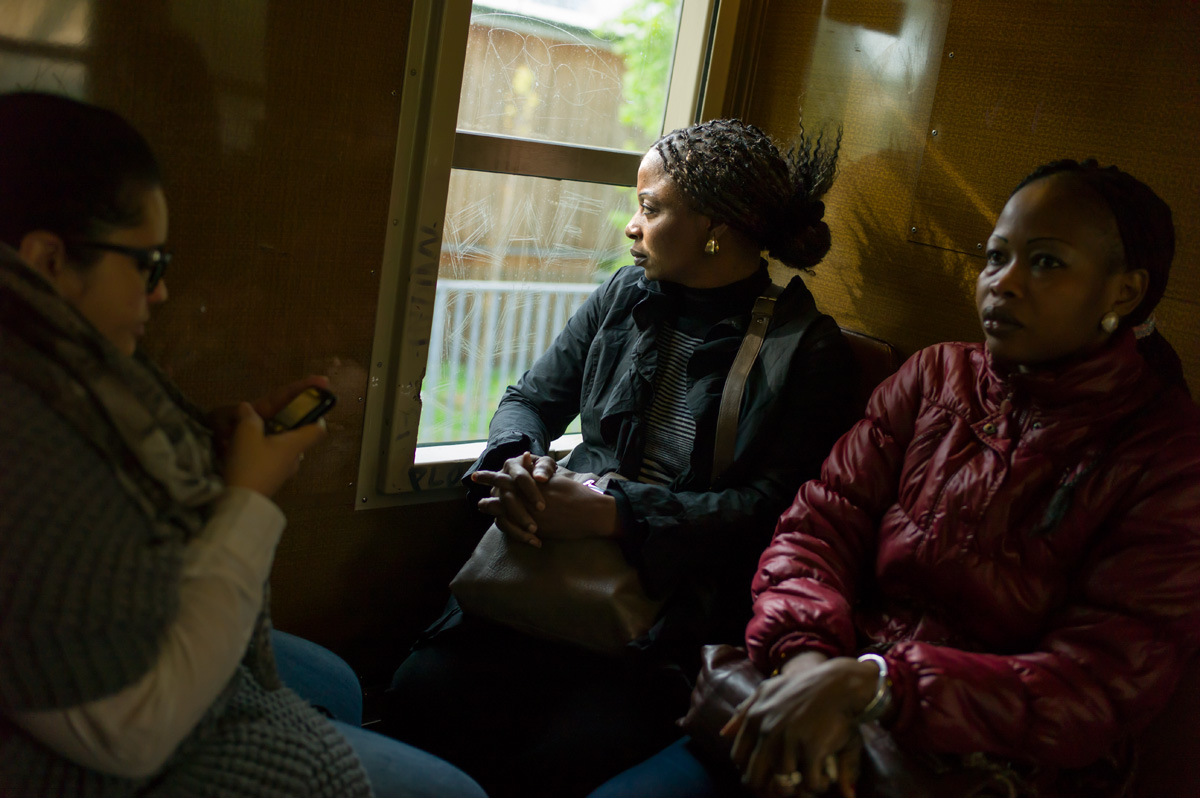 "When I leave to get back home, I hardly have time for a rest: I have to hurry up to pick up the children from school."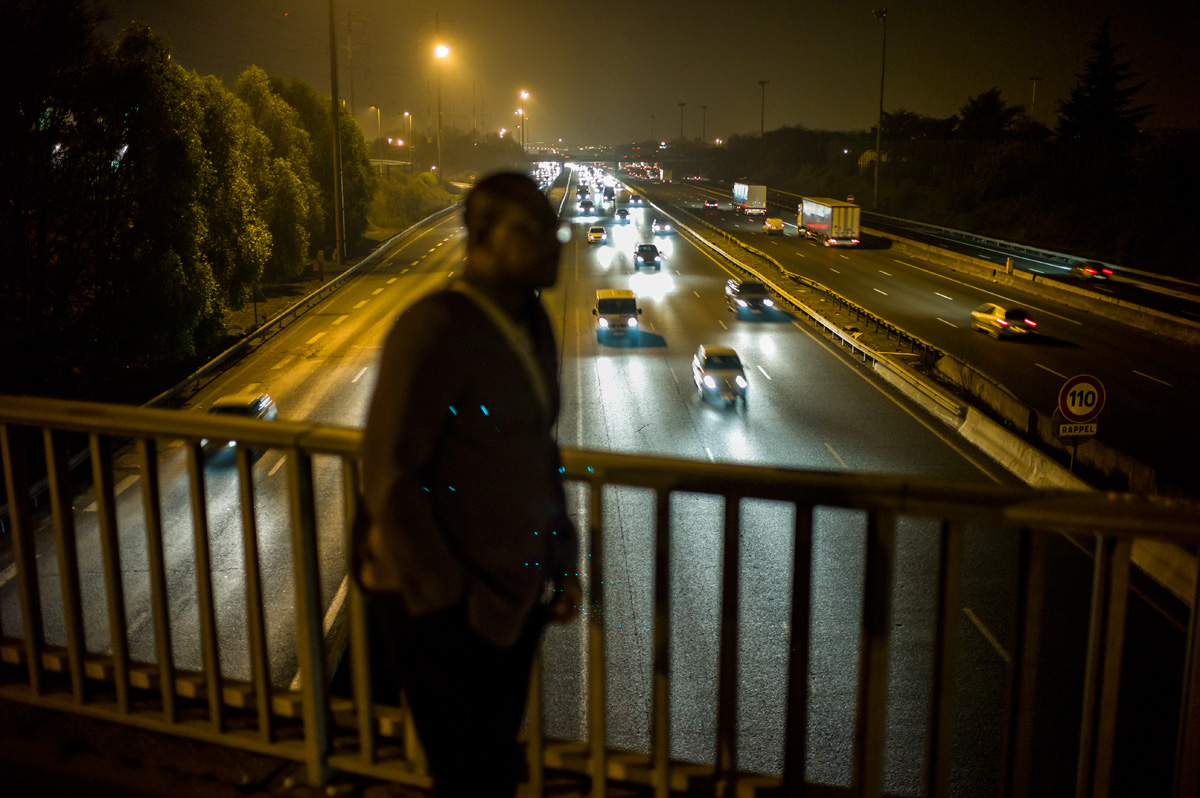 "I've been 17 years without a residence permit. Nowadays, I work as a pallet sorter and fixer. We come and go all day long with different kinds of pallets and those repetitive movements affect the nerves, and especially the back."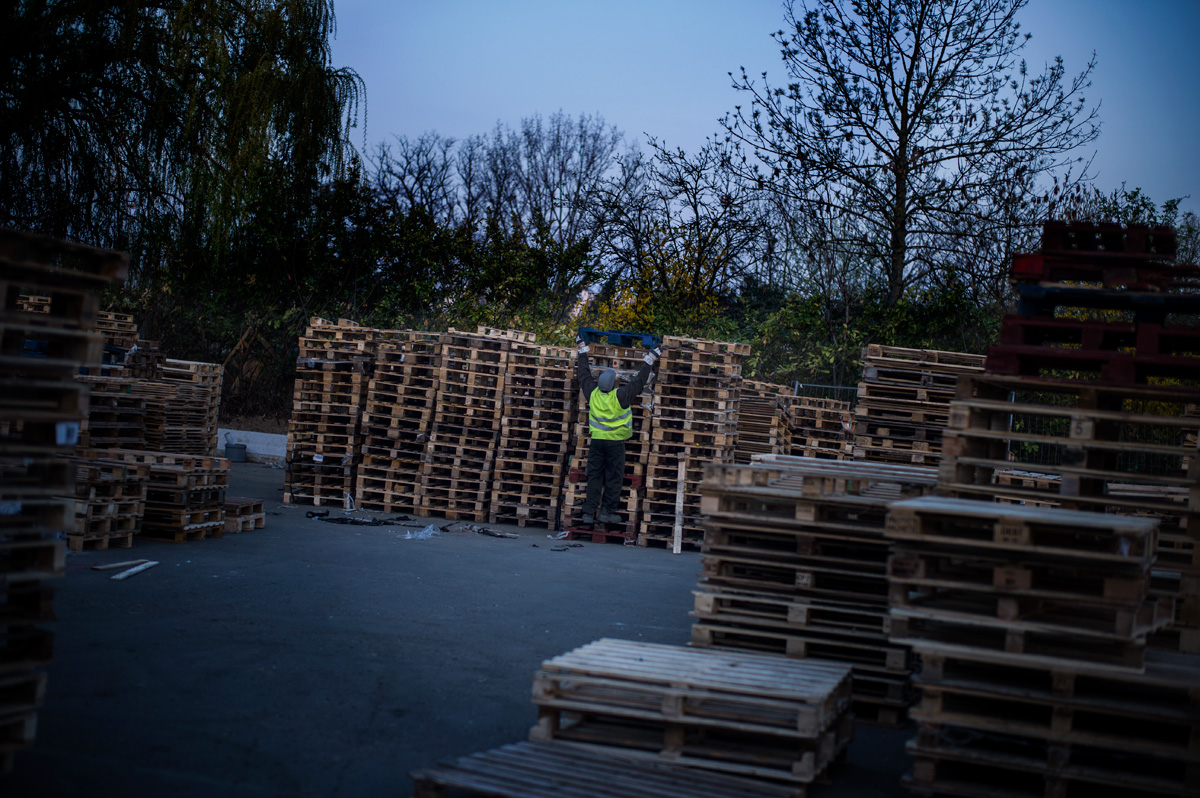 "There are some particular movements that I've been told by my doctor to follow, but as the company wants us to process over 700 pallets per day, those recommendations often fall by the wayside. We need to act quickly to process the 700 needed."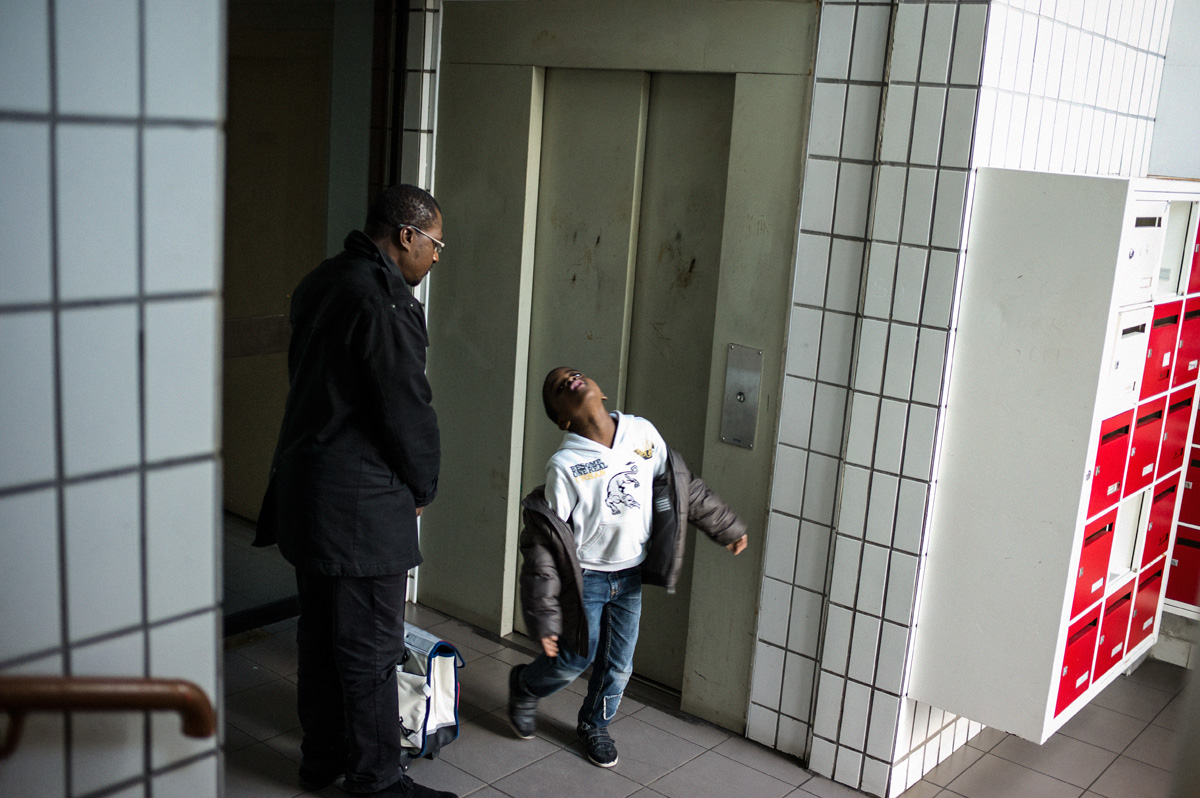 "I started working in this company with five French colleagues. All of them stopped, saying: 'If you stay in this job, you die.' And I'm still here."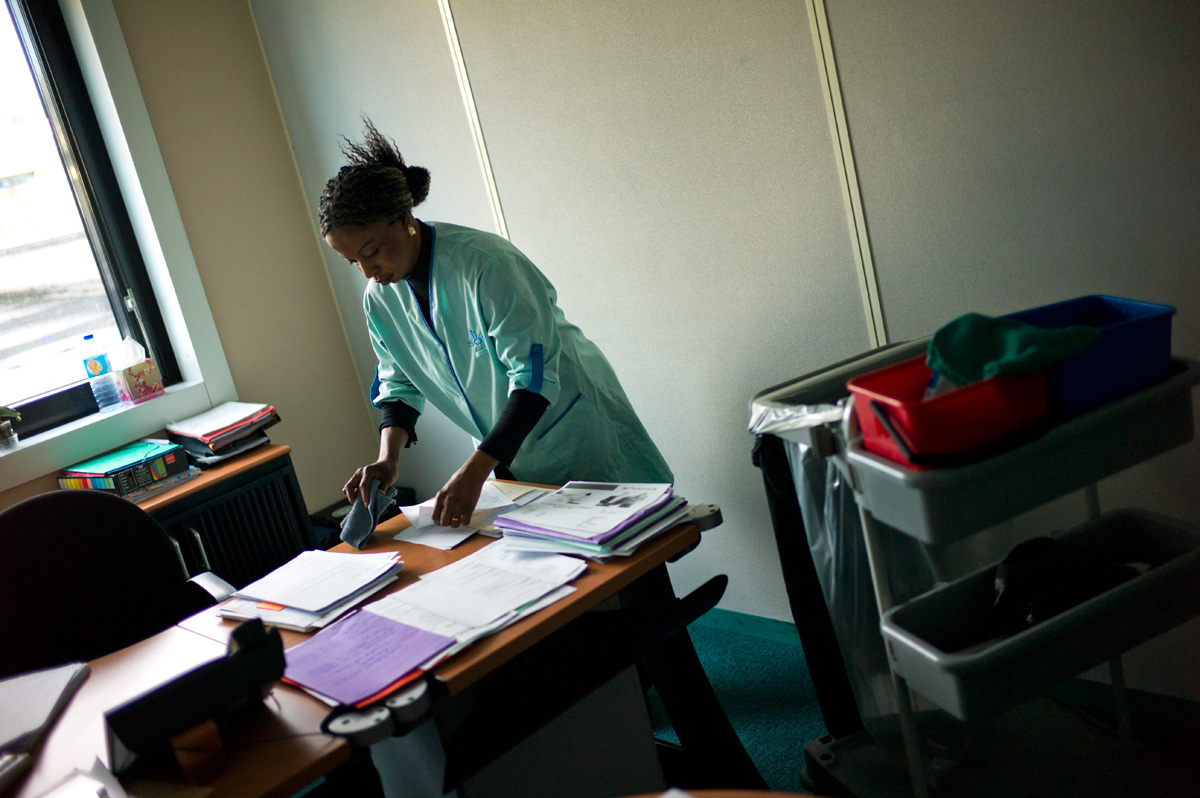 "I only spend half an hour with my kids, after school. Very soon I have to get ready to go to the work I do from 6 p.m. to 8.30 p.m."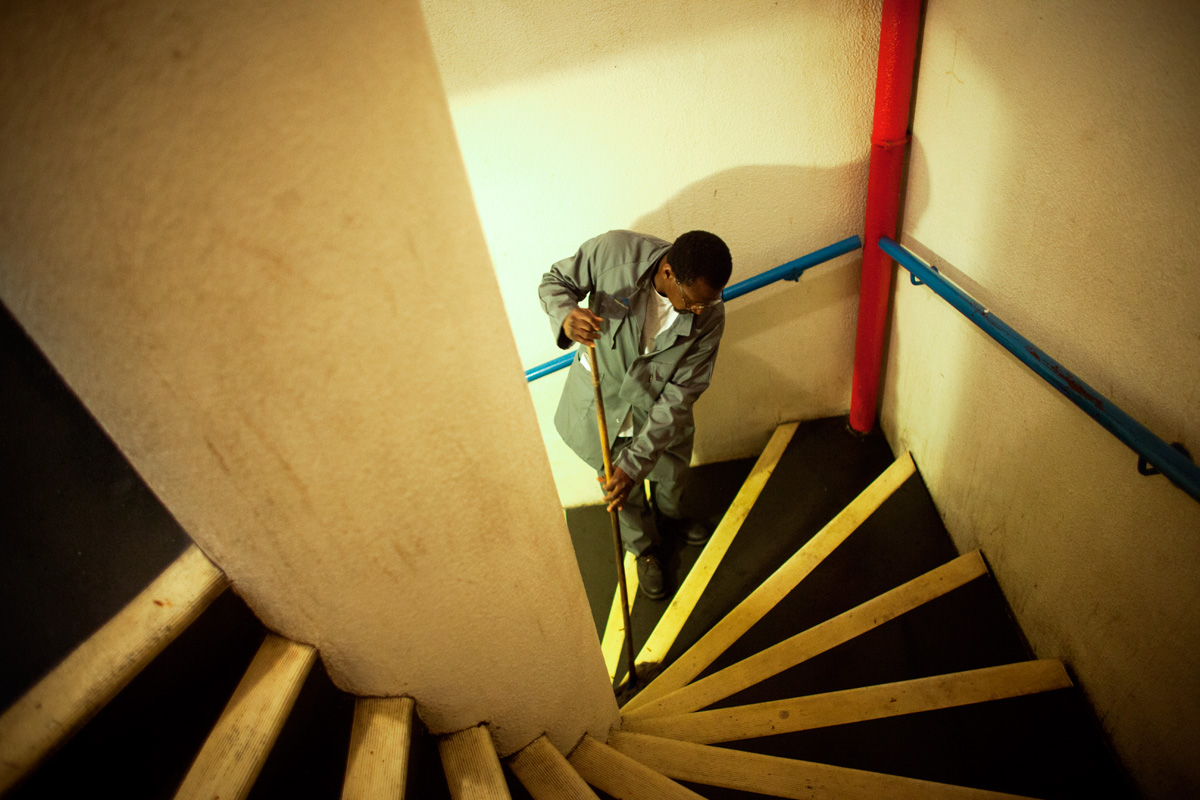 "Of course I'd love to get a better job, but this is my first open-ended contract... and anyway, I wouldn't be able to renew my residence permit without a contract and a payslip."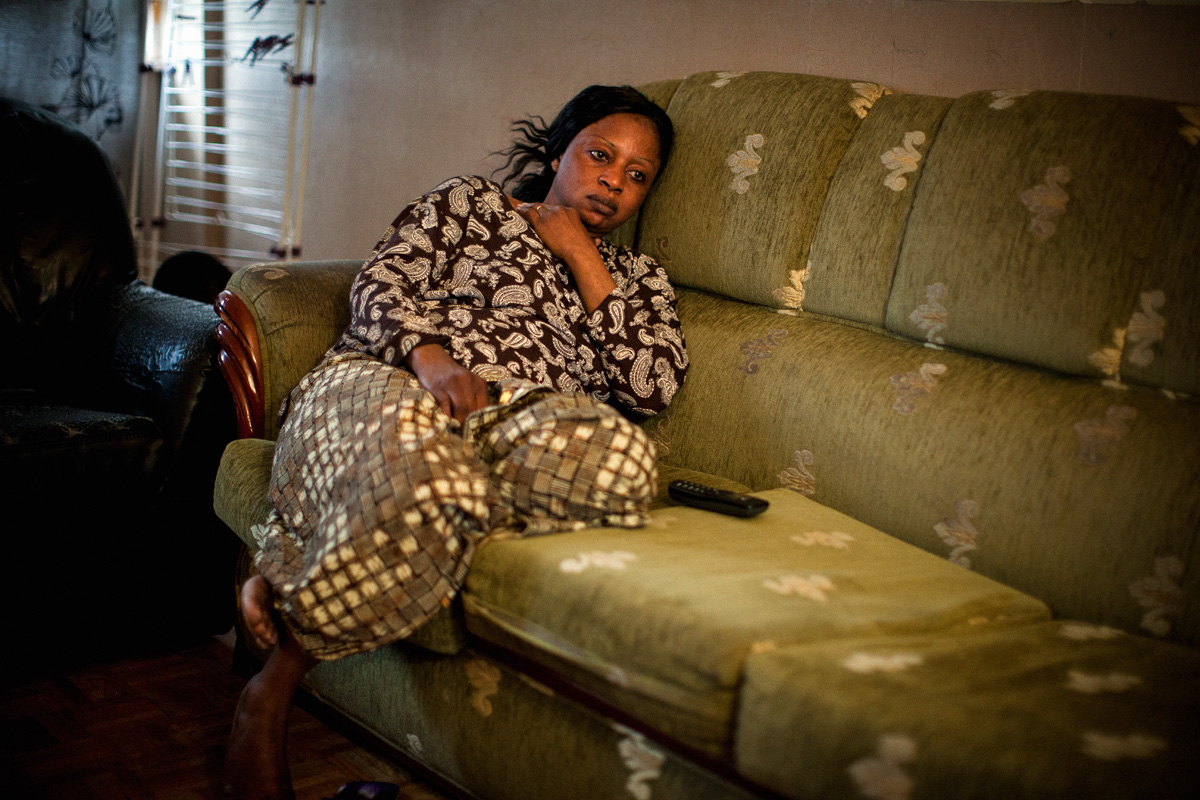 "I get back home after 10 p.m.. The children are sleeping. We really don't spend a lot of time together, except on Sundays. Even on Saturdays, I work five hours."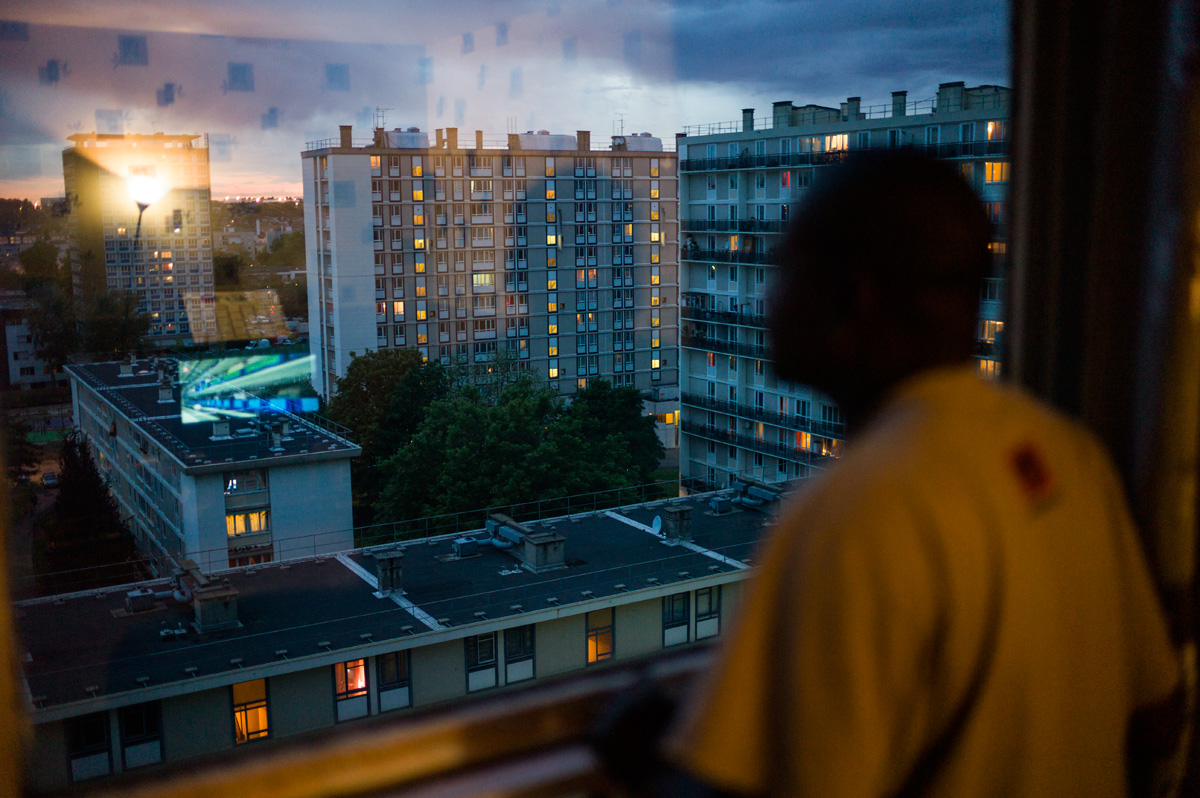 "To get accommodation in my name, there has to be an open-ended contract in my application file. So I have to accept my working conditions, even if it's tough. In the morning, I often crawl on all fours, because I feel pain everywhere."
GISÈLE, 61 years old. Angers.
Gisèle has worked as an accountant for her entire life.
Nowadays, she is divorced and retired.
Recently, she decided to start working again, with a part-time job.
This small salary allows her to improve her daily life a bit... Gisèle has always wanted to remain active and independent.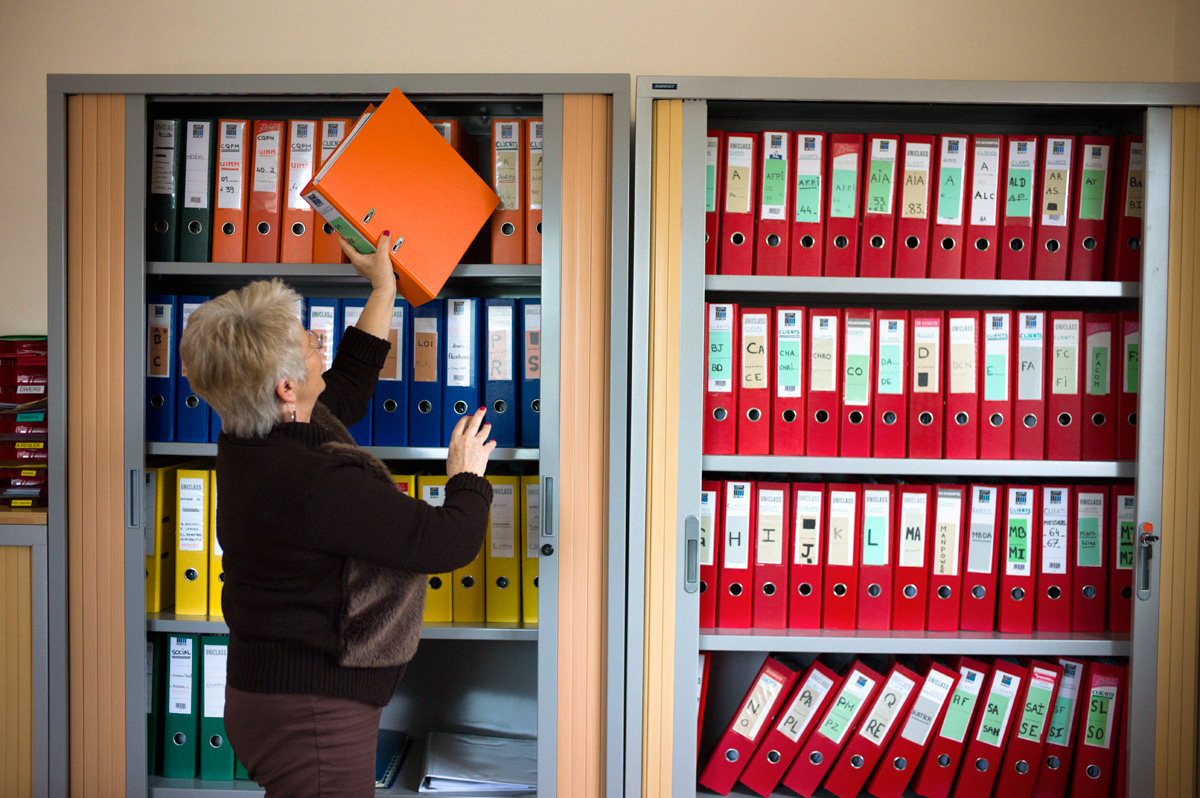 "I'm divorced. I have two children, and three grandchildren. I'm retired, but I've decided to return to work: once my rent is paid, I have only 250 euros left... Even if at my age, I eat less, I still need to eat a little bit!"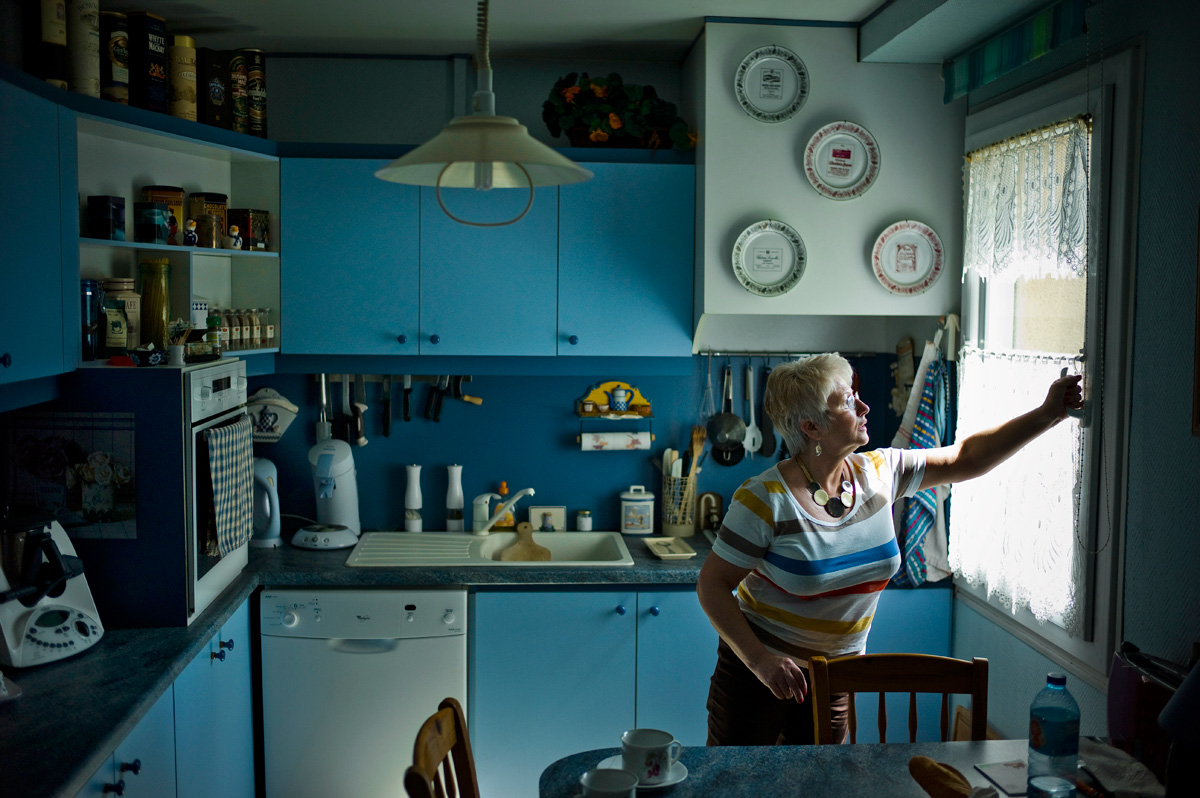 "I work in Saumur: it's a 100-kilometre round trip. I haven't asked for a fabulous salary. For my boss, it's perfect; for me, the most important thing is that I can live. That's all."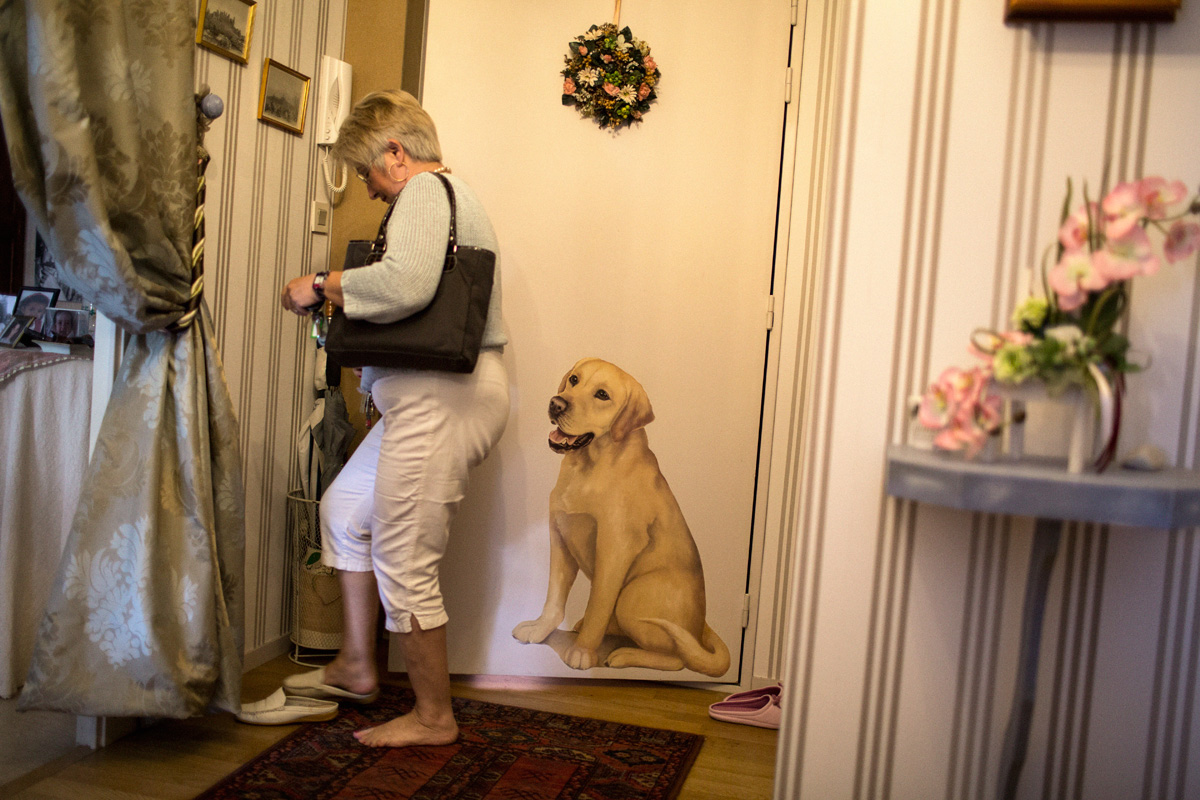 "Keeping on working forces me to get up in the morning, to hold things together, to do my hair, to wear make-up, to dress well... which is important, after all."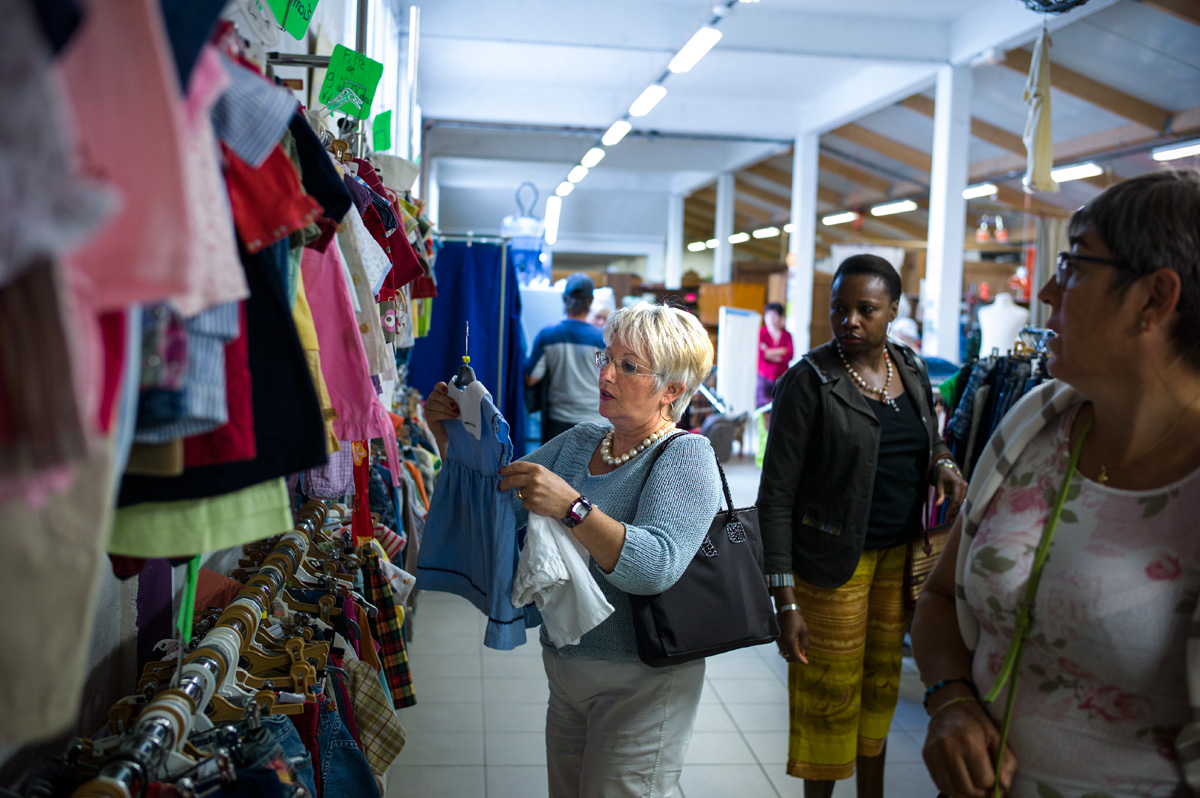 "I've worked all my life, but I made the mistake of working with my husband who is a craftsman, without ever getting any salary and without paying social security contributions. After 18 years of marriage, I divorced and found myself with nothing left. And I had to start from scratch again."
DAVID, 37 years old. Lorient.
David is a single father and works as a substitute history and geography teacher in primary and secondary schools in Brittany.
His schedule is random and heavy.
David organises himself week by week: his classes, his schedule and his income are constantly changing, depending on the teachers he is standing in for, very often on short notice...
It is impossible for him to think ahead.
After putting his children to bed, and preparing his classes for the following day, he studies to pass the public exam which is the only way to obtain a permanent position.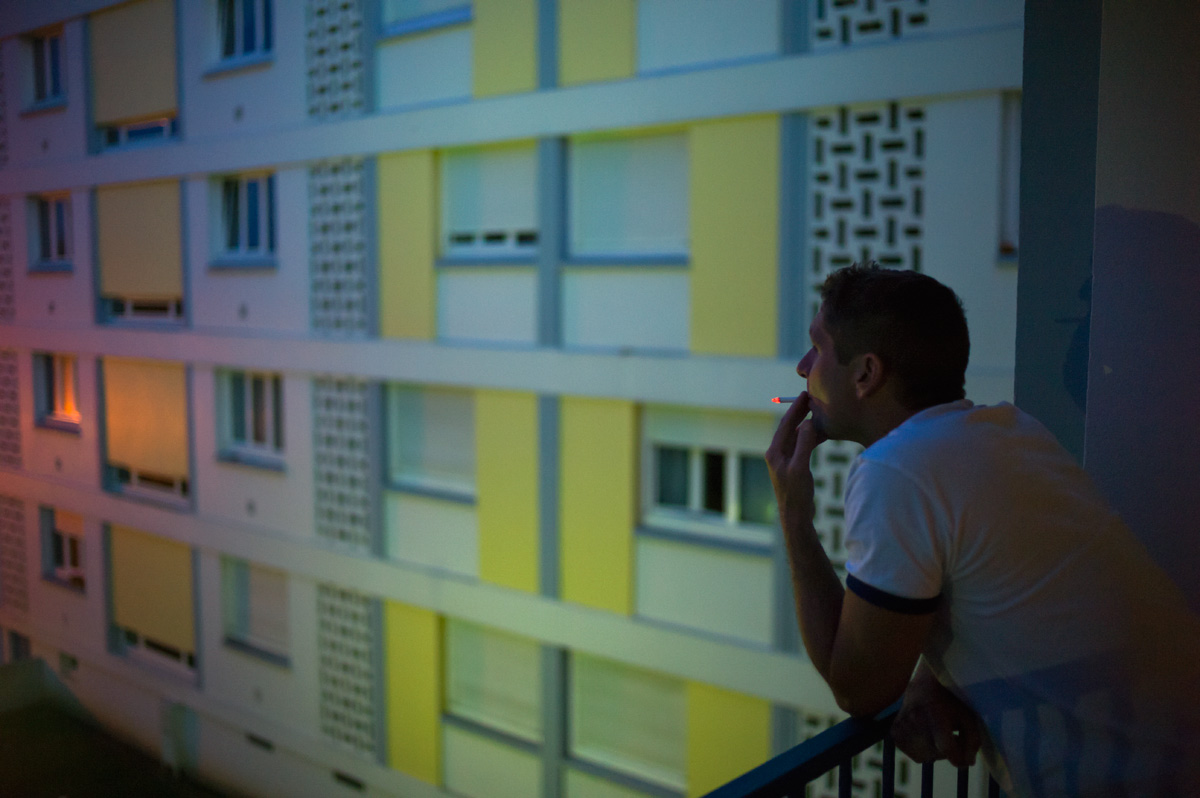 "I completed a master degree in history, and then a postgraduate DEA diploma in history, but then I couldn't get funding for my thesis. So I started to do substitute teaching in private schools."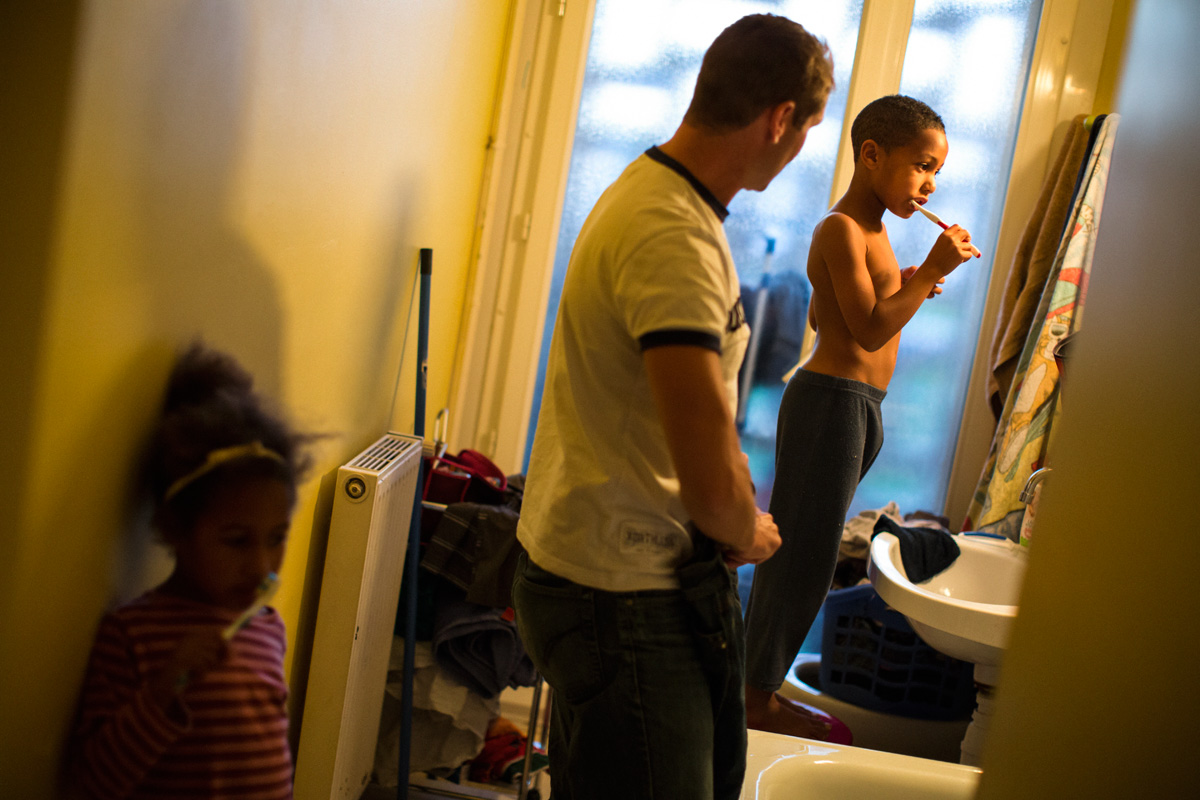 "I've also worked as a special education teacher for eight years."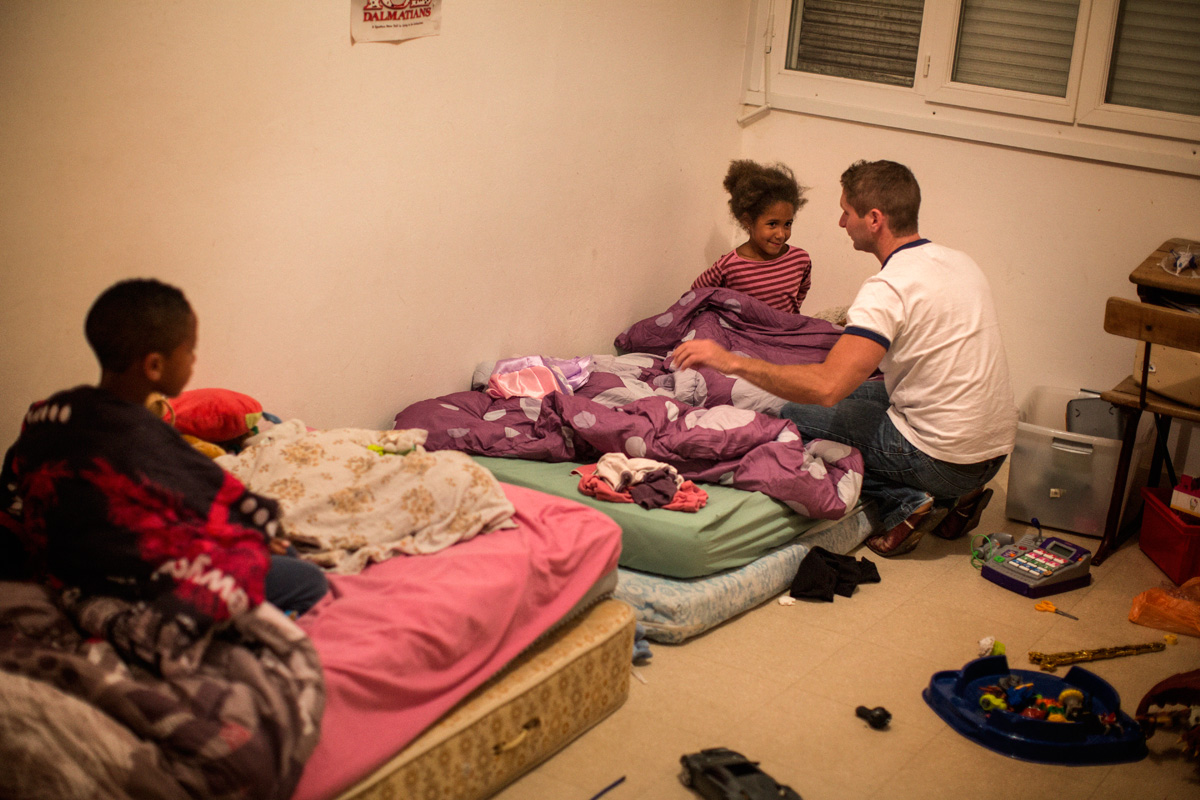 "Actually, in my situation, it's unclear what the future holds. Sometimes I can get a two-week contract, sometimes a one- or two-month contract, half-time, full-time or in between. There is no regularity at all."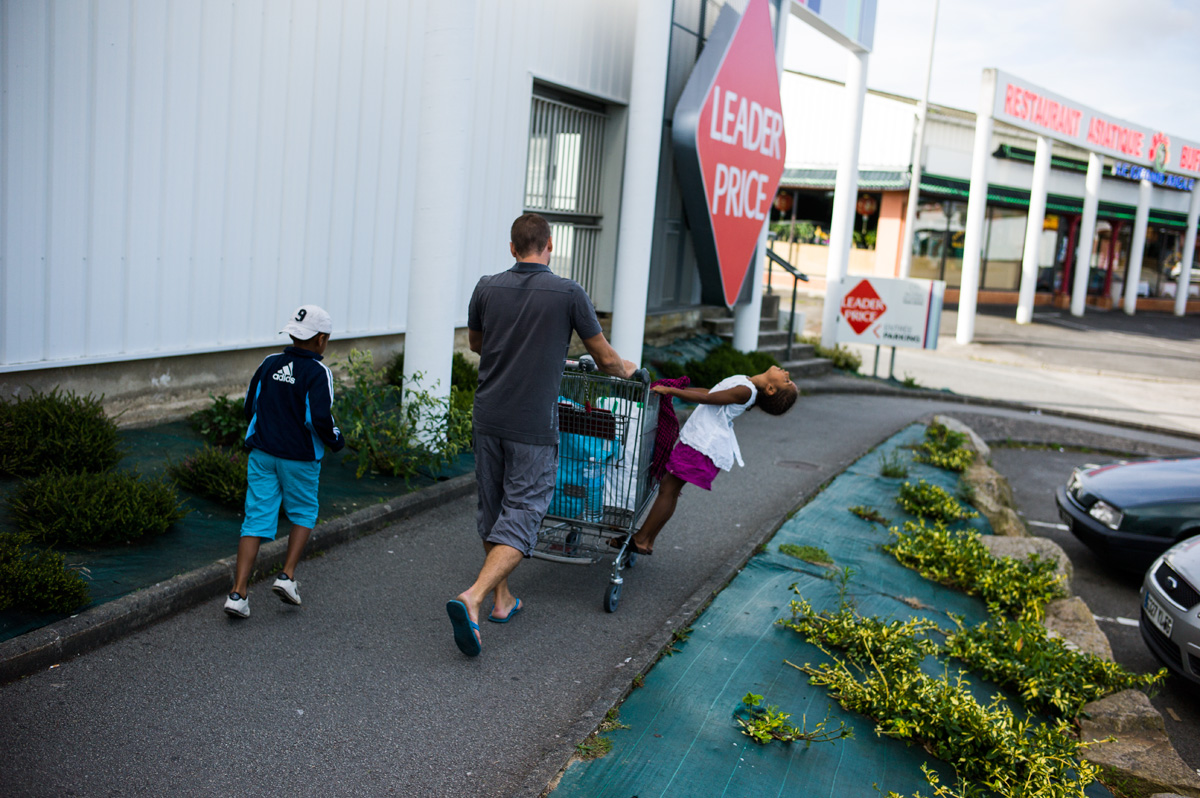 "On a full-time basis, average take-home pay is around 1200 or 1250 euros. So, for half time, it's easy to calculate: 650 euros. We never know which class we're going to teach, it can be from first to final year of secondary school. Even the subject of the class is unknown; maybe French language, or maybe history and geography."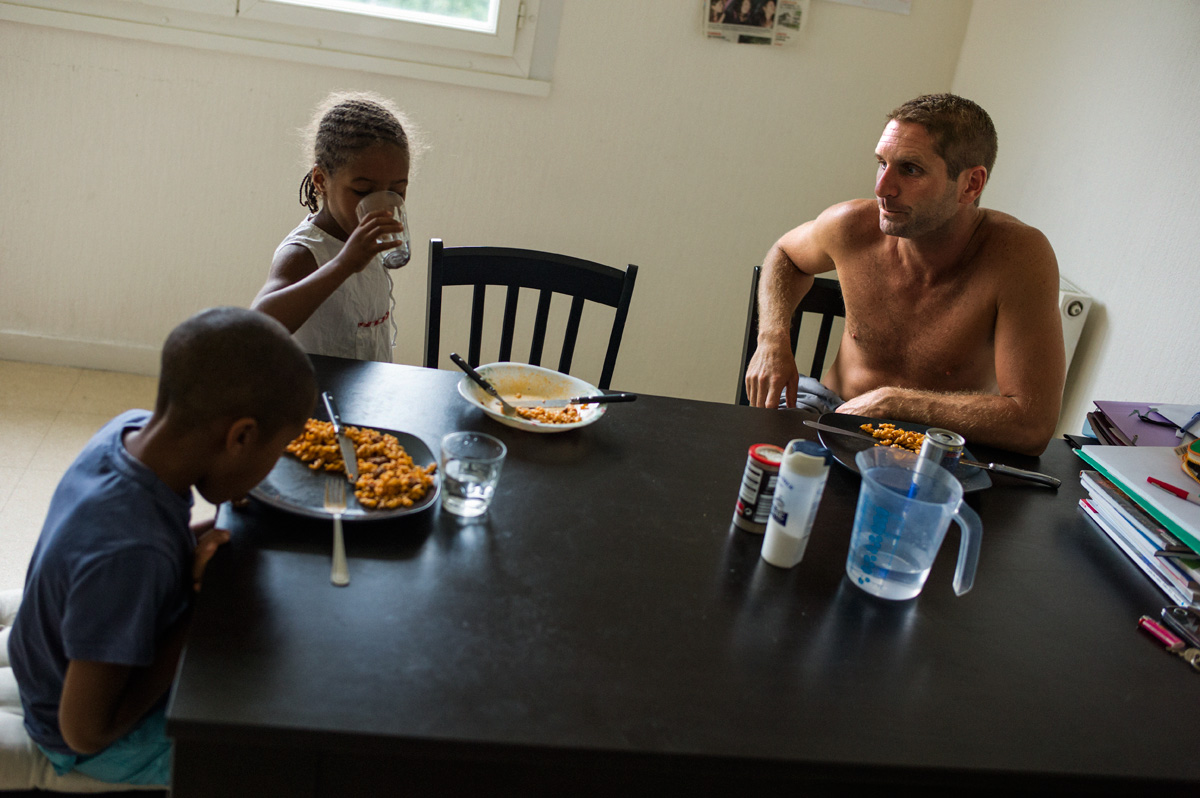 "I have no worries about clothes, food or accommodation for the children or myself. But on the other hand, it's almost impossible to make plans."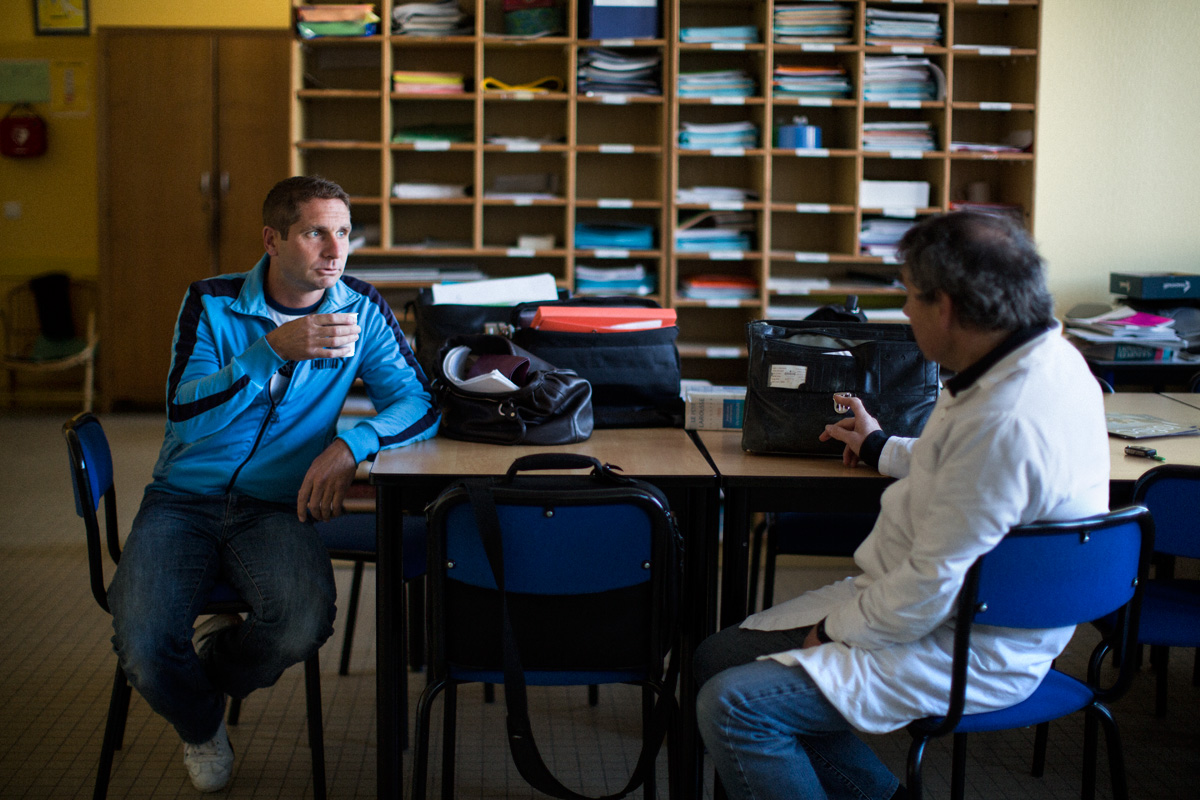 "This is how it works: they call me in the evening for the next day. 'Can you start tomorrow at such-and-such a time and place?' I adapt the contents of the lessons, preparing them day by day. A teacher on a permanent contract knows exactly which class he's going to teach from the start of the school year, and he can easily anticipate. I can't."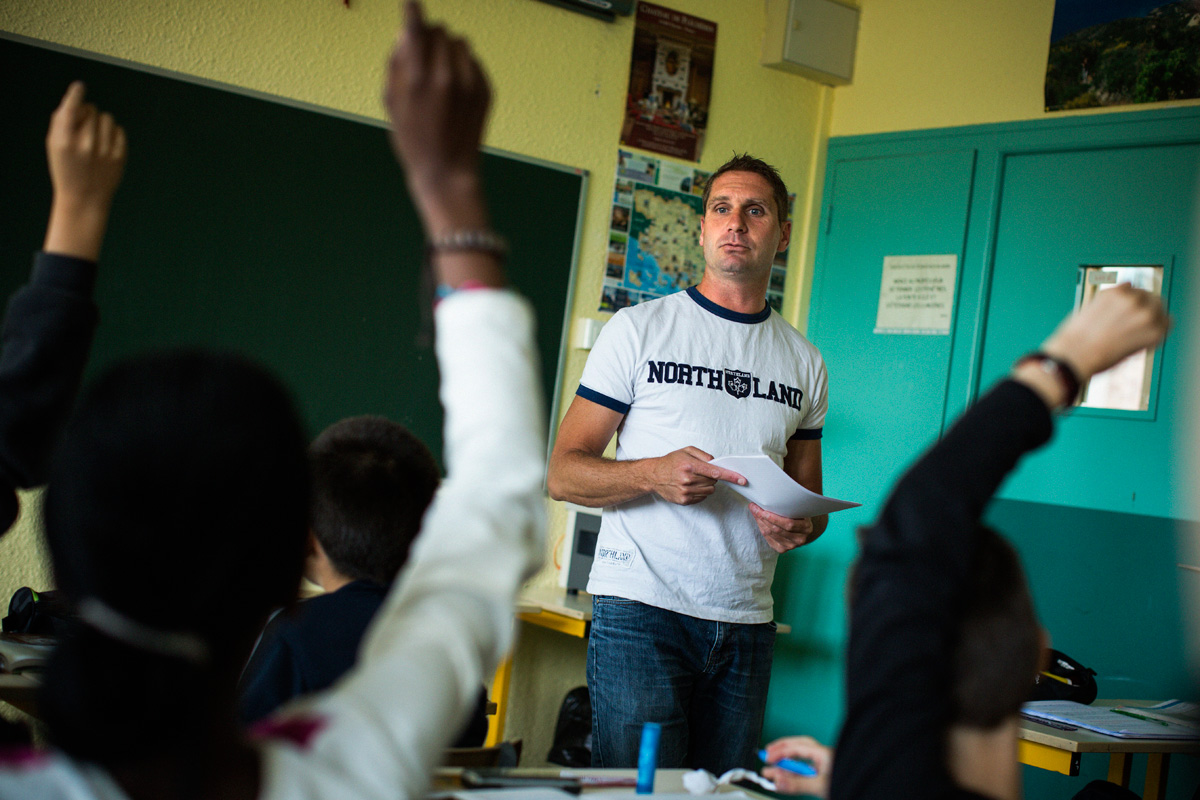 "As far as the lessons I give are concerned, I do my best. The biggest problem is that the only moment I have to prepare my lessons is once the day is finished, after a full day of work as a teacher, and a father... which means not before 10 p.m.."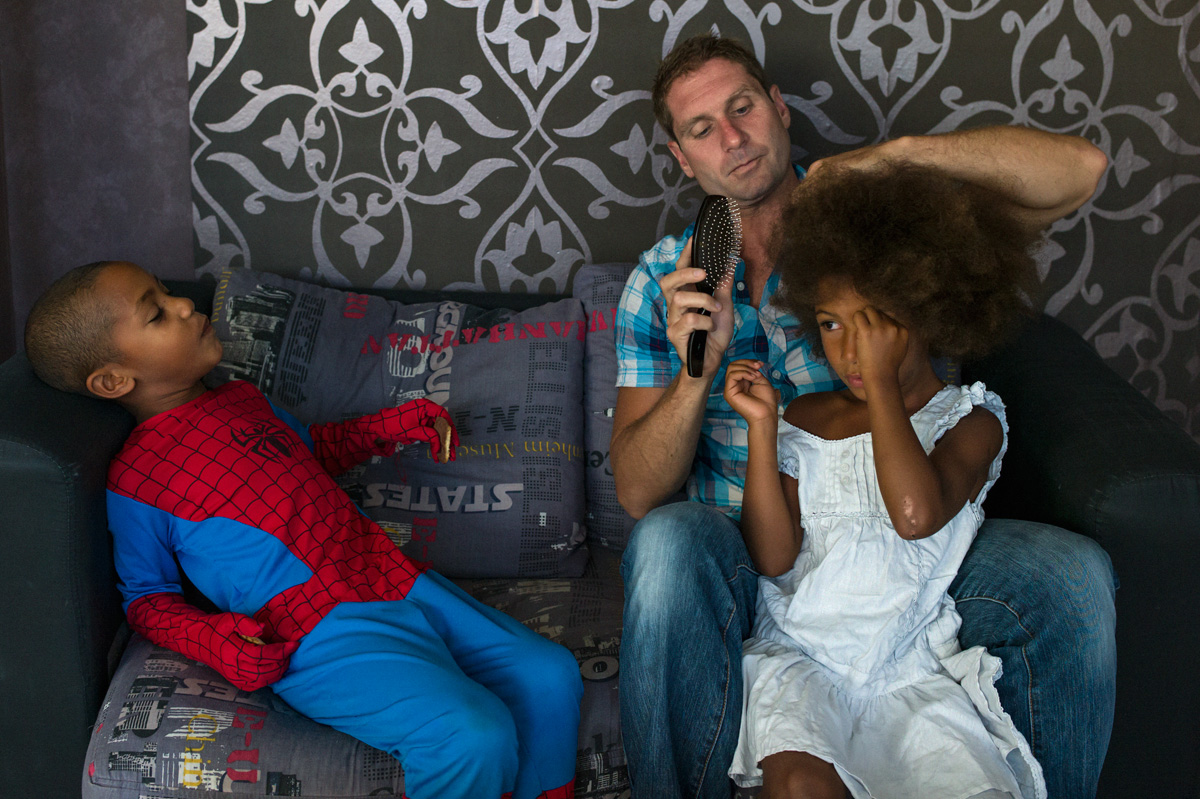 "As for going on holiday, I never know exactly how much money I'll get, so I have to be flexible about that too. I choose simple holidays on not very luxurious campsites, and try to come up with money-saving tricks like sharing the camping pitch with some friends."
"If the car breaks down in July, and the repairs are expensive... then we can't afford to go on holiday!"
HEINIA, 62 years old. Paris.
Heinia, who is of Tunisian origin, is retired.
Her professional career as a canteen keeper gives her a very small pension.
Her pension hardly covers rental fees.
To try to improve her daily life, she gathers the food that has been thrown out by supermarkets, along pavements far from her neighbourhood.
She regularly sets herself up with the street sellers of Porte Montmartre, to sell the food she has found in rubbish bins...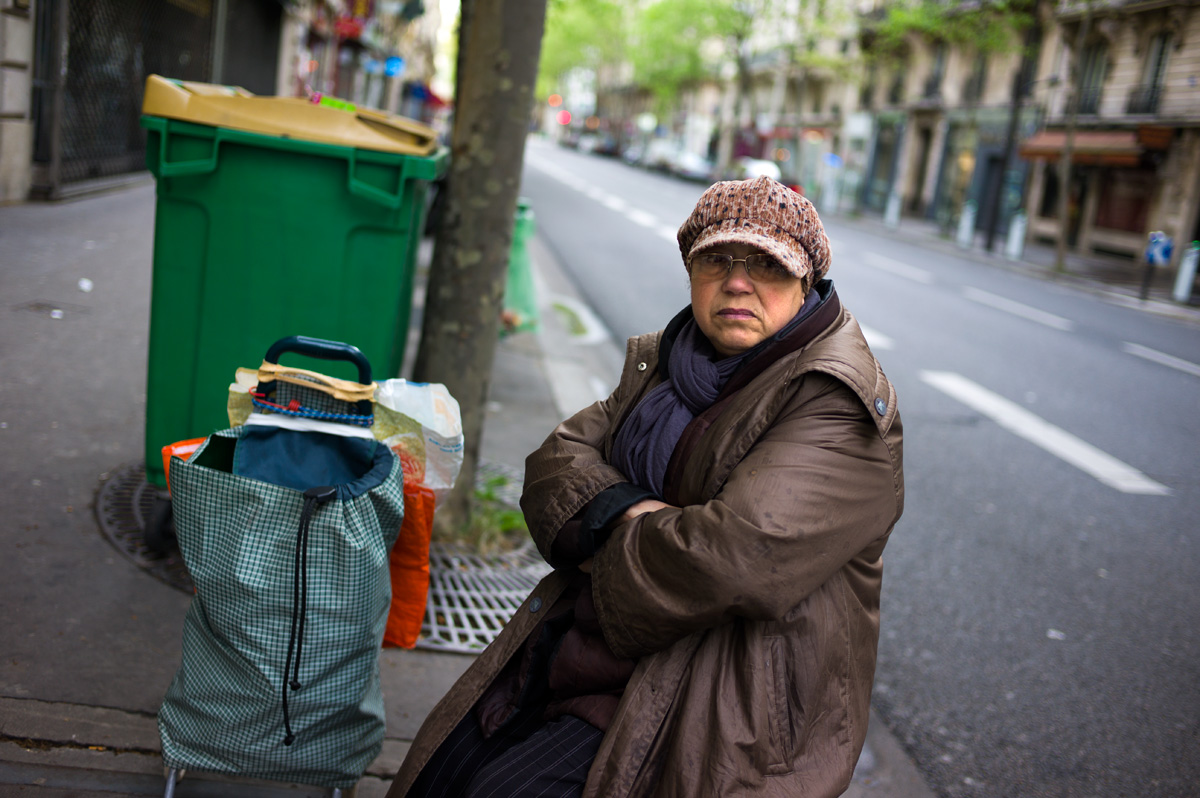 "I had recently got married when I arrived in France in 1976. All my children were born in France. In the end, I got divorced. I have worked all my life... as a canteen keeper and office cleaner. All my life. All day long. And often even on Saturdays and Sundays."
"All my jobs have been declared. I have all my payslips. How can you explain that, after an entire life of work and raising my 5 children, I receive a pension of only 480 euros and I have to pay 462 euros for rent?"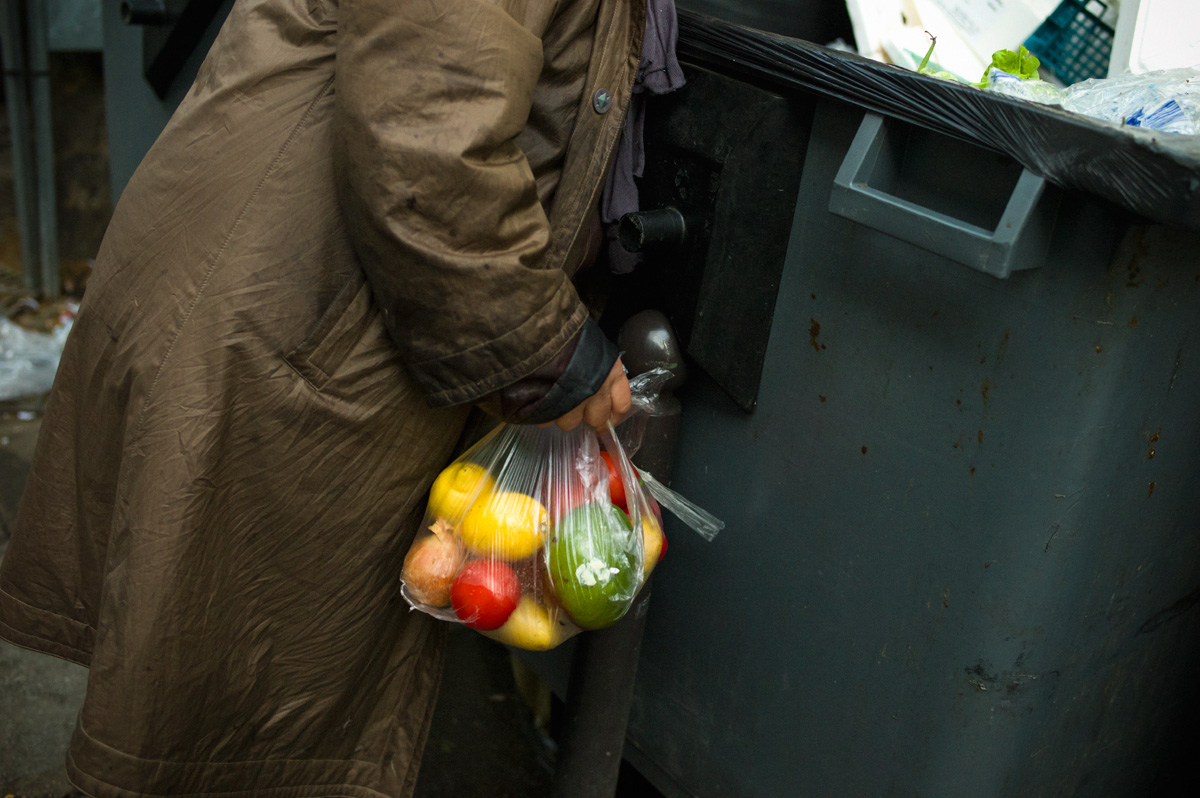 "Early in the morning I scavenge in bins. This is how I live. I pay my rent and then I have 18 euros left... So what else can I do? I scavenge in bins. I have to do it, there is no other alternative."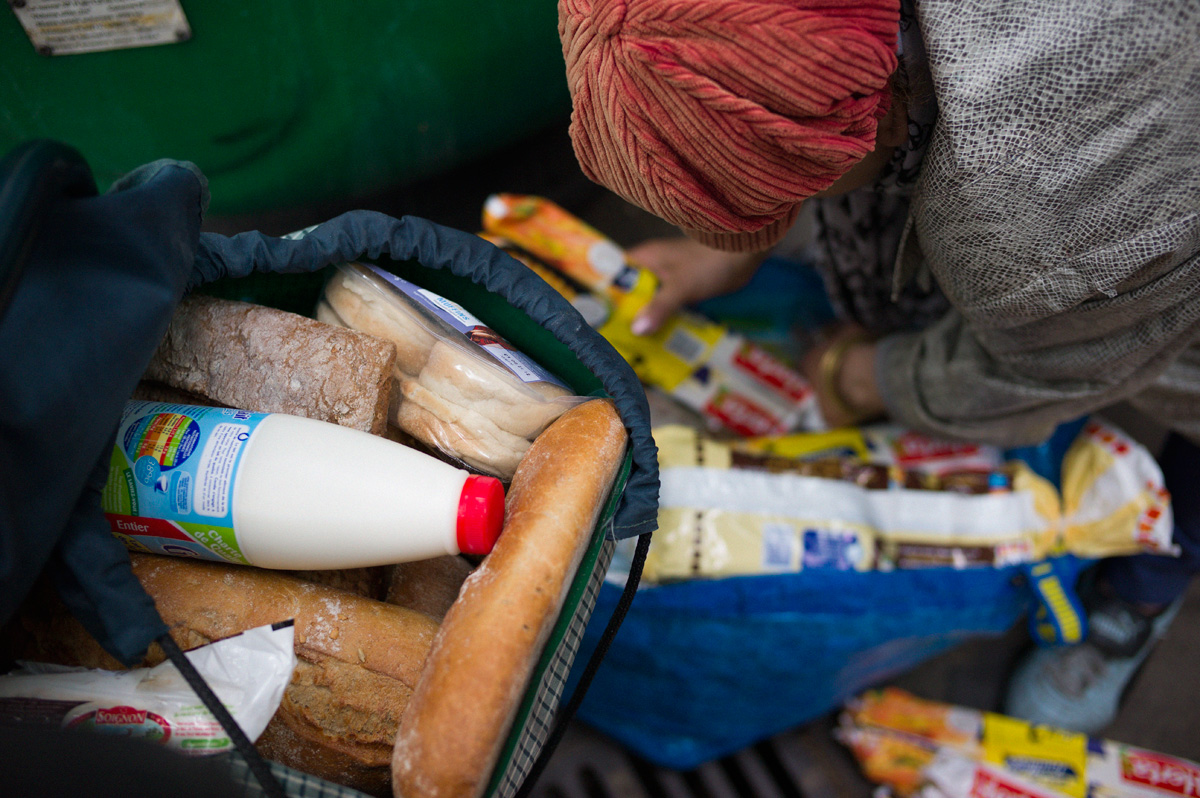 "All the products I collect are out of date, but I need to eat them! Or I would die. Every day, I pick up what I find: vegetables, meat, oranges, and bananas."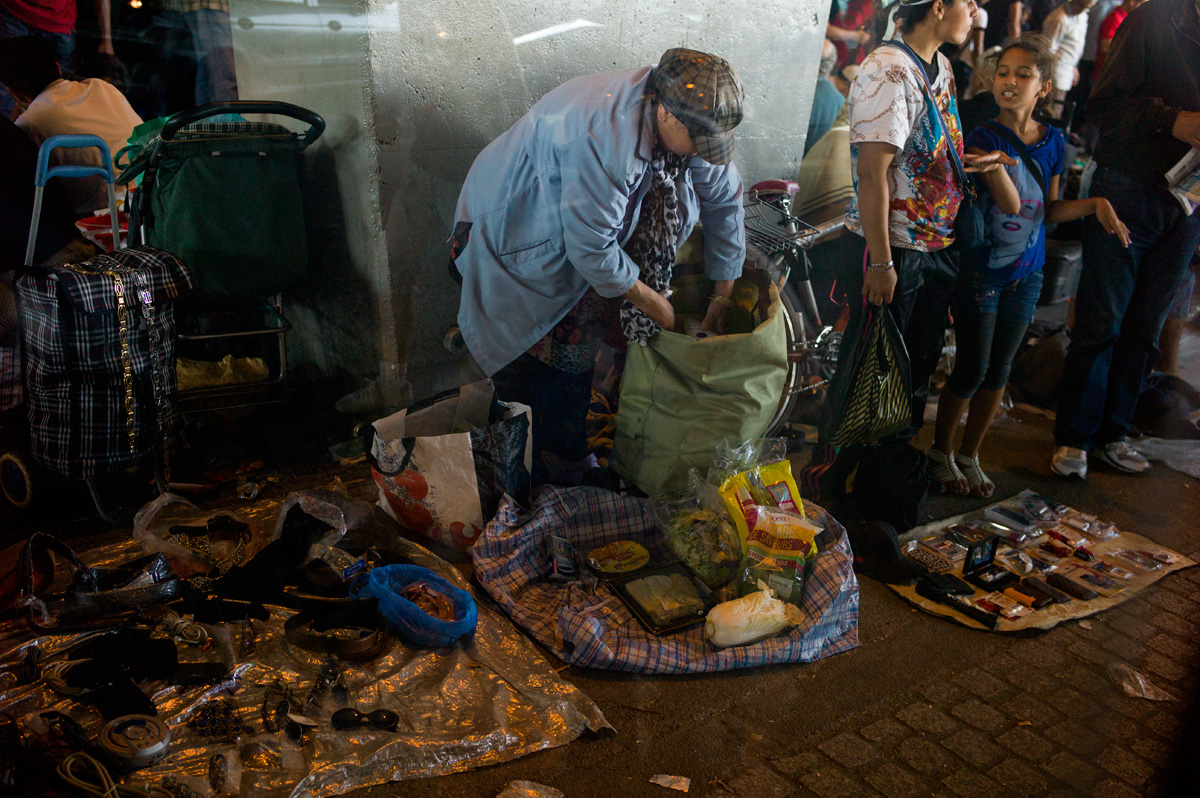 "Living like this is unbearable, and therefore inevitably I cry...! But then I get headaches. So I tell myself Heinia stop it, it won't change anything."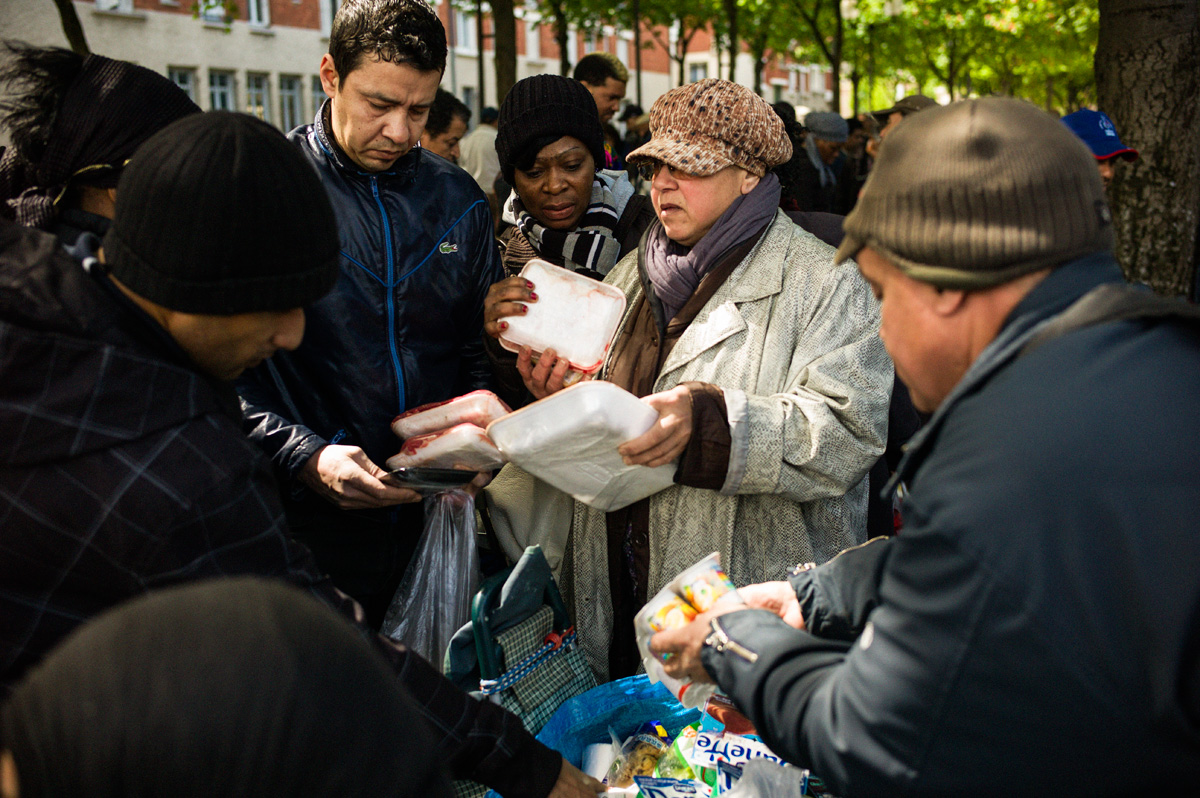 "When you retire you're supposed to be able to go for walks, to go the beach, to do loads of things you couldn't do before, but for me, the whole amount I get is spent on my rent."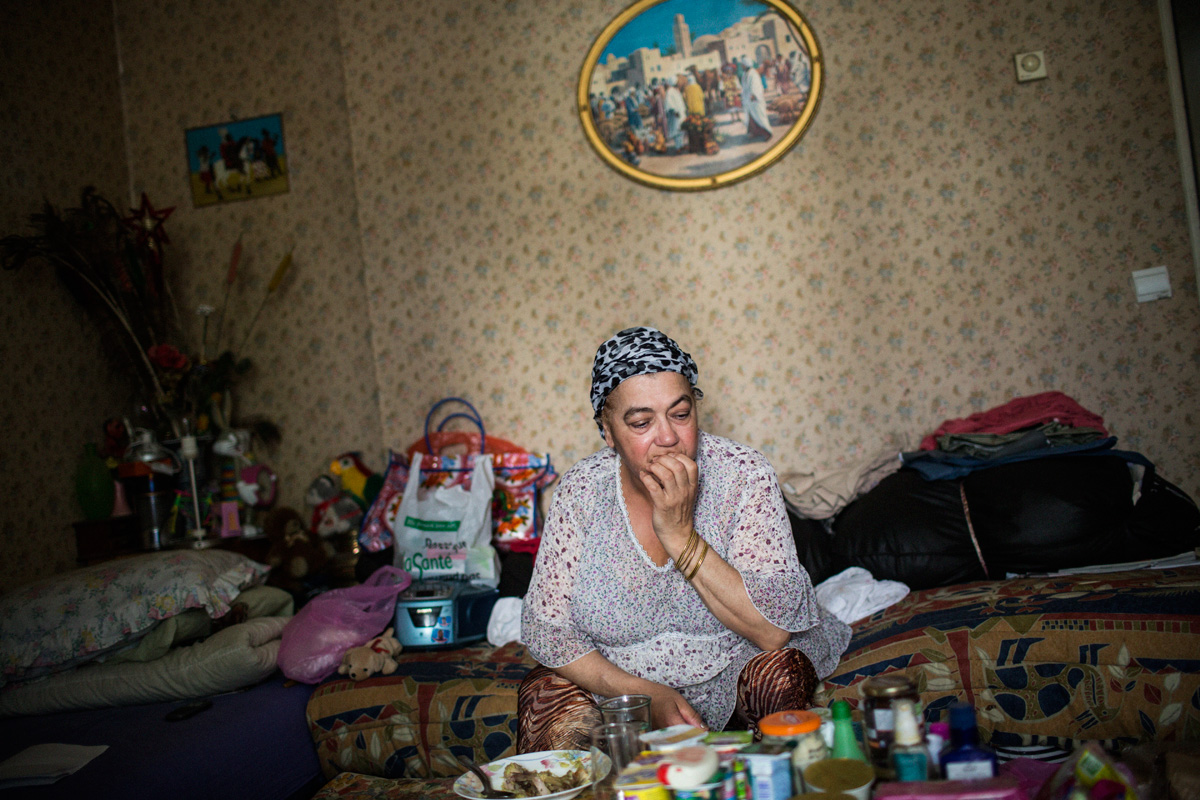 "In the winter, I have no heating, no hot water, nothing at all; just a lamp and a fridge. I don't even have gas to cook. I've got a small radio. No television."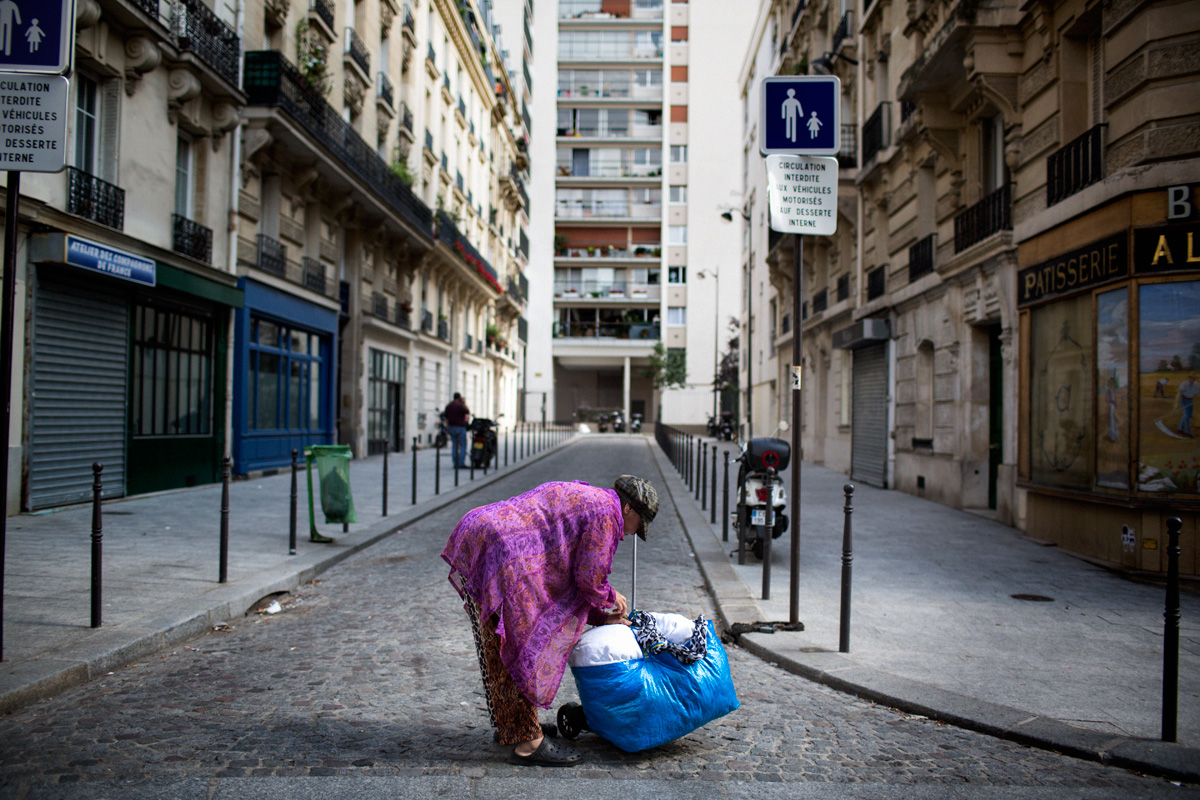 "People say to me: 'Did you watch the movie on TV yesterday?' I ask: 'Which one?' Then they tell me the story and at the end, I always answer 'Oh yes, I saw it! I was watching it but I turned over to something else.' If I tell them I have no TV, I am afraid they will make fun of me."
MOUSSA, 28 years old. Saint Denis.
After crossing Africa and illegally entering Europe by crossing the high barbed-wired fences in Melilla, Moussa quickly got to France in the hope of becoming a member of the French Foreign Legion.
Refused entry, he moved up to Paris to look for a job and start his new life.
The French land of promise soon turned out to be an illusion.
For the past 3 years, Moussa has been working four nights and two days per week in a restaurant in a chic area of Paris. He washes dishes during the day, and works in the back kitchens and as a cleaner during the night.
He managed to secure his job by renting documents from someone who is now receiving his minimum-wage salary, and who withholds 250 euros' commission on it. The rest is paid back to him in cash.
Of course his boss knows he has no documents, but he protects himself by pretending that he is hiring him legally...
This way he can take advantage of him: easily manipulated, with no paid overtime, and with no additional pay for night-time work, Moussa feels lucky to have found this job.
In any case, he knows that his situation makes it impossible to complain, and even revealing his identity would inevitably cause him to be laid off.