A WEEK AT GADDAFI'S
I was invited to Tripoli for a week by Gaddafi's regime at the height of the Libyan insurrection.
Being invited means being greeted at the airport, given lodging in a luxurious palace in the capital (with TV, WI-FI but without Facebook), fed at his opulent table, driven by high-security bus, endowed with an unlimited-scope mobile phone (but always wiretapped) and informed (or misinformed) by a press service under the Libyan leader's command.
What an odd situation I am in, with a group of journalists from the international press. I feel both pleased and stunned at the opportunity to explore the Libyan capital, and am keen to escape our hosts' attention – to be able to catch the clandestine, unexpected situations that no press service can ever control, however meticulous it may be.
February 27 - March 6, 2011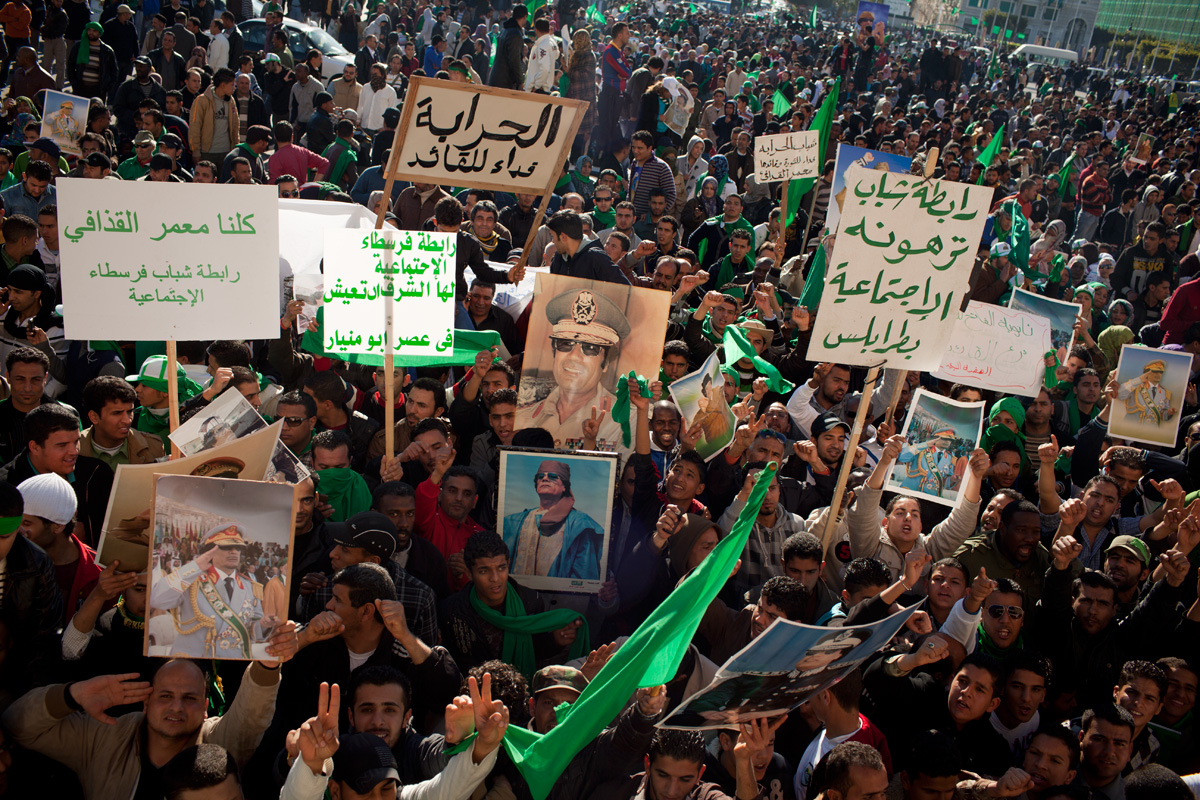 Relatively quiet compared to the rest of the country, Tripoli is still Gaddafi's stronghold, maintaining a highly policed terror.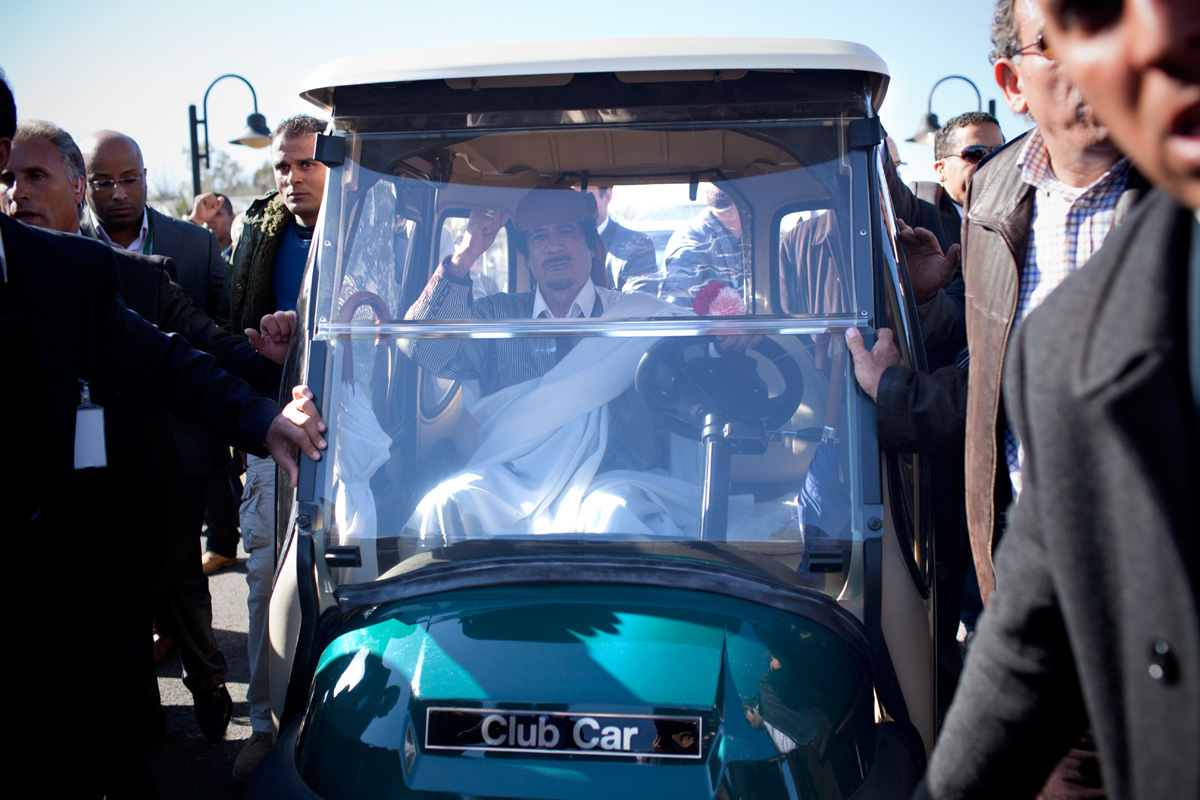 Gaddafi arrives at the 34 General People's Congress of Libya. A more-than-two-hour monologue, in which he promises greater freedom of speech, amnesty for rebels and a new constitution.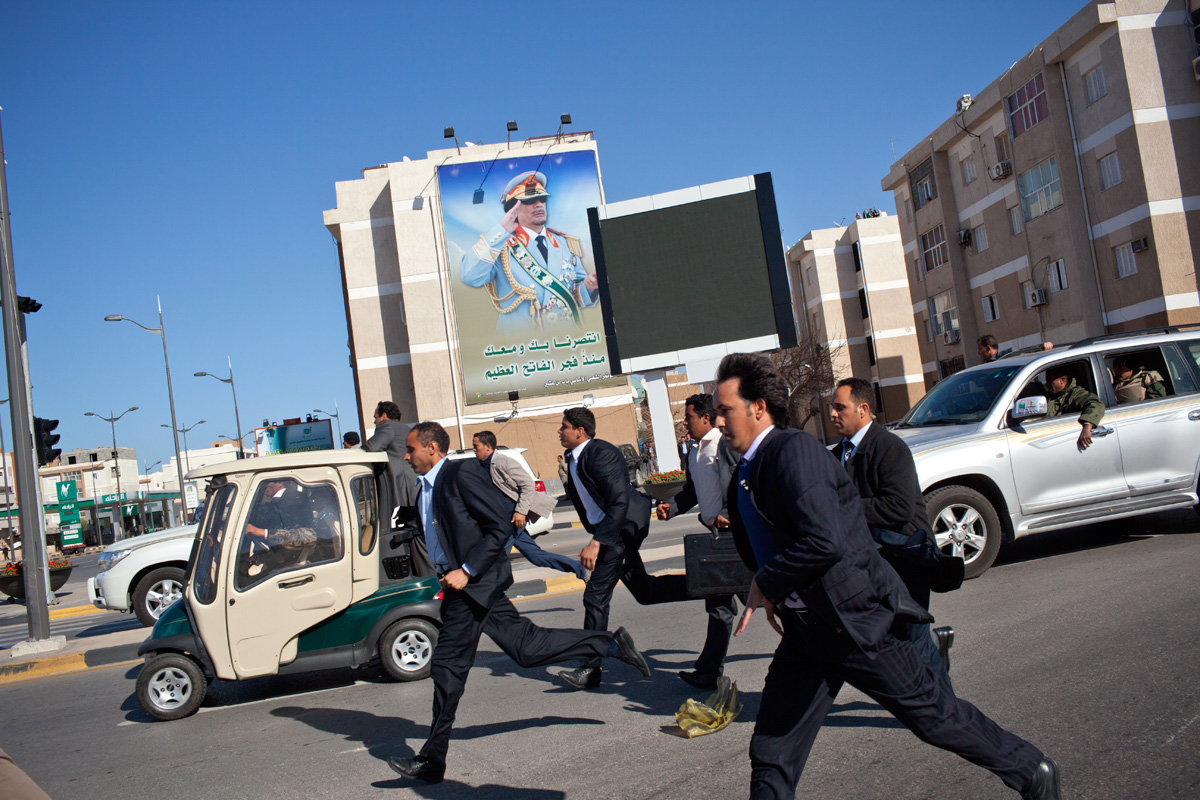 Saluted by his own effigy gracing the walls of the capital, the Colonel returns to his highly secure base Bab al-Aziziya.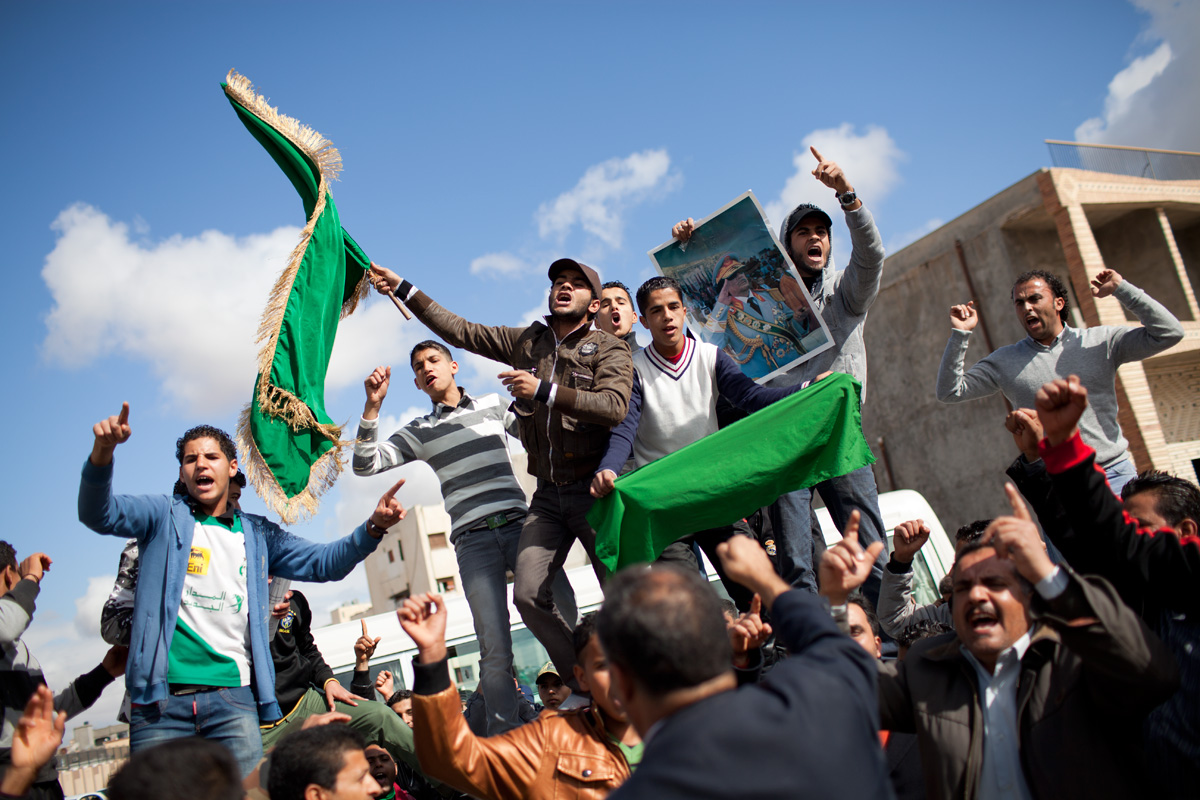 Gaddafi buys his peace of mind. Today, every Libyan citizen exceptionally receives the sum of 500 Libyan dinars (equivalent to a minimum monthly wage) and some credit for phone services. Fuel prices have also been reduced.
Pandemonium in the streets of Tripoli, and traffic jam in Green Square. Libyan television and loud speakers are announcing that the insurgency has been defeated and that the state has regained control of cities in the east of the country.

Of course the information is inaccurate, and propaganda is running at full throttle. But still all Libyans are encouraged to show their enthusiasm.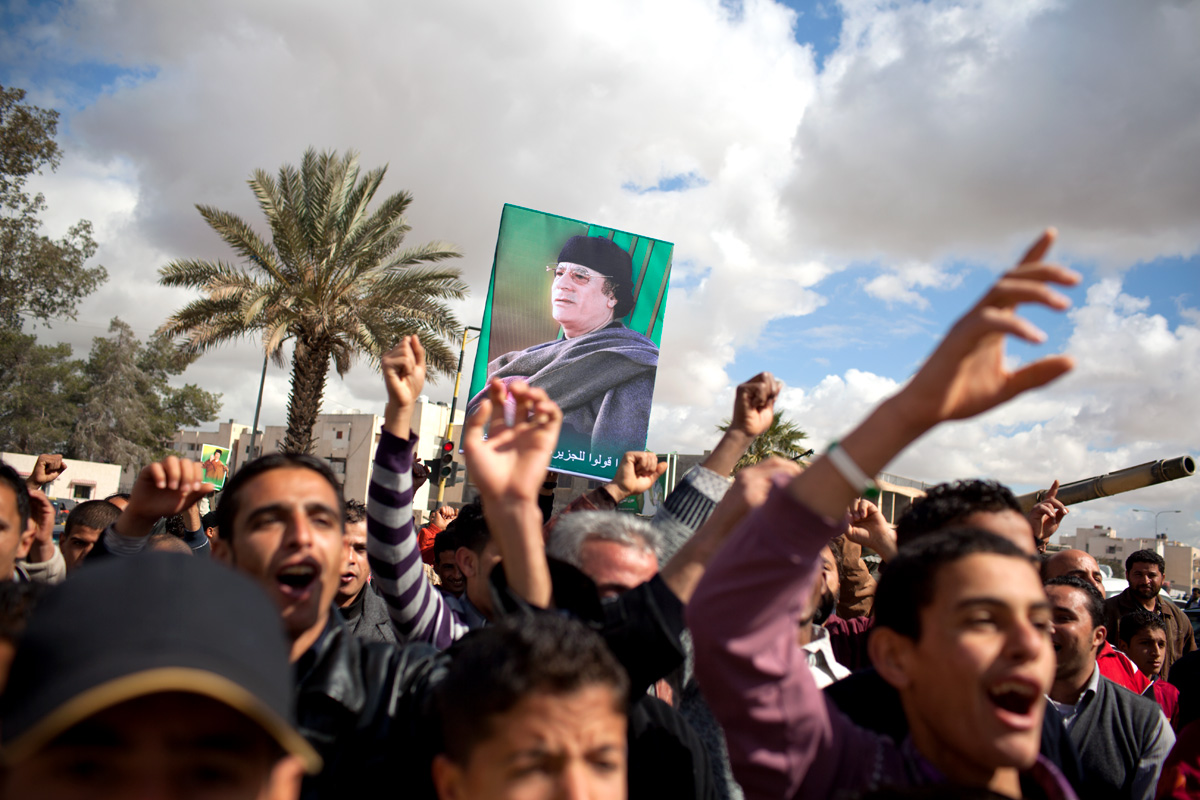 In spite of their fear, many people approach me to confess their hatred of the Colonel and their hope for change.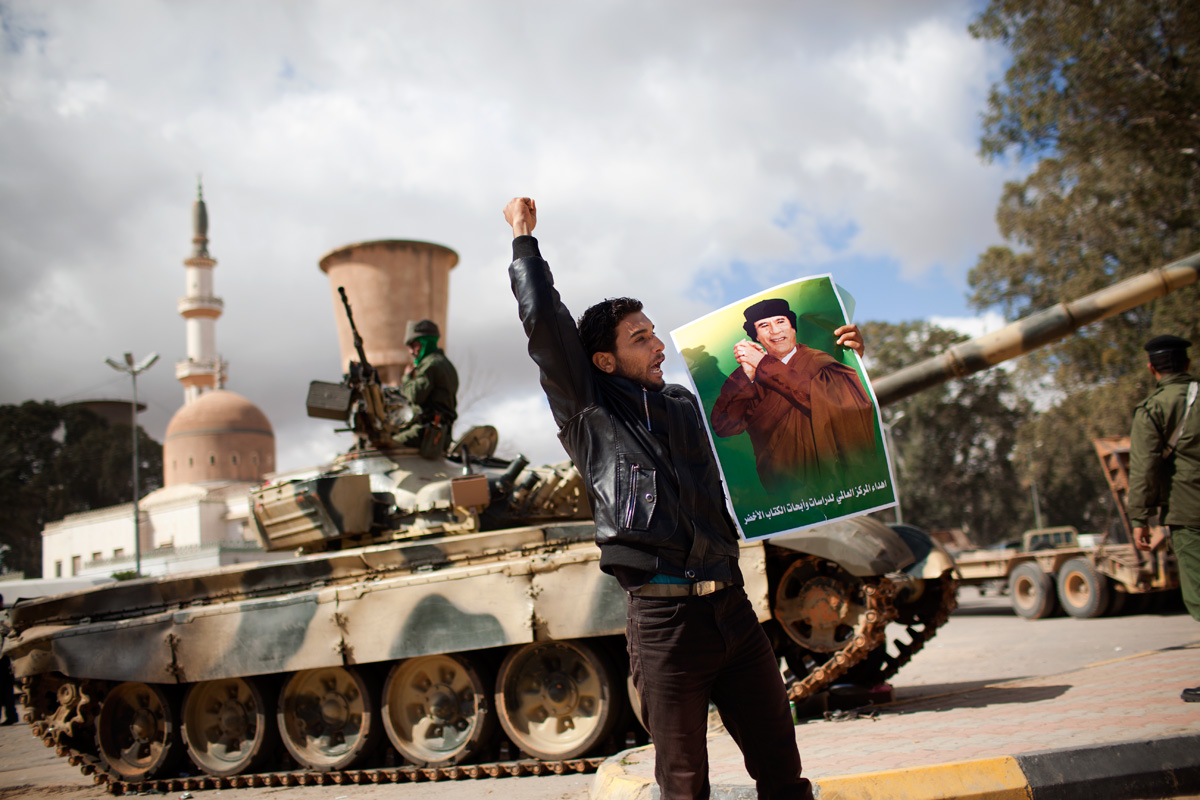 "God, Gaddafi, Libya and nothing else! ... " OK, I understand why the Libyan authorities have granted me an entry visa.
From now on, I will try to escape my hosts' attention by any possible means. I weave my way through a group of civilian regime supporters.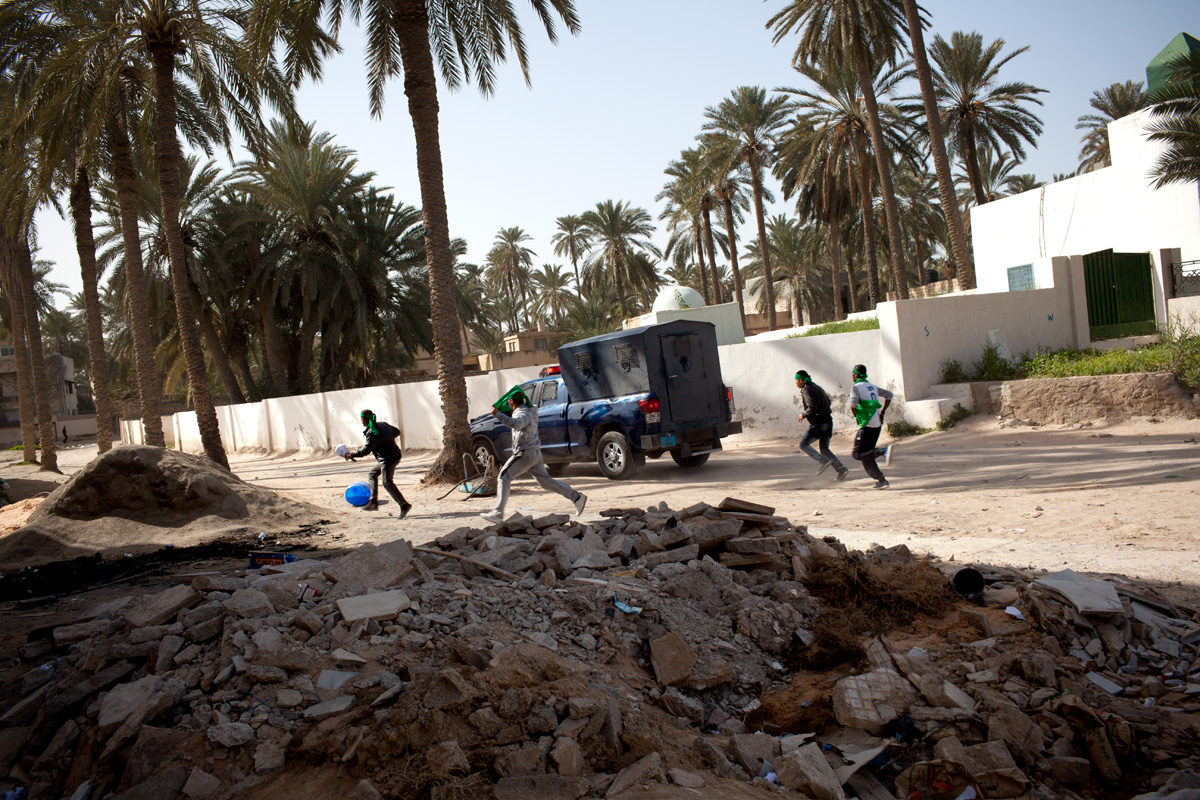 They drag me into the Tadjoura area, to track the demonstrators opposed to the regime.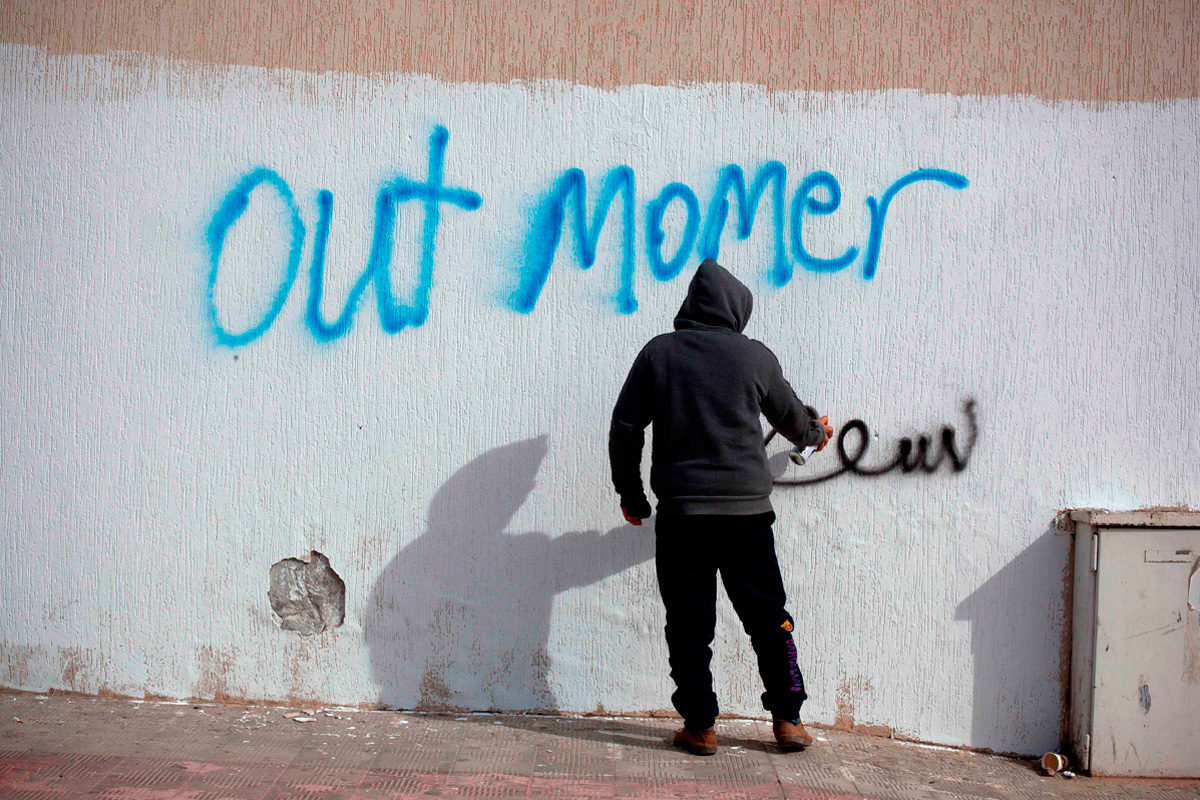 Today is Friday; a thousand people are trying to gather to demonstrate at the exit of the place of worship.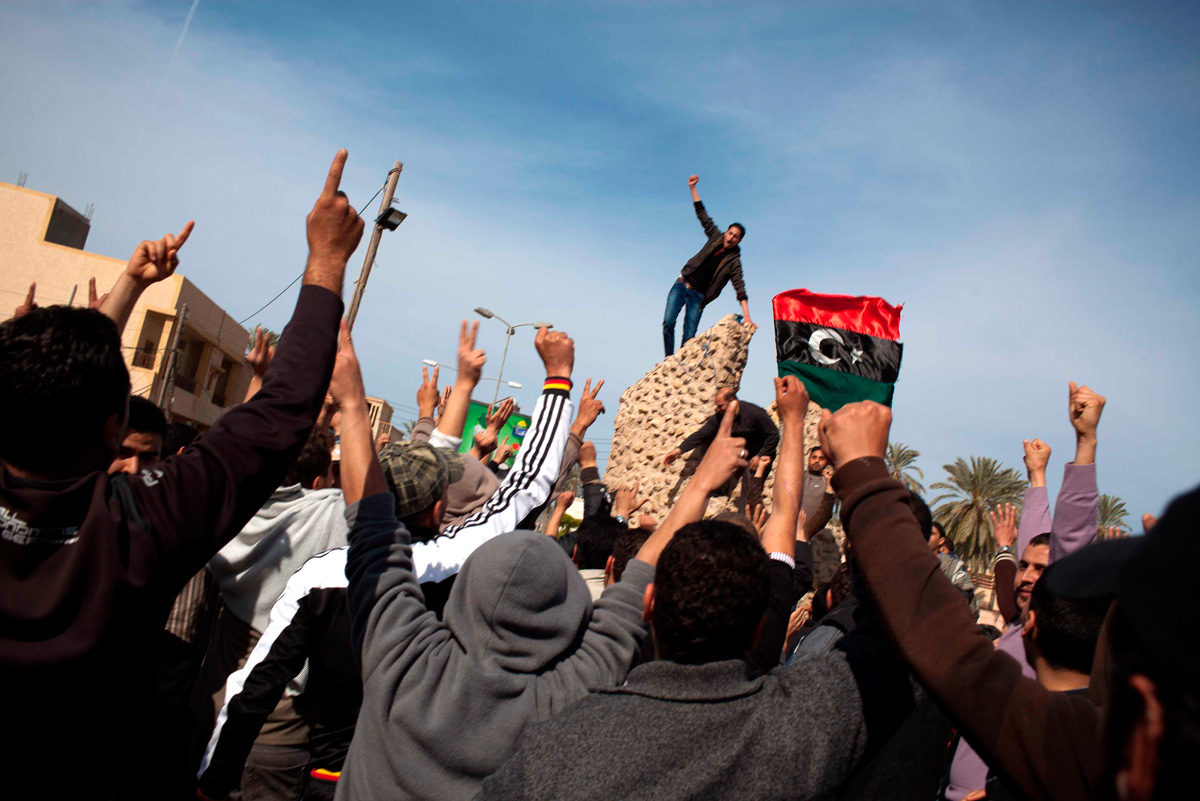 Very quickly, all the demonstrators are scattered. I have to get back to my hosts soon, in case they realise I've been missing.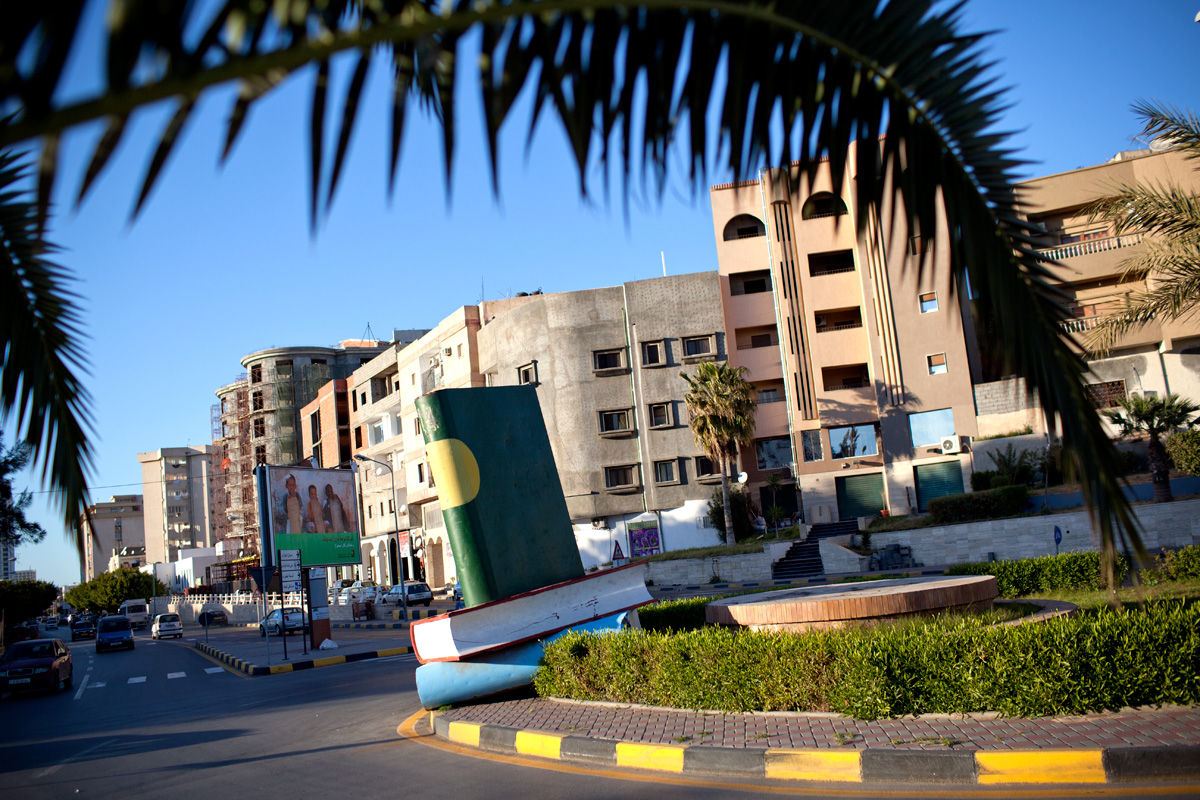 The Monument dedicated to the Green Book of Gaddafi is still standing, placed on top of the "out-of-date" books of communism (red) and capitalism (blue). But it is unsteady, having been taken off its base by some protesters.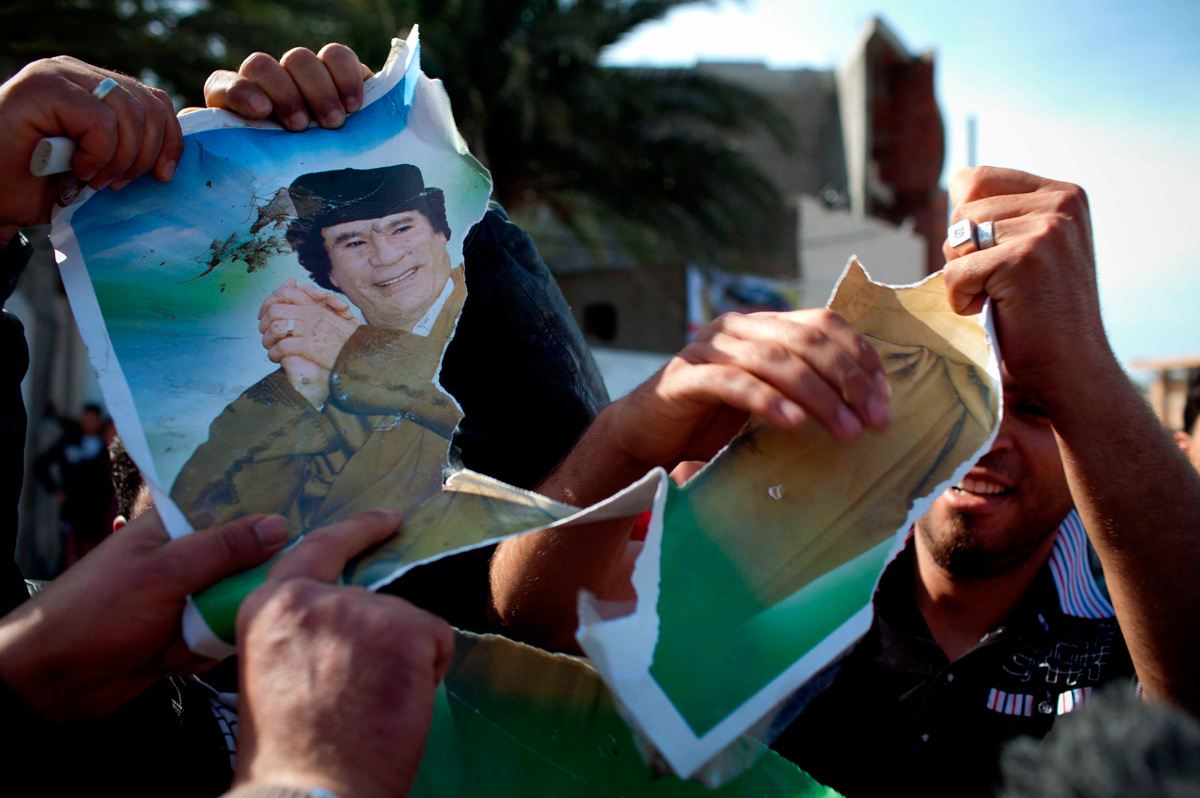 However in some areas protests still widen. Demonstrations are more and more violently repressed.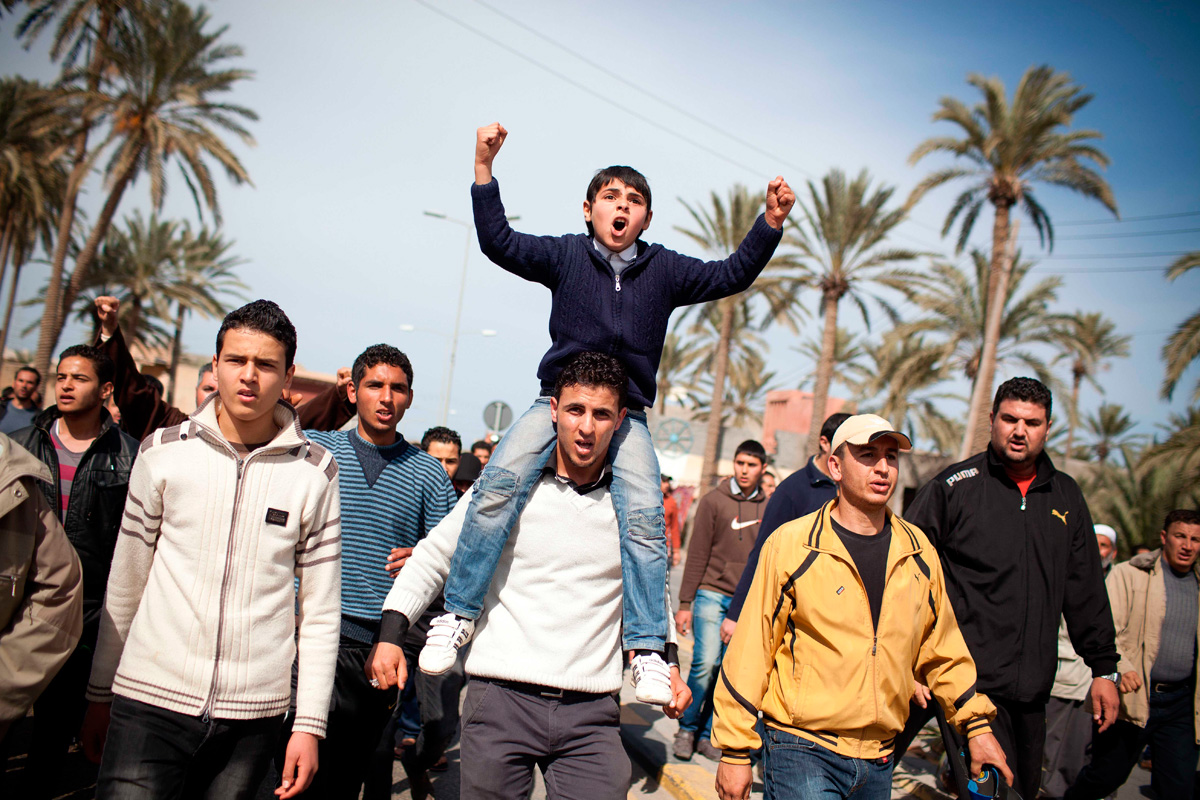 Adbul Fattah, a young man killed during the previous day's demonstration, is being buried today.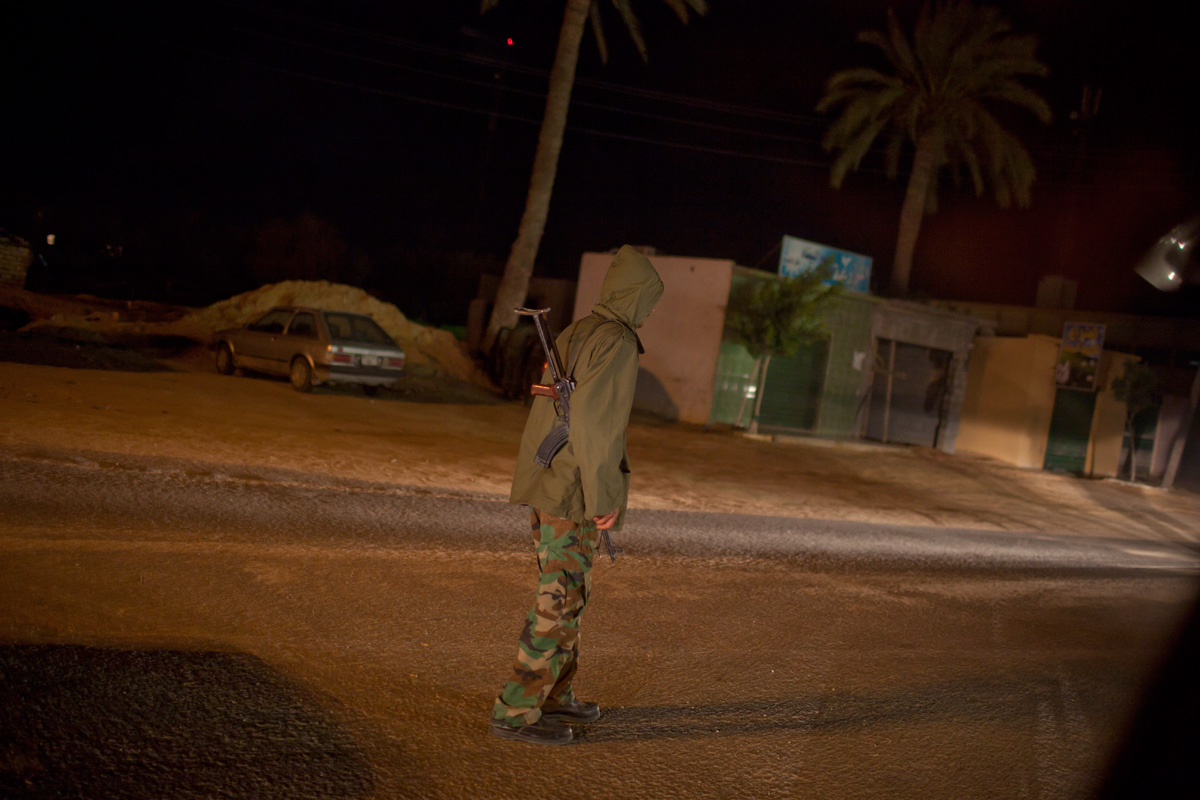 To leave the country, we are brought to the Tunisian border under heavy guard. Our bus is forced to bypass the opposition-held town of Zawiyah.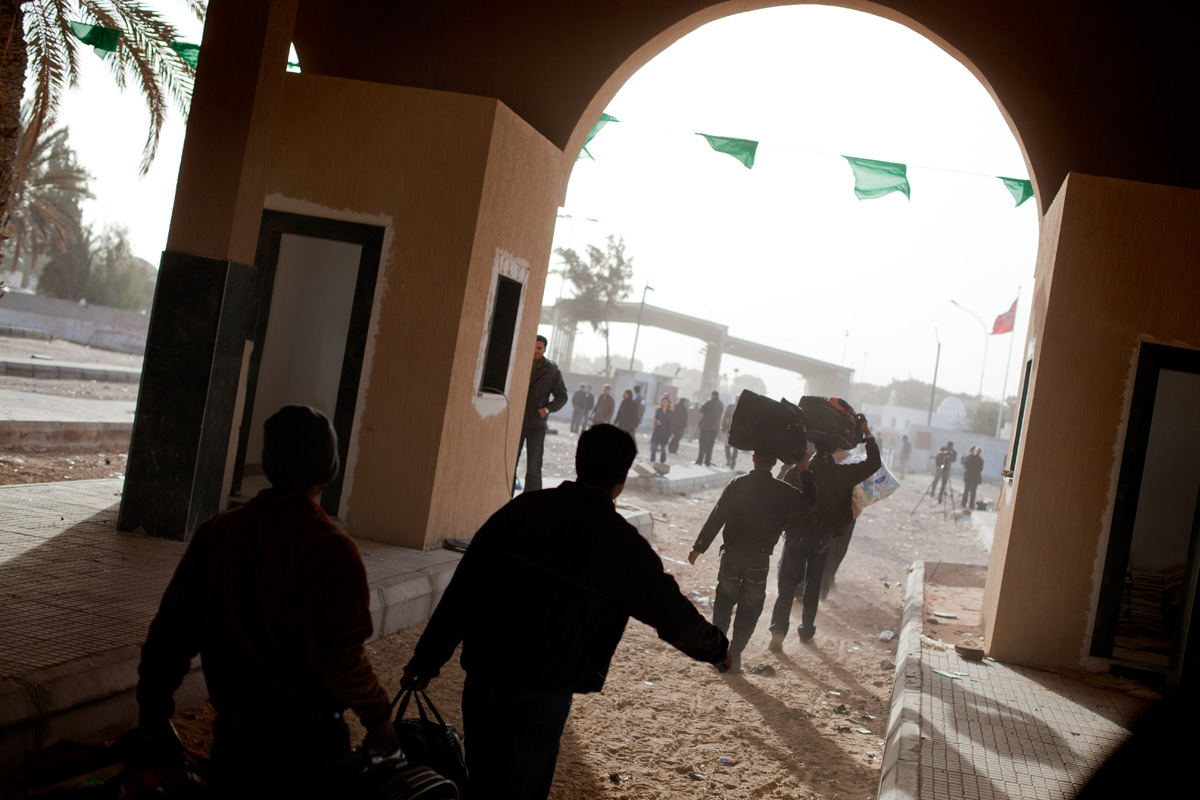 Ras Jdir border crossing. The last foreign workers leave the country.